South Dakota: Custer State Park, Needles Highway, Needles Eye, Sylvan Lake, 1880's train ride from Hill City to Keystone, Sturgis, Spearfish, fish hatchery & Deadwood
Places Visited:
South Dakota: Custer State Park, Needles Highway, Needles Eye, Sylvan Lake, 1880's train ride from Hill City to Keystone, Sturgis, Spearfish, fish hatchery & Deadwood
Monday August, 30: Custer State Park Game Lodge Campground: Near Custer in the Black Hills of South Dakota: N43° 45.677' W103° 27.505' $15.00 NO HOOKUPS at all, just a paved pad & interior roads with central dump & water.
Today's schedule included a scenic drive over what is referred to as the Needles Highway or State Road 87, eating lunch at the Sylvan Lodge and finish the day with a ride on the 1880's train (steam engine) from Hill City to Keystone.
According to plan we headed out of Game Lodge Campground and turned west on US-16A heading toward the city of Custer. In about 5-miles we turned north on State Road 87 locally known as the Needles Highway. South Dakota built this stretch of road as a scenic route in 1920 and 1921 at a total cost of only $167,000. One reason for the unreasonably low costs was that the blasting was done with surplus explosives left over from WW I.
Joyce and the famous Needles Tunnel on the Needles Highway in the Black Hills of South Dakota
In 1979 the National Park Service designated 640 acres of the most spectacular formations as a Registered Natural Landmark. Those 640 acres includes Cathedral Spires the Little Devils Tower and Needles Eye. The spires (needles) are examples of how fractures control weathering of granite. Deep road cuts reveal a wide variety of igneous rocks (formed from molten magma where the magma cools and crystallizes before reaching the surface).
Automobile in the famous Needles Tunnel on the Needles Highway in the Black Hills of South Dakota
Aside from the spectacular twisting road to and from the actual needles you have several one lane tunnels one of which is so small I cringed in the Saturn. Mercy, that Needles Tunnel is small and much too long for comfort. Besides that there is a sharp turn at both ends.
The famous "Needles Eye" on the Needles Highway in the Black Hills of South Dakota
No ride on the Needles Highway would be complete without stopping at that tunnel and looking up at the "Needles Eye" a tall granite spire with an elongated hole in the spire that reminds you of ------- the eye of a needle.
No visit to the Black Hills would be complete without a drive over the Needles Highway.
Needles Highway traverses the same granite as both Mt Rushmore and Crazy Horse Monuments. Mt Rushmore is a few miles to the east while Crazy Horse is a few miles to the west.
We stopped at the historic Sylvan Lodge for lunch. The food wasn't anything spectacular but the view from the deck was. The lodge is worth a stop just to view the mounts.
Joyce and the Hill City to Keystone steam train taken in Hill City, South Dakota
We continued on the Needles Highway until we turned north on US-385 to Hill City. We took the two hour ride on the 1880s train pulled by a steam locomotive. The train runs from Hill City to Keystone and back. It is a pretty interesting ride along an old mining route. From around 1880 until 1910 this area was heavily mined and the railroad transported ore bearing rock to processing facilities in Hill City.
After the train ride Joyce took the liberty to spend an hour or so browsing through the shoppes of Hill City, South Dakota. After that we headed back to the motorhome via the city of Custer.
Wild turkey along Loop Road in Custer State Park, South Dakota
Once back in Custer State Park we started seeing deer and turkey and even a few buffalo.
Buffalo beside Loop Road in Custer State Park, South Dakota
This was our final day in this part of the Black Hills. There is so much to see and do in the Black Hills that we could spend weeks more but we are going to save some for next time. Tomorrow we are moving to the north end of the Black Hills. We will stay somewhere around either Sturgis or Deadwood.
I would like to be here October 4th for the buffalo roundup. Even better I would like to be riding a horse in the roundup. That is something I will have to work on. I bet that the buffalo auction in November would be interesting as well.
Tuesday August, 31: City Park & Campground Spearfish, South Dakota: N44° 28.796' W103° 52.508' $25.00 Full hookup 50/30 amp paved interior roads-gravel pads & shade.
We had an uneventful ride up SR-79 from Hermosa to Rapid City then I-90 into Sturgis for a quick stop then on into Spearfish where we are spending the next two days in their City Park Campground. We were in this campground on 9-11. That was 3-years ago but it seems like yesterday.
The weather report says that today and tomorrow are going to be HOT. The high temperature today will be in the upper 90s and tomorrow it is expected to reach 100 before turning cooler the next day. We decided against staying in Sturgis or Deadwood in favor of locating a shady spot for the next day or so. When we leave this area we are going to Devil's Tower National Park and we do not expect any shade. So we will let the weather cool down before heading there.
We stopped in Sturgis to see the town that was recovering from "bike-week". For those of you not into the biker scene thousands upon thousands of motorcycle fans from the world over converge on Sturgis, South Dakota for a week of fun. Sturgis is the Mecca of motorcyclists! It is the town acclaimed internationally as home to the world's biggest motorcycle rally. No one can claim to really be a biker until they have visited Sturgis during bike week.
This wasn't Biker Week and there was no sea of black leather jackets and biker brethren, no loud parties (that last for days). What we saw was a neatly groomed town with a population of 6,700 with neat houses and flower gardens.
During Bike Week, the town transforms. Hundreds of vendors arrive with canopies and merchandise. Church basements become cafeterias. Backyards become campgrounds. Stores that normally sell cocktail dresses become emporiums dealing in black leather. The hardware store becomes a motorcycle accessory shop.
When the 300,000 plus bikers arrive Sturgis becomes Motorcycle City USA for the week. For a week these bikers are "Born to be Wild". During the week there's a non-stop venue of concerts, races, hill-climbs, bike shows and pleasure riding through the Black Hills. Under the black leather costumes are movie stars, businessmen, diplomats, housewives, policemen and preachers.
All that was gone today, Sturgis looked like a town where ranchers would shop for a new hay baler.
When a friend read this travelogue on another format he sent the following advice:
"By the way, don't miss ElkView Campground at I-90 exit 37, which is 5 miles East of Sturgis. They make their $$$ during the rally, but all other days, they are $10.50 a night for full hookups. 50 Amps, no less! The campground is only about 5 years old and sprawls across a hillside. The $10.50 is the same for a tent or a 45 foot behemoth in a pull-through. You just find a campsite you want and then put your cash into an envelope in the self-serve booth. The owner,"Jack," is a really nice guy, and the caretaker will give you lotsa free advice as to where to go explore. In town is the usual $25-$30 campsites."
Thanks to Brad from Sturgis.
Breeder trout in the Spearfish, South Dakota Fish Hatchery
Adjacent to the City Campground in Spearfish is a fish hatchery. The hatchery raises rainbow and brown trout to release in area waters. A lake adjacent to the RV-Park holds the breeder trout. It is a treat to watch these big trout some of which weigh as much as 10-pounds.
Wednesday September, 1: City Park & Campground Spearfish, South Dakota: N44° 28.796' W103° 52.508' $25.00 Full hookup 50/30 amp paved interior roads-gravel pads & shade.
We drove to Deadwood & Lead via Scenic US 14A through Spearfish Canyon. The 18-mile drive from Spearfish to Lead on US-14A is one of the most scenic drives in the country. It follows Spearfish Creek and the canyon created by the stream. If you are ever in the area this drive has to be near the top of your list of things to do.
Lead and Deadwood were mining camps in the days of the Wild West. The Lead/Deadwood mining district has produced an estimated $800-million worth of gold.
In 1885 placer gold was discovered in the Deadwood stream bed. Placer gold is gold that over time has been released from the rock originally holding it and is generally found in stream beds. Prospectors found it by sifting through gravel in stream beds. Prospectors could fine easy gold like this but the "mother-load" is always upstream of the placer gold and in hard rock. Prospectors know that placer gold is gold that has weathered out of the hard rock containing the "mother load". Every miner wants to locate the mother load. Several mines in the area were successful but none more so than the Homestake Mine in Lead.
Homestake Mine in Lead, South Dakota in the Black Hills of South Dakota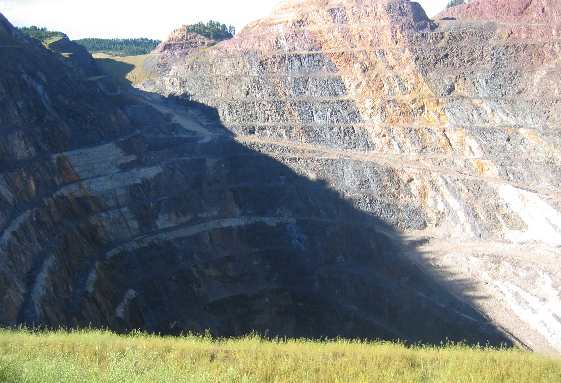 Over 40-Million Tons of rock was removed from a mountain that is now a giant open pit over 1,000 feet deep. That open pit is visible from Main Street in Lead. It is pretty neat to look down into that open pit and try to visualize that it was once a mountain. It is also hard to imagine how MOST of the rock was extracted from underground operations. When mining stopped in 2000 they were extracting gold oar from the 8,000 foot level. At that depth it is not profitable to extract oar and transport it to the surface for processing so mining has stopped.
Deadwood, South Dakota in the Black Hills of South Dakota
By 1886 and 1887 the town of Deadwood had sprung up. There was a lot of money around Deadwood in those days. Prospectors working placer mines were finding $100 worth of gold each day. With that kind of money floating around you can imagine all the ne'er-do-wells attracted to the area. Bankers, storekeepers, carpenters and laborers were necessary as were people to work the stamp mills that crushed the gold bearing oar to release the gold.
Saloon Number 10 in Deadwood, South Dakota where Wild Bill Hickock was shot in 1876
Deadwood's historic Boot hill, (the local cemetery) contains some notorious and colorful individuals from those days. Among the famous is "Wild Bill" Hickok who was murdered in Deadwood in 1876. Wild Bill came, as many others did, to the Deadwood gold camp in search of adventure and fortune. While pursuing what others often said was his only true passion - gambling - he was shot in the back of the head and killed instantly by a local rogue, Jack McCall. A hastily convened miners' court found McCall innocent, but he was later tried by a regular court, found guilty and hanged.
Actual location in Deadwood, South Dakota where Wild Bill Kickok was shot
Wild Bill's colorful life included service as a marshal, an Army scout and numerous other tasks which called for a fast gun and no aversion to bloodshed.
Calamity Jane is also interred in Boot Hill. Calamity Jane crammed more into her short life, 53-years, than most. She worked on a bull train, performed in a Wild West show and was a prostitute of little repute - they say that was because of her appearance. One story most historians claim to be strictly a figment of Calamity Jane's imagination was her claim to have been Wild Bill Hickok's sweetheart. Calamity Jane died in the mining camp from a variety of ailments, chief among which was acute alcoholism. One can only wonder what the elegant and fastidious Wild Bill would have had to say of Calamity's dying wish - which was granted - that she be buried next to him. Her grave is just above Wild Bill's.
Another colorful individual was Freeman Knowles who was a congressman, attorney, civil war veteran and rabid Socialist. Among other things Knowles published "The Lantern", Deadwood's Socialist weekly newspaper. He served numerous jail terms for his biting editorials which usually defended the miners' union. At one point Knowles was jailed for writing about abortion, a taboo subject during the early 1900's.
Can you imagine going to jail for writing about abortion?
Another notable was "Vinegar Bill" Bernard. Vinegar Bill died on December 8, 1907. It seems that Vinegar Bill had an infatuation with a "soiled dove" inhabiting the "Mansion", a notorious Deadwood brothel. After finding his soiled dove in a compromising position with another man, Bill pulled a gun and grievously wounded his supposed rival. Struggling for his pistol, the paramour shot Bill dead.
Then there was Seth Bullock who was one of Deadwood's notable citizens. His accomplishments are legendary; Bullock was Deadwood's first sheriff, a friend of Theodore Roosevelt, a member of the Black Hills Rough Riders in the Spanish-American War, a mining promoter and mine owner. Bullock and the Black Hills Pioneers constructed the monument to Theodore Roosevelt on Mt. Roosevelt. Bullock requested that he be buried above the Cemetery on a plot of ground facing Mt. Roosevelt. His request was granted and he is currently interred about 750' above the main part of Boot Hill.
While in Deadwood we dropped by the Silverado Casino for lunch. When we were in Sturgis the other day we asked a local where to eat. Without any hesitation the lady said the only place in the area she would recommend would be the buffet at the Silverado Casino in Deadwood. Noting that this lady was in Sturgis and she wouldn't recommend any place to eat in either Sturgis or Spearfish, Joyce and I decided to take her advice now that we were in Deadwood. We left our name with the maitre d' and waited our turn. About 30-minutes later they called our name. By that time I was chomping at the bit. It better be good. It was! They had a chef carving a beautiful prime rib. There is no need to comment on what else they had other than prime rib other than to say it was sufficient. Thinking that this meal was going to cost me an appropriate amount I put a hurtin (southern term) on that prime rib and I do mean good prime rib. When the check came the total bill was $2.12, I couldn't believe it. I thought that the waitress had added wrong or something. When I called it to her attention she laughed and said this was "seniors" day and that really was the total bill. She told us that we needed to come back for breakfast in the morning. I am telling you about this so that you can take advantage of it when you visit Deadwood. It seems that every Wednesday is "seniors" day and lunch is around $1 plus tax and it is a good "prime rib" buffet.
Until next time remember how good life is.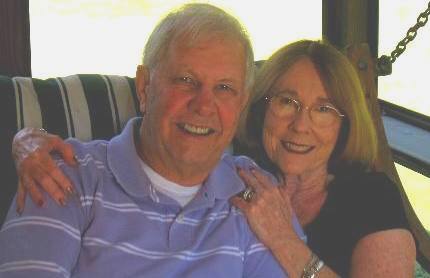 Mike & Joyce Hendrix who we are
We hope you liked this page. If you do you might be interested in some of our other Travel Adventures:
Mike & Joyce Hendrix's home page
Travel Adventures by Year ** Travel Adventures by State ** Plants ** Marine-Boats ** Geology ** Exciting Drives ** Cute Signs ** RV Subjects ** Miscellaneous Subjects
We would love to hear from you......just put "info" in the place of "FAKE" in this address: FAKE@travellogs.us
Until next time remember how good life is.