July 6 through 13, 2009
Needles Highway Scenic Drive in the Black Hills of South Dakota.
We spent time today driving the Needles Scenic Highway and stopping at the "Needles Tunnel".
The Needles Scenic Drive is one of the things you should do when in the Mount Rushmore area. You should also plan to stop by Sylvan Lake, Iron Mountain Road, and Custer State Park when in the Black Hills.
We are camped near Custer State Park and the town of Custer in the southern part of the Black Hills at Custer's Gulch RV-Park. It is an OK commercial campground just like dozens of others in this area.
This picture was taken from the pullout at the entrance to the famous tunnel on the Needles Highway Scenic Drive not far from Mt. Rushmore.
This is one of the MUST see and experience things to do in the Black Hills of South Dakota. Stopping at this tunnel to watch a bus negotiate the tunnel is every bit as exciting as spending hours at Mount Rushmore.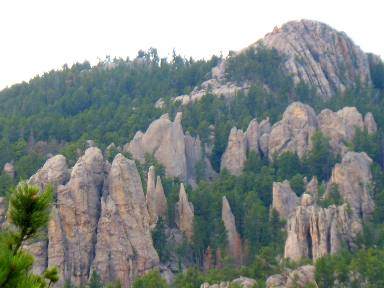 These formations are referred to in the area as "needles". Remember they were all once molten rock that was part of a dome of molten rock from deep within the earth that was trying to reach the surface. As it pressed toward the surface the pressure created cracks in the sedimentary rocks allowing molten rock to enter the cracks. What we see here is where the molten rock entered the cracks then cooled and crystallized. Over hundreds of thousands of years the sedimentary rocks have eroded away leaving this extremely hard igneous rock just like it formed millions of years ago. Geologist refer to these intrusions as dikes so these granite spires are dikes of molten igneous rock that hardened deep underground.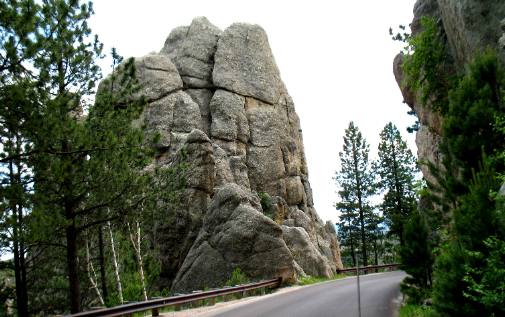 The road is passing between two large granite spires or dikes on the Needles Scenic Byway.
This is one of the myriad igneous rock formations visible throughout the Black Hills. Igneous rocks are formed (crystallized) from molten magma. Igneous rocks can crystallize at depth (under pressure and longer cooling period) or upon reaching the surface (little or no pressure and much quicker cooling time). Cooling time and pressure determine what type of rocks are formed. Most, if not all, Igneous rocks in the Black Hills were formed (crystallized) at depth and as such are coarsely granular.
The "Needles" from a distance on the Needles Highway Scenic Drive.
Granite Needles or dikes visible along the Needles Highway Scenic Drive
More "Needles" on the Needles Highway Scenic Drive.
More igneous rock formations in the form of granite needles or dikes, visible on the Needles Highway Scenic Drive.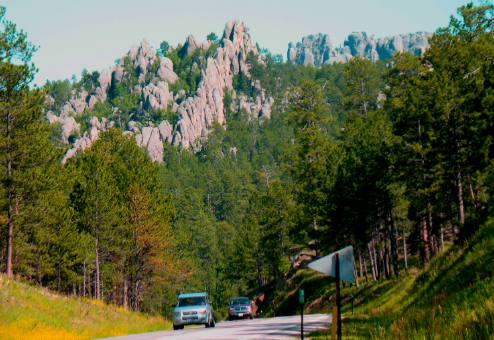 More of those granite needle formations. You will certainly want to experience the Needles Highway Scenic Drive.