Traveling through Custer State Park and Wind Cave National Monument in the Black Hills of South Dakota where turkey, deer, buffalo, coyote, prairie dogs big horn sheep & mountain goats roam the countryside.
We are camped near Custer State Park and the town of Custer in the southern part of the Black Hills at Custer's Gulch RV-Park. It is an OK commercial campground just like dozens of others in this area.
Bluebirds like this one are abundant in the open spaces around Custer State Park.
These mountain goats have yet to shed their winter coats and are scraggly looking to say the least.
Young mountain goats, like this one, scamper over rock cliffs like there was nothing to it. Some lovely blue flowers are about to be converted into goat poop.
These adult mountain goats were feeding beside the highway.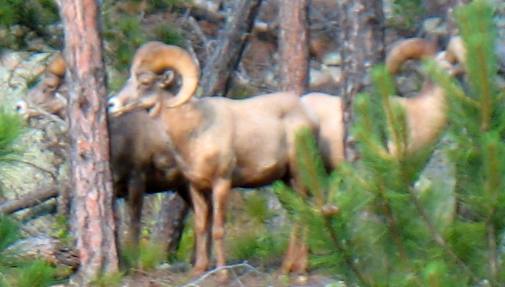 This is a group of big horn sheep in Custer State Park. The available light would not permit a decent picture.