Kerrville, Oscar Scheriner State Park, Bandera, Medina, Vanderpool, Hunt, Junction, South Llano State Park
Places Visited:
Texas: Kerrville, Oscar Scheriner State Park, Bandera, Medina, Vanderpool, Hunt, Junction, South Llano State Park.
Wednesday, May 14, 2003 We drove 57-miles to Kerrville Schreiner State Park; Kerrville, Texas. $13-per night 30-amps & water. Sewer is available for $2 more.
We moved our area of operations from Blanco to Kerrville. It was a leisurely 57-mile ride in the motorhome through scenic Hill Country back roads. The bluebonnets have stopped blooming and with it most of the tourist (Sunday drivers) have also disappeared. The highways and roads are almost deserted. Kerrville Schreiner State Park has a place to download e-mail at the pay phone attached to the office wall. We got to download e-mail for the first time in days while checking in. Texas recently passed a law outlawing feeding of wildlife in state parks at least that is what the lady in charge of checking us in said and that is what the signs say. That seems like a "goofy" law to me. Every feed store and hardware store in the state advertises and sells 50# bags of corn marked "deer-feed" for around $4.50. Why would it be ok to feed deer everywhere but in state parks? OK Texans, when you answer this do it with a straight face!
Despite the ban on feeding wildlife in the State Parks there are more deer in the park than birds. Mother got to see deer and more deer. Deer still approach your car while you are driving in some vain attempt to beg for food. They gather outside your RV waiting for a handout. That is probably the best part about this park. While we have around 40 pounds of corn we did not feed any to the deer. I think the legislature ran out of something to do.
We ate lunch in Bandera at the Old Spanish Trail Restaurant. This is not a "tourist" restaurant. It is a true cowboy & ranch hand place. The bar has saddles for bar stools. That is not a joke they really do! I tried to get Mother and Joyce to sit at the bar in one of the saddles. Neither could get on the saddles. We got pictures of them standing next to the saddles. Bandera is the self proclaimed Cowboy capital of the world in case you are wondering where we are.
Across the street at the general store we admired the signs. The one that caught my fancy was the one that said "Parents beware, children running lose will be given a kitten".
Next on the list was taking Mother into Arkey Blue's Silver-Dollar Saloon. Mother was in before she knew what we had done. This is a real cowboy bar. No joke. This is the "Real Thing" it is what the tourist traps try to capture. It comes complete with juke box (also a bandstand) saw dust on the dance floor, pool table, real cowboys drinking beer and jawboning, deer head mounts, and about everything else that might be found in a real cowboy bar. We got a good laugh at Mother as she scampered out of that place, her bad knee was not giving her any problem as she climbed the stairs to daylight and the exit. I hope no one from First Baptist in Panama City is reading this! VBG
From Bandera we drove to Medina. Medina is not large enough for a traffic signal but it does have a unique store that sells all kinds of apple products. The area around Medina has a micro-climate suitable for apples. They have many apple orchards scattered nearby along the Medina River. They lost 1/3 of the trees in last years flooding. The store makes awesome 4 pound $15.00 apple pies. That is what is done with the majority of these apples. It seems that they are able to pick their apples daily as they become ripe. That allows the apples to have 40% more natural sugar than a store bought apple. It also enables the store & bakery to produce fresh apple pies on a daily basis from late June until the end of October. They bake fresh apple pies on a daily basis year round but the apples have been stored in a cold building from last season's apple crop. We all got an apple icee with no added sweetener. They were so good and tasted like we were drinking apple sugar.
From Medina we drove west on Ranch 337 to Vanderpool. Ranch 337 is one exotic animal ranch after the other. Down this road lined with 10' fences we are able to see all kinds of exotic game animals. Axis deer, red deer, Texas white tail deer, emu, black buck antelope, pronghorn antelope, turkey and other things we do not know the name of. Many of the male deer have really large racks. Mother got to see a flock of wild turkey today plus one turkey hen that followed the car trying to get away from us through one of the game fences.
In Vanderpool we stopped to view the hummingbirds at the general store. You can't miss the store since it is the only thing there. I purchased some gasoline from a gravity feed gasoline dispenser. This is something I had never seen or even heard of. The 300 to 400 gallon tank is located approximately 10' off the ground. A pipe from the tank runs to a meter. We set the meter to 0.0 gallons then turned a valve on. From the meter to my automobile was a hose and handle like a normal gasoline hose. I stopped it at 6-gallons. Now I have actually pumped gas from a "gravity-feed" gas tank. Has anyone else done that?
Our next stop was the General Store in Hunt, Texas. This is a very old place that is popular with locals. The construction is unique and tables in the restaurant are just as unique. The exterior walls of the store are debarked cedar logs, no formal sawmill operation, just cedar logs with the branches trimmed. Each were approximately 8" in diameter and 8' tall. The log posts were spaced on what appeared to be 16" centers like 2X4s are used in modern construction. Along the top runs a standard 4x8 header-board that the roof is attached to. Between the cedar tree studs is mortar and large river rock. So the exterior walls are constructed of alternating columns of cedar logs and mortared river rock. It was OLD and unique as it has obviously withstood the test of time. Tables are made of 6 to 8 inch thick slabs (diameter cuts) of huge cypress trees. Most tables were only 6 feet long but all have been beautifully finished with the thick clear finish that is commonly applied to tables. Benches accompanying the tables were made out of smaller cypress logs cut in half length wise. It is worth stopping in the general store and eating lunch just to see these tables and other memorabilia around the place. The restaurant part of the general store closes at 2:00 so we missed that experience. A sign outside the Hunt Store read "Next time bring your wife".
When we got back to the motorhome deer were everywhere. Mother has reached the satiation point with viewing deer I think.
Thursday, May 15, 2003 Trek mileage Kerrville Schreiner State Park; Kerrville, Texas. $13-per night 30-amps & water. Sewer is available for $2 more. The parks main attraction is deer, deer and more deer.
We needed to take it easy for a day and get some personal things done. After sleeping in we headed to Alpine Lodge Restaurant located in the Inn of the Hills River Resort Kerrville, Texas. It was just a mile west of downtown on 27 (Junction Highway). The entrance to the restaurant is also the lobby of the hotel part of Inn of the Hills River Resort. The entrance is stunning with a gigantic circular, free standing, stone fireplace as the centerpiece. Wrapped around the 12' diameter stone fireplace is a magnificent spiral stair case. There is no support on the outside of that spiral staircase. Each of the beautiful wooden footboards are 3" thick wedges with the small end of the wedge imbedded in the mortar of the circular fireplace. Total support for each footboard is within the foot or so width of the wall of the fireplace. Structures like that really intrigue me . Everything about it was magnificent from the beautiful wooden foot boards to the elegant free standing spiral form swirling to the second floor. Alpine Lodge Restaurant had a wonderful buffet. Not a typical cowboy buffet but an uptown one that would put most buffets to shame. Everything about it was exquisite from the cloth napkins, with 3 forks and server in black and white formal wear to the food selection. There was not any chicken fried steak or meatloaf on this menu. Try whole baked salmon, brisket, and a whole litany of other specialty dishes, not to mention the divine deserts. We will put the Alpine Lodge Restaurant at the top of our list when in Kerrville.
A Gold Wing Motorcycle rally is taking place in Kerrville this weekend and the Inn of the Hills appeared to be rally headquarters. Mother got her hair done at a salon in the Resort while I mingled with the Gold Wing crowd. Over half of the Gold Wingers were husband and wife teams. Many had the tricycle rigs. 70% of the regular Gold Wing motorcycles were pulling custom trailers. As we discussed these $20,000 to $30,000 machines a few of us decided that a good game show question might be; "What accessory might you find on a Lexus or BMW that you would not find on a Gold Wing"? Think about that for a moment___________ How about a seat belt! That is the only thing we could think of that a Lexus or BMW might have that one of these Gold Wings do not.
The Inn Of the Hills Resort also has a Bar/Pub or Night Club complete with live entertainment nightly. I think I know what is on the schedule tonight.
After Mother emerged with a new "doo" we headed off for the Y.O. Ranch Resort Hotel and Conference Center. Joyce and I have been here before and enjoyed the magnificent lobby area. The lobby is expansive and steeped in western heritage. Three massive "western" chandeliers hang from the 40' open beam ceiling. Trophy mounts from around the world are liberally scattered around the walls and throughout the lobby. Elegantly western cowhide chairs and sofas provide the seating. A huge stone fireplace frames one end. The lobby of the Y.O. Ranch Hotel and Conference Center is at the top of our list of things to experience when in Kerrville. Sometime when we have more time Joyce and I are going to take the Y.O. Ranch tour where they ride you in big rugged vehicles through the ranch located west of Kerrville with a guide spotting all kinds of exotic wild game. The ranch has virtually every type of wild game imaginable from around the world. Time is not on our side for that tour this trip. We want to be in Junction tomorrow night for the PRCA rodeo, so that interferes with the Y.O. Ranch tour on this part of the trip.
As darkness enveloped the land we dressed up and headed into the "Inn Pub" at Inn of the Hills River Resort. When we ate lunch at the restaurant today Joyce noticed that they had a live band every night from 9 to 1 in the Pub. We arrived in time to get a good seat and a bite to eat before the band started playing. The band was a good one with a very good vocalist who could duplicate all the top songs. His specialty was George Strait but he handled the Eagles and Jimmy Buffet equally as well not to mention Brooks & Dunn. We had a good time but the dance floor was not crowded. None of the Gold Wing Rally group showed up. It may have been too wild for them. VBG Mother commented that she did not learn any of those songs when attending Southwestern, and most of us know she has not heard any of those songs since either. Joyce could not believe she had never heard Brown Eyed Girl. Joyce may not have believed it but I bet Steve, Janis & Jennifer can. VBG
Friday, May 16, 2003 We drove 55-miles to Morgan Shady RV & Camping Resort 6th street @ the river Junction, Texas. $20 per-night 50amp full hookup. Nice park in an old growth pecan orchard on the banks of the South Llano River.
Our destination of Junction, Texas is a bit over 50 miles west Kerrville. One could make the entire drive on I-10. We chose to take the first 25 miles out of Kerrville on Texas 27 since as a rule we like to take the back roads rather than interstate. We had enjoyed lunch at Alpine Lodge so much yesterday that we decided to do it again today so we stopped by on the way out of town. We had planned to park the motorhome in the Super Wal-Mart parking lot down the street but there was plenty of space in a shopping center across the street. We did not even have to disconnect the Saturn. The food was every bit as delectable as yesterday but the service fell off. Our waitress today was not as attentive as the waiter yesterday. We only got one fork today instead of the three yesterday. Things are never the same!
The highway and I-10 from Kerrville to Junction is deserted. Well deserted as compared to an interstate or highway system back east. Most of the time we could not see another vehicle in front of us or behind us in either the east or west bound lanes. Lack of traffic is made up for by wildflowers in the medium and right of way. The broad swaths of color appear as if a joyous painter had gone wild with yellows, reds and oranges.
The road cuts along I-10 are another thing that is intriguing to a flat-lander from Florida.
When we tried to make reservations in South Llano State Park the other day it was full. We were really disappointed as that was where we really wanted to stay. It is a unique State Park in that wild turkeys parade through the campground at all hours of the day as do the deer. On our last trip through here Joyce and I were awakened one morning to a flock of turkeys outside our window having a gobble fest. We had to stay in a commercial Park on 6th street in downtown Junction. As luck would have it we are better off in this park because it has 50-amps and is in the shade of ancient pecan trees. The 50amps and shade is particularly important since a heat wave has settled over this part of Texas. Even the locals are bemoaning the unusual record-breaking heat wave. A local paper reported the temperature in San Angelo a few miles from here as 108 where it was the hottest city in the nation yesterday.
After settling in we jumped in the Saturn and headed for South Llano State Park. We wanted Mother to see the wild turkeys. Although she has been seeing wild turkeys for the past week or so South Llano State Park really has an abundance of turkeys. They are about as thick as pigeons in a city park. We started spotting turkeys before we even entered the park then watched a road runner run down a lizard. At the State Park's Ranger Building we sat down and watched 4 sets of barn swallows that had set up nests under the porch roof. Their babies were so small, and the adults so colorful. They are conducting their business within reach of us. The nests are within reach. Wild yet almost tame they are so trusting. The colors are so vivid when viewing them this close. Humming birds are busily fighting over their feeders. In the yard purple martins are occupying every hole in the two "martin-hotels". Eight deer are grazing in the shade of a pecan grove across the road. South Llano State Park is a special place for spotting wildlife. Axis deer, an exotic species, from India are so thick in the park they conduct annual hunts to thin the heard. Even so they were not thick enough for us to spot one.
Driving through the park we spot more deer and turkey then a jack rabbit.
By 7:30 we are sitting in the stands at the PRCA Rodeo. Small town Rodeo's are different than the productions back east conducted in indoor civic centers and arenas. Texans are patriotic and God fearing to a fault. A local beauty sings the National Anthem, the flag is presented, everyone stands they start the event with prayer then the Rodeo action starts. George Strait has been roping in some of the events yesterday. He may be participating in some of the roping events tonight but under another name so that he is not mobbed. Every woman in the house is trying to spot him. Not quiet "every-woman" in the house since my Mother has never heard of George Strait. George was never positively identified by anyone sitting close to me. Last night one of the bulls jumped the fence and mixed it up with the audience. Everyone was paying close attention tonight to see what kind of action the bulls would provide. The only thing that came close was the bull rider that got hung up in the rigging while the bull flung him around like a rag doll in a bull dog's mouth. When he finally came loose everyone wondered if he was still alive. He just lay there while the bull roamed the arena looking for another victim. After much time he got up and walked away. He was one lucky cowboy to have walked away from that encounter.
We took Mother back to the RV then Joyce and I headed for the dance following the rodeo.
There are two places to eat recommended by the locals: Isaac's for plate lunches and Gonzalez's for Mexican. Both are located on main street and easy to find.
Saturday, May 17, 2003 Morgan Shady RV & Camping Resort 6th street @ the river Junction, Texas. $20 per-night 50amp full hookup. Nice park in an old growth pecan orchard on the banks of the South Llano River.
We ate lunch at Gonzalez's a small Mexican Café catering to locals. It is located in front of one of the two local grocery stores. It was Mexican food but nothing special. Joyce had two little shops where she wanted browse, I visited a local taxidermy shop. Inside one of the shops the "talk of the town" was that George Strait was in town. It seems that George Strait's son, a college student, had placed in one of the roping events. The son's name was not on the program for obvious reasons. We do not know if he was entered under a pseudonym or if he was just not listed. Anyway, George is in town and hanging around the rodeo grounds. He may make an appearance in the program tonight. When Joyce was through shopping and was "full" of the town gossip she wanted to "stop-by" the rodeo grounds "to see what was going on". In other words to see if she could spot George. Being a people pleaser that is where we went. We did get to see plenty of interesting things but did not spot George. Oh well, there is always tonight.
We visited South Llano River State Park again where we spotted deer and roadrunner but no turkey this time.
We enjoyed the rodeo again but George was a no-show. At least he did not make a surprise appearance. Our last chance to see George was at the dance following the rodeo. The band was great and played a lot of George's songs but alas, no surprise appearance at the dance either. At least he did not show by 12:30 when we headed home.
Mike & Joyce Hendrix
Until next time remember how good life is.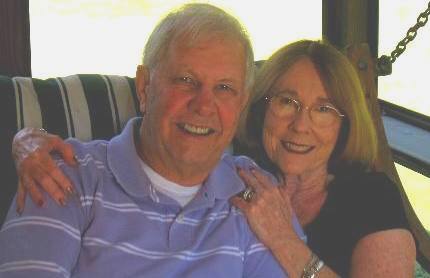 Mike & Joyce Hendrix who we are
We hope you liked this page. If you do you might be interested in some of our other Travel Adventures:
Mike & Joyce Hendrix's home page
Travel Adventures by Year ** Travel Adventures by State ** Plants ** Marine-Boats ** Geology ** Exciting Drives ** Cute Signs ** RV Subjects ** Miscellaneous Subjects
We would love to hear from you......just put "info" in the place of "FAKE" in this address: FAKE@travellogs.us
Until next time remember how good life is.