Our 2005 Interesting Signs Part Two
Date Shakes and Prickly Pear Cactus Milk Shakes
These signs were in the restaurant in Dateland, Arizona where we stopped to get one of the heavily advertised "Date Milkshakes".
Actually, I got both of them and loved them.
Read the writing on that tank with the line indicating where Sea Level is. Where do you thank this picture was taken?
Did you give? It was taken south of the Salton Sea in California a few miles south of Brawley. The area is below sea level it isn't a hoax. The Salton Sea is the lowest place in the area.
A Youth Nabertacle What is that?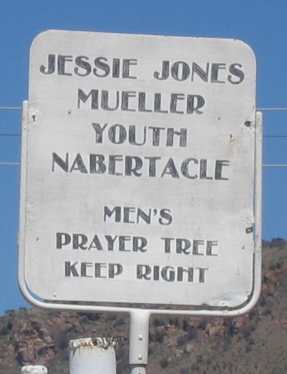 We saw this sign on what appeared to be the entrance to a boys camp or something of that nature. It was a few miles west of Fort Davis, Texas. By the way what is a Nabertacle?
This sign caught our fancy. It was outside of a jukejoint near Cranes Mill COE park on Canyon Lake in Texas.
This cute sign was advertising cabins on the Guadeloupe River near Gruene, Texas.
How long a minute is depends on what side of the bathroom door you are on
This was on a unisex bathroom in the Apple Barn Medina, Texas.
That sign sure speaks the truth, Amen!
Please Unload Guns Here
Seen at the Rio Bravo Ranch and hunting Lodge. In otherwords no loaded guns near the Lodge.
Folks we are in Texas.
Men's room door in the Bears Den a Mexican restaurant in Balmorhea, Texas.
This one advertising California avocados just caught my eye. Do things around your house resemble this? VBG
This one was special. It was in Joshua Tree National Park and even has the "official" brown sign. Fried Liver Wash. Now I wonder how it got that name.
Mike & Joyce Hendrix
Mike & Joyce Hendrix who we are
We hope you liked this page. If you do you might be interested in some of our other Travel Adventures:
Mike & Joyce Hendrix's home page
Travel Adventures by Year ** Travel Adventures by State ** Plants ** Marine-Boats ** Geology ** Exciting Drives ** Cute Signs ** RV Subjects ** Miscellaneous Subjects
We would love to hear from you......just put "info" in the place of "FAKE" in this address: FAKE@travellogs.us
Until next time remember how good life is.