Places Visited:
Arizona: Yuma
Mexico: Algodones
California: El Centro, Imperial Dunes & Imperial Valley
Wednesday, April 20 Desert Holliday RV Park; Yuma, Arizona--- $19.00 located on 4th street. Full hookup paved interior streets gravel sites N32° 39.692' W114° 37.352'.
This was our day to experience Algodones, Mexico. Algodones is a special border town in that it has loads of dentists, opticians, orthodontists and pharmacies that provide services and products for a fraction of what those services/products cost in the U.S. I needed new lenses for my glasses and got new lightweight plastic progressive bifocals for $70
Joyce at Border Crossing into Algodones, Mexico from California just west of Yuma, Arizona
.
Joyce standing in front of the border crossing.......the Mexican side. Yes, Joyce is in Algodones, Mexico.
Market place in Algodones, Mexico where Joyce is having the time of her life
This was Joyce's first excursion into a Mexican border town and she was having a good time with all the jewelry vendors. She came away with a lifetime supply for herself and her friends. I got a new leather belt. We admired some beautiful stained glass windows and display boxes but didn't purchase any. Joyce looked at leather purses but resisted the temptation.
Joyce picking our al fresco dining spot in Algodones, Mexico
This pic is proof that I have adult supervision with me on this trip.
Al fresco dining at Rincon Tapatio in Algodones, Mexico
We found a restaurant (Rincon Tapatio) situated in a courtyard under a big shade tree with a good band playing oldie but goodie songs. I thought for sure we would have to settle for Mariachi music & entertainment. This was a pleasant surprise. The band was good. Most songs they sang in English just like the original. However, with "Under the Boardwalk" they did it in Spanish. We enjoyed that rendition. Waiters danced with the ladies everyone was having a good time
Al fresco dining at Rincon Tapatio in Algodones, Mexico
.
We shared our table with a couple from Coeur d'Alene, Idaho. They were originally from Seattle where she retired from Boeing. They winter in Desert Palms and were down here on a day trip.
After leaving Algodones we took a drive through the California valley surrounding Bard and Ross Corner inspecting crops and farming techniques. I can't distinguish oats from wheat but I suspect the fields of grain around here are Durum wheat. East of here in Arizona they are growing a lot of "animal-food" like alfalfa and oats. The Arizona desert farming was being watered by the Gila River and a series of irrigation canals. Here in California the water is being provided by the Colorado River via the All American Canal.
All American Canal near Yuma, Arizona
This is the All American Canal within a few miles of Yuma.
Day time temperatures have subsided from last week when a few days got into the 90's. Today was a mild 80 or so. We enjoyed the weather today and hope that it holds since we want to do some of the desert areas in California.
Thursday, April 21 Desert Holliday RV Park; Yuma, Arizona--- $19.00 located on 4th street. Full hookup paved interior streets gravel sites N32° 39.692' W114° 37.352'.
As usual Joyce had a full day planned. We headed north out of Yuma on US-95 in the Saturn to inspect some of the Recreation Areas on the Colorado River that are advertised in most tourist information.
The old Gila River Bridge or McPhaul "Swinging Bridge to Nowhere" 18-miles north of Yuma, Arizona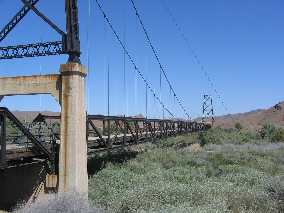 Our first stop was an old bridge across the Gila River that is no longer in service. The McPhaul "Swinging Bridge to Nowhere" is located 18 miles North of Yuma on US-95. Once bridging the great Gila River, this oddity now spans only shifting sands of the desert. An engineering feat, it was completed in 1929. The Golden Gate Bridge over San Francisco Bay follows this style.
Irrigated onion field ready for harvest near Yuma, Arizona
Onions ready for harvest.
Before we got to the bridge we stopped to inspect some irrigated fields. One contained poppies in full bloom. I guess these aren't the cocaine poppy! They may be growing them for "poppy-seeds". That field was the only poppy crop we saw. We did see fields with cantaloupe, potatoes, melons, corn, alfalfa and sugar beets. We know that cotton grows in the area but we did not see any. We did see a cotton gin.
A few more miles north on US-95 and we turned west heading to the Imperial Dam. Imperial Dam Road just happens to run through YPG Yuma Proving Ground a sprawling army base. Big artillery pieces decorate the corner of US-95 and Imperial Dam Road along with signage informing you that the Imperial Dam Road is passing through the army base. Not far down Imperial Dam Road is a display of tanks and artillery pieces that have been tested here since WWII. Then we slow down to pass over a "tank-crossing". I have never heard of a "tank-crossing" but a dirt road leads away from both sides of the highway. The crossing looks to me like it is a thick patch of reinforced concrete. Off in the distance we can see trails of dust in the desert. Something is moving about 5-10 miles away out in the desert. We continued on to the Colorado River and the Imperial Dam. As we neared the riparian area signaling water is nearby we see fancy signage for Hidden Shores Village and decided to see what it was all about. It is a huge RV-Resort with access to the Colorado River. The security guard told us that most of their business was with people from San Diego who came here on weekends and on vacation. Many of them owned their lots and left their RV on the lot full-time. In addition to Travel Trailers most of these owners had a 20' or so go fast boat, several jet skis, and a pontoon boat. Some even had a golf cart in addition to the boats. This looked like a fun, upscale place to visit in the summer. There was a small golf course and upscale restaurant. If you don't eat here you have to drive to Yuma.
The Imperial Dam that creates the All American Canal north of Yuma, Arizona
After touring Hidden Shores we continued west on Imperial Dam Road and visited the actual dam. This was exciting for me. The dam is the start of the All American Canal. Several other irrigation canals are also fed from this source.
Army tank crossing highway in Yuma Proving Grounds army base
On our drive back out to US-95 we spotted a cloud of dust heading toward the road we are on only some distance in front of us. We just thought it was some army vehicle running around out in the desert. It appeared that we were heading on a collision course with us heading east and the vehicle heading north. Then we got close enough to realize it was a modern tank flying down that dirt road toward that "tank-crossing" we saw earlier. We stopped to take pictures. The tank rolled up to the "tank-crossing" like it was a 4-way stop and would not proceed across the road until we had moved across his path. We did, then promptly made a U-turn so we could get a picture. As soon as we got across the "tank-crossing" the tank gunned it and roared across the highway and down the dirt road on the other side in a cloud of dust. It all happened so fast.
We turned north on US-95 again for 5 to 10 miles then turned west on Martinez Lake Road heading to Fisher's Landing on the Colorado River/Martinez Lake. Martinez Lake road runs through YPG Yuma Proving Grounds army base also. Seven or 8-miles down the road we passed a gate into the base. A few more miles and we passed a 100-acre cleared area with a small covered shelter and parking area. We wondered what the military was using this for but kept going.
Fisher's Landing was another area to access the Colorado River plus an area for RV's and homes. There was a little bar & grill that catered to people staying in the area and using the facilities. We could see a large area for dry camping where snow birds must have recently been because we could still see their tracks in the sand. There were only about 10 or 12 dry campers scattered about mostly under selected shade trees. Something tells me that the summer users of Fisher's Landing are going to want full hookups with as much electricity for air conditioning as they can get.
Special-forces training for free fall insertion behind enemy lines north of Yuma, Arizona
On the way back to US-95 we spotted parachutes falling out of the sky. As we neared we could see they were landing in that clearing we had passed on the way in. These were not the normal army parachutes; they were the kind you see at special events where sky divers land on the 50-yard line at football games and such. We stopped on the road to snap a few pics when one of the men motioned for us to come join them and get some good pics. The signs said military only but this guy was motioning for us to come on so we did. It turns out this was a training class in free fall entry into enemy territory.
Special-forces training for free fall insertion behind enemy lines north of Yuma, Arizona
The school was training "special-forces" from all branches of the military. Navy Seals, Army Rangers, and Air Force Special Ops were all represented. They were landing with 70-pounds of equipment so it was not exactly like the performers who land on the 50-yard line. Upon landing these men & women (yes there were women) stowed their parachutes then picked up their 70-pound packs and headed back to the shelter where we were. A bus stopped by and picked them all up for the ride back to base. How exciting! We first saw the tank cross the road then these special-forces training for free fall insertion behind enemy lines.
Our last stop if the day was at the Yuma Crossing State Historic Park across the river from the old Territorial Jail. In the early years of this country crossing the Colorado River was a major obstacle for settlers and others heading west. The Colorado River was narrower at this spot than anywhere else upriver.
Yuma Crossing is also where the army had a supply depot. Buildings on the property are remnants of the old supply depot but they aren't the most interesting thing to me. The State Park had magnificent displays explaining the irrigation systems, how they were constructed along with pictures. These canals were constructed in the early 1900's and improved upon in later years. It is too hard to explain the engineering in these canals but needless to say it is complex.
Friday, April 22 Rio Bend RV & Golf Resort near El Centro, California--- $27.00. Full hookup paved interior streets gravel sites N32° 45.962' W115° 41.557'.
We headed west in the motorhome today. The first leg was on I-8 for about 20-miles because there was no other highway that paralleled I-8 in that area. During that 20-mile stretch we crossed over the Imperial Dunes a natural occurrence with the dune field running north and south across I-8. Vegetation is scarce in the shifting sands of the dune system. The ubiquitous fence that parallels all interstates was covered with shifting sand in many areas. In many ways this desert dune system looks a lot like the dunes we see on TV where Arabs are riding camels over the Sahara Desert dunes.
California agricultural inspection on I-8 west of Yuma
While on I-8 we also went through a California agricultural inspection. They wanted to know where we had been. Then they wanted to know what kinds of fruit and vegetables we were bringing into California. Where did we purchase these items? We had apples and lemons that they were interested in. I passed the mesh bag of 3 or 4 lemons along with a plastic bag containing several apples. The agriculture inspector looked at the label on the lemons and said they were OK since they were California lemons. Da! Those lemons are seasoned travelers. They were grown in California shipped to Florida where they were sold to us and here we are bringing them back to California. What a hoot. The apples were from Washington and declared OK. The fruit was returned to us and we were on our way.
At mm-144 we exited I-8 onto SR-98 and continued west only much closer to the Mexican border. Along this route the desert quickly gave way to irrigated fields. There was a lot of alfalfa but other things like onions and some corn was in evidence.
Along the Mexican border in southern California east of El Centro
We stopped in an RV-Park about 8-miles southwest of El Centro, California located at exit 107/108 of I-8. The 70-mile drive today was interesting. Upon leaving Yuma this morning we were in typical southwestern/Sonoran desert terrain then we transitioned quickly to the Imperial Sand Dunes a relatively narrow dune field with shifting sand. From I-8 we could see recreational use of the dunes by individuals in dune buggies and one individual riding a wheeled "gizmo" being propelled by a para-sail. I wanted to see this contraption up close but could not find a way to exit I-8. The dune field was in our rear view mirror before an exit appeared. The dune field disappeared into normal Sonoran desert terrain as rapidly as it appeared.
When we exited I-8 onto SR-98 we were following the All American Canal, the main artery providing lifeblood to the Imperial Valley. Although the Imperial Valley only receives 3-inches of rain a year the 2.9 million acre-feet of water-about one-fifth of the Colorado River's entire flow flows down the All American Canal where about 700 prosperous farmers generate a billion dollars a year in produce, grain, and livestock.
Bougainvillea beside tractor shed along the Mexican border in California
The bougainvillea in this area is stunningly beautiful. This was just several bushes planted beside a tractor shed near the highway.
It did not take long before the desert on both sides of SR-98 became cultivated fields. Alfalfa was the predominant crop along SR-98 although a few fields of corn, wheat and onions were scattered about. Along SR-98 we started spotting burrowing owls. Some were on high ground while others were perched on power lines. We have never seen this many burrowing owls and we have spent time looking for them in south Florida. Kestrels were still patrolling the fields although these stragglers should be migrating north any day.
Colony of cliff swallows nesting under an irrigation canal overpass in southern California
At one road overpass near an irrigation canal we stopped to watch a colony of cliff swallows hard at work building mud houses from the wet mud found on the side of the drainage canal. There were hundreds of nests under this overpass and all the birds were getting their mud from the same small stretch of canal. The place was a mad-house of activity. We pulled up next to the melee to watch the industriousness of these birds that would but a honey bee to shame.
Cliff swallows gettinb mud to construct their nests
The RV Park is located a mile south of I-8 and probably about 7-miles from the Mexican border. It is one of those fancy parks billing themselves as a "resort". "Resorts" have someone to escort you to your site and back you in. I just hate when they do that because 90% of the nincompoops you have to follow are dumber than a sack of rocks and couldn't guide a car onto a freeway. The nincompoop assigned to me was one of the 90%, nice as he could be but his brain long ago fried on excesses of the 60's. To begin with we wandered around the streets of the "resort" looking for my site which ended up being about 200' from the office. When he did find the site the motorhome was pointed in the wrong direction so we had to go around the block again so I could back in. When we started back into the site he lined up on the WRONG side of the motorhome to give me directions and stood where I could not see him in the mirrors. I put the motorhome in park and waited for him to come to my window where I calmly explained that he was standing where I could not see him, that is why I was not backing up. I calmly explained to him that if he could not see my face in the mirror I could NOT see him. It is a simple concept, yet oh so hard for some people to comprehend. With that hurdle behind us I started backing again when he started waving his hands in a spinning motion like he was trying to create a whirlwind. I put the motorhome in park again and waited for him to come up and communicate. I explained that I did not understand helicopter. If he would just point in the direction he wanted the back end of the motorhome to go I would do as he said. It was hard for him to do but we did it………….. Well almost. After walking around looking at both sides of the motorhome he thought it would be better if the motorhome was over about 18". I said OK and pulled the motorhome forward then started rolling back 18" from the original spot. He was standing in front lining me up with the concrete patio giving me thumbs up when I felt the motorhome shake like I had hit something. I immediately put the motorhome in drive and started pulling forward --- but the motorhome struggled, I applied more power and it finally surged forward. The right rear wheel had fallen into their sewage system. I put the motorhome in park and got out to take a look. Thankfully, I had not run into something and was not in the sewer system. Several neighbors came to gawk at the hole while the dufus frantically scratched his head like he had cooties. After a frantic phone call back to the office he said he would lead us to a new site. Good idea, only lets pick one that is not located on top of the sewer system.
I followed half-wit to the new site and went through his backing routine. Thankfully, we got backed in and dufus headed back to the office. Finally, we were free from park authority, and dim-wit was off to bestow confusion on his next victim.
It didn't take long for us to head out to see what the Imperial Valley was all about. South of I-8 the predominant crop was alfalfa while north of I-8 sugar beets seemed to be the leader. Cotton is also grown in abundance but we did not see any. It is certainly possible that cotton will be planted on the fields being plowed now or possibly on the sugar beet fields after the sugar beets have been harvested. There is still plenty of alfalfa north of I-8 but there appeared to be more sugar beets.
Sea level marker on agricultural elevator in the Imperial Valley north of El Centro, California
North of El Centro we passed a sugar beet processing facility. A large mark on the side of a silo noted where "sea level" was. It indicated that we were about 30' below sea level. About 10-miles south of El Centro we saw another sign indicating we were at sea level. Water from Mexico, including water from the All American Canal, flows north through the Imperial Valley to the Salton Sea which is 235' below sea level. If you can visualize this large almost flat plane with a steady yet gradual decent toward the Salton Sea then you have a mental picture of the Imperial Valley.
Next to the sugar processing plant we saw two things that interested me. A HUGE pile of gray stuff was stacked out back. I wonder if it was sugar. If so how do they keep blowing sand out of it? It was not white like the sugar cane we have seen in Florida plants processing sugar cane. If anyone knows what that huge pile of stuff behind the Sugar Beet factory is please share it with me.
-------- A reader wrote to tell me that the gray pile out back was probably lime rock which is used to burn in the lime kiln in sugar beet processing.
Then next to the sugar beet factory we spot a 100-acre "parking lot"-------well not really a parking lot but it looked like one. An 18-wheeler tractor was slowly pushing a street sweeper around the lot. The street sweeper was "sweeping" something off the "parking lot" onto a conveyor belt that was loading whatever it was into the hopper behind the 18-wheeler tractor. As we watched the operation we decided that the sugar company must be spreading sugar beet residue on the pavement to dry. This "sweeper" was coming along and picking up the dried stuff. I suppose the dried pulp, if that is what it was, is sold as cattle food. Again, if someone knows what that sweeper was doing I sure would like to know.
-------- A reader wrote to tell me that they were indeed drying the beet pulp to be used for livestock feed.
Until next time remember how good life is.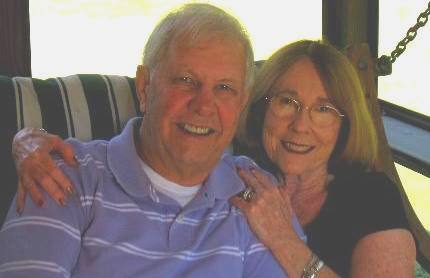 Mike & Joyce Hendrix who we are
We hope you liked this page. If you do you might be interested in some of our other Travel Adventures:
Mike & Joyce Hendrix's home page
Travel Adventures by Year ** Travel Adventures by State ** Plants ** Marine-Boats ** Geology ** Exciting Drives ** Cute Signs ** RV Subjects ** Miscellaneous Subjects
We would love to hear from you......just put "info" in the place of "FAKE" in this address: FAKE@travellogs.us
Until next time remember how good life is.