Places Visited:
Texas: Balmorhea
Friday, April 8 Balmorhea State Park --------Balmorhea, Texas $18-50-amp paved interior streets and pads. N30° 56.675' W103° 46.965'
The transition from Sonora to Balmorhea along I-10 was uneventful. With each passing mile trees got smaller and smaller and the hills of the Hill Country began to take on sharper edges. By the time we got past Ft Stockton the trees are no more than 5' high. The bright green cedar trees have given way to mesquite and cactus. This is real West Texas desert country getting only 14" of rain per-year. The eastern edge of the Hill Country around San Antonio and Austin get 30" of rain per-year. This area has the same limestone rocks as the eastern side of the hill country but only half the rain to weather the rocks. Erosion has rounded the hills in the Hill Country. Out here "sharp edged" mesas of exposed rock are the common landscape until you get to the Davis Mountains. Balmorhea State Park is located on the eastern base of the volcanic Davis Mountains a few miles south of I-10. Although not very large it is the 3rd most visited State Park in Texas.
Balmorhea State Park is build around a large spring made into one of the world's largest swimming pools. The deep end of this pool is 30' or more with limestone walls. Scuba divers from miles around come to this spring. Huge cottonwood trees surround the pool. A large variety of birds are concentrated in and around these trees and this source of water.
Barn swallows nesting in Balmorhea State Park - Balmorhea, Texas
Barn swallows nest under the eves of virtually every building at the state park. Western Kingbirds, vermillion flycatchers, black phoebes, summer tanagers and a variety of orioles nest in the cottonwoods. It is not hard to spot the nests since there are so many of them. All you have to do is sit still and watch the pattern of movement.
Cinega in Balmorhea State Park Balmorhea, Texas
The cienega contained pied billed grebes and common coots. A cienega is Spanish for desert wetland or swamp, usually from a spring.
Irrigation ditch or aquina flowing through downtown Balmorhea, Texas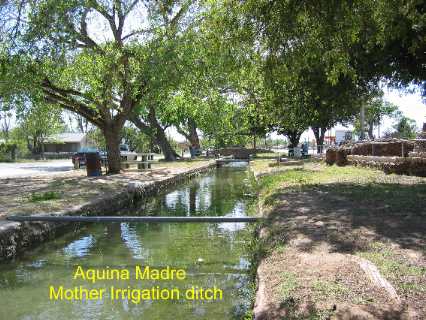 Water from San Solomon Springs flows into the pool then out into the districts irrigation ditches or aquinas. The aquina madre (Mother Ditch) is the main ditch that each field receives its water from. The aquina madre flows through the small historic town of Balmorhea where it is a centerpiece with walkways over it and stately old cottonwoods lining it.
Until next time remember how good life is.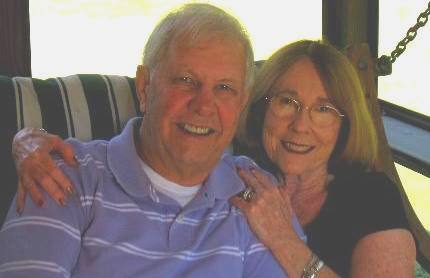 Mike & Joyce Hendrix who we are
We hope you liked this page. If you do you might be interested in some of our other Travel Adventures:
Mike & Joyce Hendrix's home page
Travel Adventures by Year ** Travel Adventures by State ** Plants ** Marine-Boats ** Geology ** Exciting Drives ** Cute Signs ** RV Subjects ** Miscellaneous Subjects
We would love to hear from you......just put "info" in the place of "FAKE" in this address: FAKE@travellogs.us
Until next time remember how good life is.