Indio, California in the Coachella Valley
Places Visited:
California: Indio

Monday, April 25 & 26 Fair Grounds RV-Park Indio, CA-- $20.00. FHU - 50-amps, Gated & paved interior streets & sites N33° 42.770' W116° 13.436'. Entrance & office is on Arabia Street on west side of fairgrounds, turn in Gate #4 office is in building directly in front of Gate #4.
We pulled out of Borrego Springs heading to Indio this morning. The road east out of Borrego Springs heads across the Colorado Desert to Salton City on the western bank of the Salton Sea.
Joyce had us scheduled to do Joshua Tree National Park today. It turned out to be a full day. To begin with we are in Indio near I-10 exit 142 and need to begin our scenic drive into Joshua Tree National Park at I-10 exit 115 SR-62. Simple math indicates that we are 27-miles away from where our scenic drive starts. We got much of the information for today's scenic drive out of the Readers Digest book The Most Scenic Drives in America. For the most part it covers Joshua Tree National Park but it has several items of interest before and after Joshua Tree National Park.
Typical La AQuinta, Indian Wells, Palm Desert, Ranch Mirage, Cathedral City or Palm Springs, California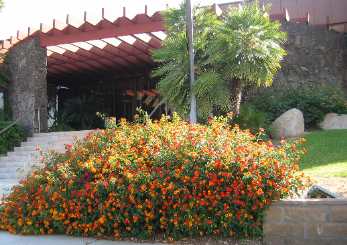 To begin with we had the choice of jumping on I-10 and getting in the fast lane or I could drive to our starting point on SR-111. For those of you that don't know SR-111 is the highway/main street that connects the posh communities of Indio, La Quinta, Indian Wells, Palm Desert, Ranch Mirage, Cathedral City and Palm Springs. If it weren't for the modern street signs that give not only the name of the street but also the city one would never know which of these communities they were in because these towns have melded together. SR-111 is a shopper's dream come true with 20 plus miles of back to back shopping opportunities. It isn't just one store after the other it is one shopping plaza after the other squeezed into that ribbon of tarmac running parallel to I-10 through the Coachella Valley. We traveled SR-111 which although having 6-lanes had little traffic at 8AM. I guess the "beautiful people" don't stir until afternoon. Anyway, I enjoyed the flower displays each business and shopping mall had on display. The medians are alive with color as well. With the intense sun and plenty of water it is amazing what plants will do. Joyce was eyeballing the shopping opportunities zipping by in quick succession. All the while I was trying to get her to focus on the splashes of color provided by the plants. I could be stuck riding a bench for months in a place like this.
Wind generators in the pass near Palm Desert

As we popped out on the west side of Palm Desert I could see wind turbines ahead. The closer we got the more of those wind turbines popped into view. The number is incredible, one piece of literature indicates there are over 4,000 of these wind generators gathered in this pass all privately owned and generating over 2% of California's electricity. I want to know more, I want to do a tour. That tour will have to be another day we have Joshua Tree National Park scheduled today.
Smack in the middle of that wind turbine forest we took I-10 exit 115 to SR-62. Yeah, we had to transition from SR-111 to I-10 or we would have missed SR-62 that begins our scenic drive for the day. The Coachella Valley straddles the San Andreas Fault with magnificent mountains on either side of the valley. It is hard to shift my attention from those wind generators to SR-62 that is climbing fast. We are heading up those mountains to the north of Palm Springs and the Coachella Valley. Not far up SR-62 we enter the small town of Morongo Valley. We had information about a special place we needed to visit located at: N34° 2.934' W116° 34.149'. Big Morongo Canyon Preserve is a County Park for day use only. Big Morongo is unique in that it has one of the few creeks with water that runs continuously in the area. In a desert such as this a constant source of water creates a riparian area with willows, cottonwoods, eucalyptus, California Fan Palms and a variety of other trees and plants. Desert big horn sheep even come down from the high desert to quench their thirst at this oasis. This turned out to be as wonderful a stop as the information we had said it would. We met the "Park-hosts" who lived in a 5th wheel tucked away under some stately cottonwood trees. He said he was passing through the area 9-years ago when the county was looking for someone to watch over the place, he has been there ever since. The couple had a number of bird feeders around their 5th wheel that were attracting a flock of lesser goldfinch to the thistle seed. Anna's and black throated hummingbirds were fighting for the humming bird feeders like they each owned them.
Joyce holding "cotton" from cottonwood trees in Big Morongo Canyon Preserve in Morongo Valley, California
The cottonwood trees were profusely turning lose "cotton" seeds, so much so that the air was full of flowing cotton. It looked like it was snowing. Joyce scooped up a handfull and I shot this pic.
In a field surrounding a cottonwood grove we were able to watch a variety of flycatchers that we do not see back east. The phainopela flycatcher looks like a jet black cardinal complete with the tuff on his head. Except for being jet black they look identical until you compare the bill. While the cardinal has a thick bill used to crack seeds the phainopela has a thin bill used to catch insects. Besides insects the phainopela feeds on mistletoe berries. In addition to the phainopela flycatcher we watched vermillion flycatchers, black phoebe and say's phoebe. Like I said it was a good stop. For those of you in RV's there are places to park your RV for the day in the shade. However, the park does not allow overnighting and I didn't see any electricity or water available.
Joyce with a mature California Fan Palm in Big Morongo Canyon Preserve in Morongo Valley, California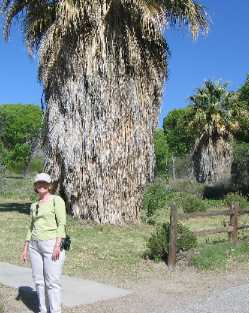 The park had a number of these huge California Fan Palms that were in their natural state (no one had ever cut the old palm fronds). The old fronds formed a thick mat around the trunk and a wide variety of birds were nesting in that thick mat on each of these old palms.
Key's View in Joshua Tree National Park overlooking the Coachella Valley, Indio and Palm Springs, California
Somewhere along this drive we stopped at Key's View where from high atop one of the mountains the National Park has provided a viewing area where visitors can stand and see all the way to Mexico on a clear day. On clear days the Salton Sea is visible to the southeast. Today smog from Los Angeles is flowing through the Coachella Valley below. Thankfully, the smog is thin enough that we can see Palm Springs, Indian Wells, Indio and the rest of those communities nestled in the valley. The view from Key's point is worth the drive up here. Volcanic rocks visible throughout Joshua Tree National Park tell a series of stories about how molten magma cooled in different manners to produce the different types of rocks and formations. Unfortunately, we have not been able to find either of the California Roadside Geology books that would have educated us on what we were seeing. We are disappointed that neither book was available in the Joshua Tree National Park Visitor Center where these books are normally carried.
The San Andreas Fault on near Mecca, California on Box Canyon Road
We exited Joshua Tree National Park at the Southeast entrance to the park at I-10 exit 168. However, our scenic drive book indicated we needed to continue on that road across I-10 to the town of Mecca. That drive from I-10 exit 168 to Mecca down Box Canyon Road is probably the most stunning display of geology we have seen. The San Andreas Fault runs across this canyon. Fault lines and fractures are visible in the canyon walls. Incredibly distorted rock formations can be seen in the canyon walls. To me this part of the drive was more awesome than anything we saw in Joshua Tree National Park. I would like nothing better than spending a day in this canyon with a geologist.
The San Andreas Fault on near Mecca, California on Box Canyon Road
As we pop out of Box Canyon a few miles north of Mecca we have enough altitude to see hundreds if not thousands of acres of citrus and vineyards stretching all the way to the Salton Sea completely surrounding the small community of Mecca. In Mecca we picked up SR-111 for our ride back to Indio through the farming communities of Thermal and Coachella.
Joyce and I in Clint Eastwood's Restaurant in Old Town La Quinta, California
As if we had not done enough Joyce had us going to Clint Eastwood's Restaurant in Old Town La Quinta. The name of his place is Hogs Breath Inn……. I was familiar with Hogs Breath Saloons. Boy was I surprised, the joke was on me! This wasn't a Hogs Breath Saloon. No Sir, not even close. Clint's original Hogs Breath Inn was in Carmel if that gives you any clue. We dined in the style that my Brother & Sister in Law (the Charleston ones) are accustomed if you get my drift. When we do supper this way this we say we did it in "Johnson" style. VBG
To say we had a full day would be an understatement and Joyce has a full day planned for tomorrow. Is there no rest for the weary?
Until next time remember how good life is.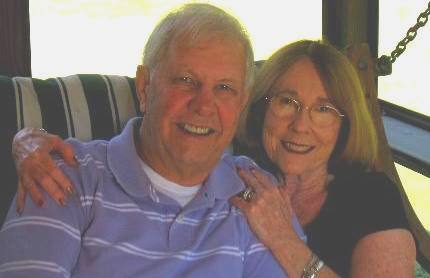 Mike & Joyce Hendrix who we are
We hope you liked this page. If you do you might be interested in some of our other Travel Adventures:
Mike & Joyce Hendrix's home page
Travel Adventures by Year ** Travel Adventures by State ** Plants ** Marine-Boats ** Geology ** Exciting Drives ** Cute Signs ** RV Subjects ** Miscellaneous Subjects
We would love to hear from you......just put "info" in the place of "FAKE" in this address: FAKE@travellogs.us
Until next time remember how good life is.