Giant Spider Lily
No matter what you call this giant lily; the Giant Spider Lily or Giant Crinum Lily, it is truly a giant lily.
This is a beautiful giant spider lily.
Giant Spider lily seeds
Giant Spider Lily seeds or Crinum lily seeds grow easily if they're ripe.
Usually at that point the pod covering will split and the seeds will just kind of "plop" out onto the ground. In this picture the green seeds are not yet ready while you can see several brown seeds to the right of the green pods. The brown "seeds" are ready to plant. Look closely and you will see another very light colored seed from a previous pod that is just to the right of the two brown seeds. That seed is ready to plant also.
Seeds are large, and can be larger than a ping pong ball. Many of the seeds I gather already have a growth bud beginning to expand.
I just put the seeds in a pot of soil and lay them on top of the soil. I make sure that the seed gets wet every day or so. Some people will put a bag or clear "cling" wrap over the top to keep the seed moist. You also need to keep the seeds and potting soil warm. Remember these are tropical plants.
Most crinum lily seeds will germinate in under a month but many take longer.
I spread the ones that do not germinate during the winter in my pots in the "flower bed" when the weather in Pensacola becomes warm enough. Some of them come up others do not. But I give them the chance and most will sprout before winter sets in.
Giant Spider lily seeds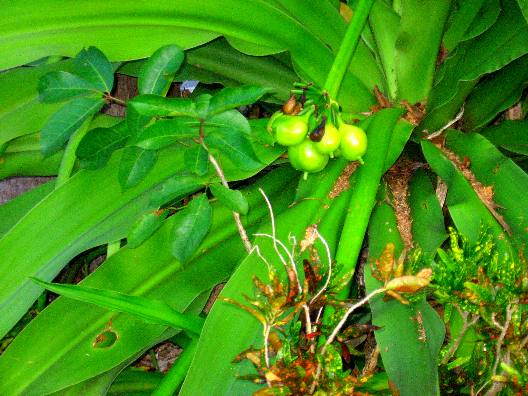 While these are giant spider lily seeds they are not "ripe" yet. When they are rip they will turn brown and drop off.
Specimen Giant Spider Lily plants
These giant spider lilies are also called giant crinum lily.
Specimen Giant Spider Lily blooms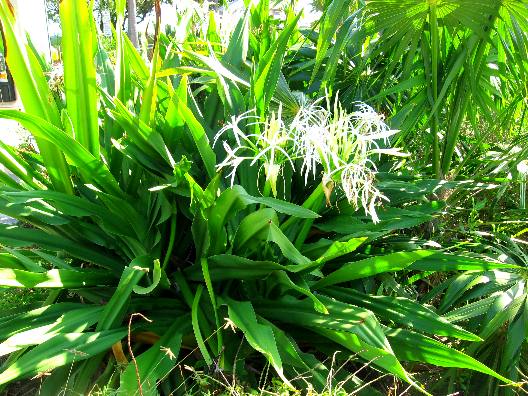 You can see why they call this plant giant spider lily.
The bloom is not only beautiful it is fragrant.
Until next time remember how good life is.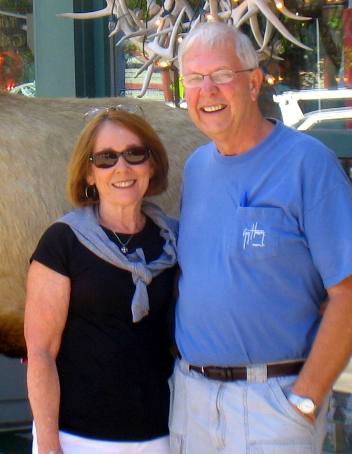 Mike & Joyce Hendrix who we are
We hope you liked this page. If you do you might be interested in some of our other Travel Adventures:
Mike & Joyce Hendrix's home page
Travel Adventures by Year ** Travel Adventures by State ** Plants ** Marine-Boats ** Geology ** Exciting Drives ** Cute Signs ** RV Subjects ** Miscellaneous Subjects
We would love to hear from you......just put "info" in the place of "FAKE" in this address: FAKE@travellogs.us
Until next time remember how good life is.