Key West Conch Signs
Conch Fritter Sign over a vendors wagon on Mallory Square
This vendor is in Mallory Square every evening at sunset. Many tourist don't know what a conch fritter is and so for the first time they are finding out. Basically a conch fritter is a hushpuppy with pieces of shredded conch.
Sign for Conch Chowder
Key West is know for things "conch". Natives of Key West are known as "Conch's".
Key West is know as "The Conch Republic" and bills itself that way. The Conch Republic designation came about as a "protest" secession of the city of Key West from the United States on April 23, 1982.
Although the Conch Republic is nothing more than a tourist designation and Key West never did secede there were real concerns.
The original protest back in April of 1982, was against what Key West residents viewed as an "unresponsive" central government taking action without considering all of the implications. At least three related protests have taken place subsequent to the original incident.
The original protest event was motivated by a U.S. Border Patrol roadblock and checkpoint on US-1 which greatly inconvenienced residents and was detrimental not only to commerce but to the tourist industry which is the lifeblood of Key West.
Conch Fritters Sign
The Border Patrol stopped vehicles and searched for narcotics and illegal immigrants.
The Key West City Council complained repeatedly about the inconvenience for travelers to and from Key West. Of course their complaints did not result in a satisfactory outcome.
The Border Patrol's Roadblock & Checkpoint was a serious tourist problem so much so that Eastern Air Lines saw a window of opportunity and established the first jet service to Key West International Airport so that travelers from Key West to Miami could avoid the Border Patrol roadblock and checkpoint.
When the local government in Key West could get no response from the Federal Government they decided to do a "mock" succession. Keep in mind that the federal government had set up the equivalent of a border station as if the Florida Keys were a foreign nation. If the Keys were going to be treated that way by the federal government they might as well become one.
Since local citizens were referred to as Conchs, the "mock-nation" took the name of the Conch Republic. Conch Republic is a name that has stuck to this day and is used in many tourist related things.
Conch Harbor is located in Key West Bight Marina next to the Ferry Terminal
Conch Harbor and Dantes are located on Key West Bight Marina at the foot of Grinell Street.
Sign outside Dante's Restaurant & Raw Bar on Caroline Street in Key West
This is the sign on Caroline Street for Dante's;s Restaurant.
The Landscaping in that area is absolutely beautiful.
There are a number of beautiful red crinum lilies that are spectacular. Joyce and I could only hope for such beautiful crinum lilies in our yard.
Directions from Conch Harbor to Duval Street on Harbor Walk along
When strolling along Harbor Walk you will find a variety of shops you can browse around.
Until next time remember how good life is.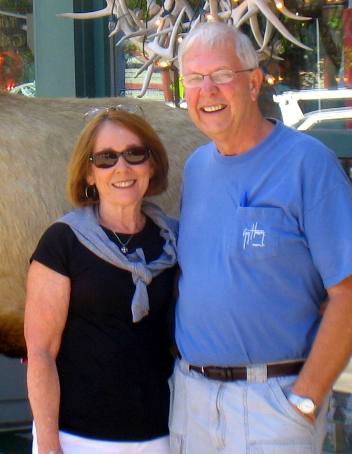 Mike & Joyce Hendrix who we are
We hope you liked this page. If you do you might be interested in some of our other Travel Adventures:
Mike & Joyce Hendrix's home page
Travel Adventures by Year ** Travel Adventures by State ** Plants ** Marine-Boats ** Geology ** Exciting Drives ** Cute Signs ** RV Subjects ** Miscellaneous Subjects
We would love to hear from you......just put "info" in the place of "FAKE" in this address: FAKE@travellogs.us
Until next time remember how good life is.