July 6 through 13, 2009
This travellog captures scenery throughout the Black Hills of South Dakota including Custer State Park, Sylvan Lake, Wind Cave National Preserve & Pactola Lake or Reservoir Between Hill City and Deadwood.
We are camped near Custer State Park and the town of Custer in the southern part of the Black Hills at Custer's Gulch RV-Park. It is an OK commercial campground just like dozens of others in this area.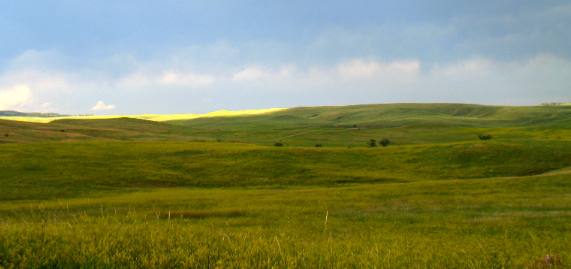 The sun is going down in Custer State Park along the "wildlife-loop".
I think we took this picture at Wind Cave National Preserve located south of Custer State Park in the southern Black Hills.
These odd "tepee-shaped " structures that were obviously laboriously constructed by forest thinning crews had us wondering about their purpose. They sure did not appear to be doing much of anything to eliminate fuel. That was before we read about them then things begin to make sense. These piles are called slash or brush piles. They are created to "clean up the forest floor". OK, that much was obvious.
What was not obvious was the plan to burn these piles during the following winter when the material has dried out and snow can help contain the fires.
Now, burning them during the dead of winter with snow on the ground makes sense.
Late one afternoon when we were on the "wildlife-loop" we could see this thunderstorm developing to the north of us around Hill City.
These dikes of solid granite make a striking backdrop at Sylvan Lake.
If you read the previous travel log (#38) there was a picture taken from behind those large formations at the back of this lake. The crack you see in the middle is where that picture was taken from ---- except we were behind that wall of rock looking at this side of the lake, when we took that picture.
We walked behind that dike of granite. It is an interesting walk and one you should do when you visit the Black Hills. You will know where you are when you see signs for Sylvan Lake.
That crack in the wall is more clearly visible in this picture.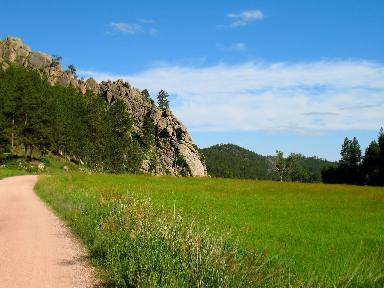 Sedimentary rock has eroded away from this exposure, in Custer State Park, of very hard granite. This is a common sight throughout the Black Hills.
South of the "wildlife-loop" in Custer State Park are some hills that have been cleared of trees. I wonder if they are using fire or other measures to keep the trees off these hills.
Joyce took this picture late one afternoon, in Custer State Park, when cumulous clouds were building to the southeast. We kept an eye on this until it was in line with that exposure of red sandstone. Later these clouds transformed into a fierce thunderstorm.
This exposure of sandstone is located on the "wildlife-loop" in Custer State Park. The sun was setting behind us when we took this picture and had the red wall glowing. The layer of yellow sandstone near the top looks like the sandstone used in the construction of many of the old buildings in downtown Hot Springs, 30-miles south of here.
This was the only good sunset picture of our entire stay in Custer State Park.
Pactola Lake or Reservoir Between Hill City and Deadwood in the Black Hills of South Dakota
This is Pactola Lake or Reservoir located between Hill City and Deadwood. There are hundreds of COE/National Forest campsites scattered around the lake. There is also a Visitor Center that you should visit when in the area. This lake provides drinking water to towns in the area including Rapid City and Ellsworth Air Force Base.
And last but certainly not least is this sign indicating that we are nearing Mount Rushmore.