Key West Personalities
Eccentric Old Town Key West Transportation, Individuals & Residents
February 1st through 4th, 2009
This travellog covers several days of exploring Key West watching the Conch Train and wandering around Old Town Key West.
We are dry camping on the Navy Base at Trumbo Point in Key West. I am a retired DOD civilian and the Navy allows retired DOD civilians to camp in the Navy facilities as long as there is space available. We are paying $12 a night to dry camp on a grass field along with over 600 other RV's. All I can say is: It is wonderful.
Residents of Key West are different. I say different because they are. Sure they have two legs and two arms with a head connected to shoulder's via a neck, but they are different. They have a different outlook on life than most folks. They aren't into accumulating things or wealth. Other things attract them to Key West. It may be the laid back lifestyle, it may be the slow pace of things, it may be that most Key Wester's overlook individual eccentricities and life styles. Everyone is so different that no one pays any attention to odd behavior because it is the norm. I can't explain it, the heart beat of Key West is just tuned to basically ignoring individual differences.
While I find this an odd mode of transportation none of the natives do. The fellow that owns and rides this tricycle doesn't steer from the handle bars, they are just decoration. He steers from a small chrome steering wheel mounted between the handle bars about 6" above the yoke. It is very difficult to see because it blends in with the glare on the water but I assure you that it is there between the handle bars. Seeing this fellow ride his tricycle is really something to behold, at least to me.
This (and 20 other) propane powered "conch trains" haul loads of tourist around Old Town Key West every day. It is a must for everyone visiting Key West.
Pink Taxis are another Key West fixture.
Old Town Key West is home to some eccentric vehicles
Hand painted vehicles (with paint brushes no less) are a dime a dozen. This just happens to be a an old class C motorhome.
Old Town Key West is home to some eccentric individuals
We saw this same fellow sleeping on the same seawall on several occasions. This is nothing unusual. We see people (mostly men) sleeping all over the place. I have no idea how many totally homeless there are on the island.
Plastic fish, in this case a shark, are placed around the island for picture taking purposes. The thousands of cruise boat tourist have to have a picture to prove they were in Key West. ------- Joyce, go stand by that shark. VBG
Joyce wants you to know she is indeed partaking of the "good life".
And what would a sea port be without a raw bar? Key West has several.
The Half Shell Raw Bar is an extremely popular place located at the foot of Margaret Street at Key West Bight Marina the Historic Old Seaport.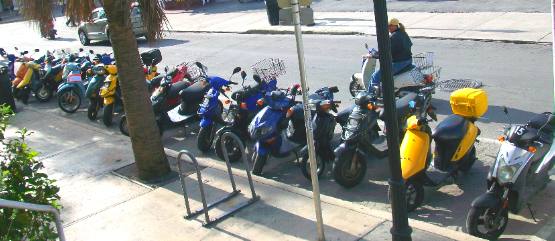 I have said it before, bicycles and motor scooters are the preferred method of transportation on the island. This is a very common sight.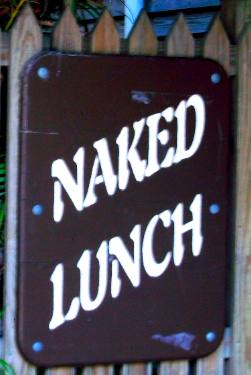 In order to get attention here in Key West "Naked" or some such has to be advertised in order to catch the tourist attention. I do wonder what a "Naked Lunch" is though. The next time we are in Key West I will check this out and report back. VBG
More bikes and this time motor cycles. There are not nearly as many motor cycles as motor scooters. These folks must live on another key further away from Key West and drive in to work.
Old Town Key West eccentric waiting on Duval Street for someone to give him another drink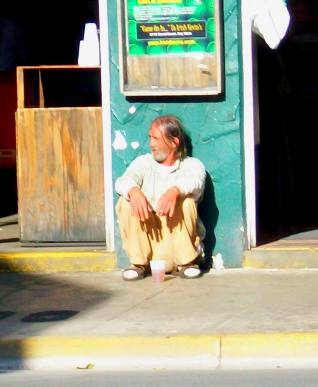 Instead of sleeping on the sea wall this drifter is stationed outside a local bar with his beer close at hand..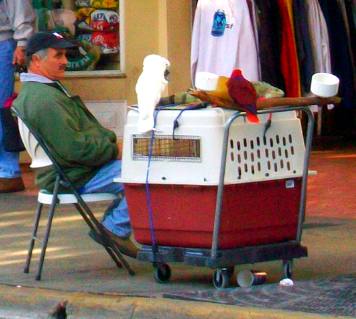 Many of the islands inhabitants have a schtik. This fellow's angle is to get tourist to pay to have pictures taken with one of his pets. He has the two birds that you can easily see in the picture and an iguana (see it sleeping between the two birds). Inside the cage he has a large python. He makes a living collecting money from tourist for those pictures. From the personal appearance of this fellow he probably actually has a roof to go home to at night and running water with a shower.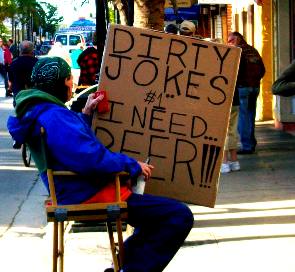 Believe it or not this fellow makes money doing this. Really he does. Joyce ducked into a T shirt shop and I stayed outside to watch what was going on. I saw this guy make $3 bucks (if not more) in probably 8-minutes. Two different couples came along and gave him a $1, he told them a joke, they busted out laughing ---- high-fived, then went on their way. Another couple came along and gave him money to get a picture of the "husband" sitting in his chair holding that sign. If you think about it that would have made a good picture ----- if only I could have talked Joyce into crawling into that chair and holding that sign. VBG
I would have had about as much chance of getting Joyce in that chair holding that sign as the preverbal "snow ball". VBG
Another guy that we passed many times would bark as we passed "I am only 75-cents away from a beer, can you help?" Of course I never did but he did it every night so I guess it was a decent gig. Sometimes that same dude would bark the same line at us several times in one night.