Eastern Colorado - driving back to Florida
July 30, 2009
This travel log covers the Colorado portion of our trip back to our home in Pensacola, Florida. We were traveling south on various State Roads (blue roads) and some US-highways as we made our way from Cheyenne, Wyoming to Dumas, Texas. We traveled south from Cheyenne, Wyoming to Greeley, Colorado on US 85. Then we turned east on US-34 to Brush, Colorado a distance of 60-miles. Then we headed south on SR 71 where we went through places like "Last Chance," Limon, and Ordway. South of Ordway we picked up US 50 and headed east through places like; La Janta, Las Animas and Lamar. In Lamar we headed south on US 287/387 which took us south into the Panhandle of Oklahoma and on into the Panhandle of Texas where we stopped in Dumas for the night. It was a long day of driving.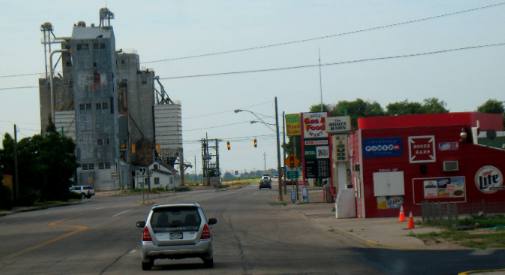 Ault, Colorado is a small agricultural community about 15-miles north of Greeley in Weld County, Colorado. Weld County is the 3rd largest agricultural production county in the US. When you pass through Ault on US 85 you can not escape the huge presence agriculture plays in this region.
Grain and onions growing side by side in Ault, Colorado
Agriculture in this area is amazing. Here we have wheat growing next to a field of onions. The brilliant color contrast caught our attention.
In Greeley, Colorado we turned east to Brush before turning south on SR 71. SR 71 takes us south to Last Chance through dry eastern Colorado. Eastern Colorado is wheat country.
We were south of Last Chance when we ran across a wheat harvesting operation loading up on their way to a new job north of here.
Wow! A change in scenery. We came upon this harvesting operation that had just completed a big job. Workers were removing the large cutting section off the front of one of these harvesters so that it could be loaded on a flat bed and transported to a new location. The cutting heads on the front of these monsters are much to big to be going down the highway from side to side like they are mounted on the harvester, so they are removed so they can be transported length wise. I suspect within an hour or so all this equipment will be headed up SR 71 to the next job site possibly in another state.
Bailed wheat straw on SR 71 south of Last Chance in eastern Colorado
This looks to me like bales of wheat straw. I guess that wheat straw is used as feed for livestock but I have to wonder about the "food value". Shoot it may be just as good as other hay material, I do not know. Do any of you want to help me with this. Is there another use for huge bales of wheat straw?