July 18 through 24, 2009
Cheyenne Frontier Days Rodeo
We are staying at the campground on the Air Force Base in Cheyenne. It was $20 a night for full hookups and $10 a night for dry camping. Of the seven nights we were there we dry camped 3 of the days/nights. The place fills up for Cheyenne Frontier Days and Frontier Days is why we were in Cheyenne
Frontier days consists of a 10-day celebration including parades, rodeos, carnival rides, top notch music on a daily/nightly basis, pancake breakfasts and professional bull riding. It is 10-days packed with action and more things to do than is possible to do. However, we did try hard to take it all in. We did miss things like behind the chutes tours and the free pancake breakfast held downtown several times while we were there. There was just NO way to get to a pancake breakfast held at some unholy hour close to dawn when we had only arrived back at the motorhome after a truly great night at the Outlaw Saloon. I will try to tell you more about the Outlaw Saloon a little later but it was a totally awesome honky tonk with great live music and a dance floor the size of most bars.
This picture was taken at one of the daily CFD (Cheyenne Frontier Days) rodeos.
These cowgirls are carrying sponsor flags. They are a precision riding group that performed at each Cheyenne Frontier Days rodeo event.
Frontier Days Rodeo contestants Cheyenne, Wyoming waiting their turn

These cow boys were waiting their turn at the next event. From the size of some of these men I suspect the event was steer wrestling. Steer wrestling at Cheyenne's Frontier Days was more fun than at any other rodeo because the steers weigh 200 pounds more than at other rodeos. These steers weighed between 650 to 700 pounds. It takes a real man to jump from a horse onto something that size that is running full out. Then stop that 700 pound beast and throw it to the ground. The cow boys did not win many of these contests. It takes a real man to throw a 700 pound steer to the ground, especially one that is running flat out.
Frontier Days Rodeo Cheyenne, Wyoming bucking horses
That remuda of horses you see are the bucking horses for today's events. There were a lot of saddle bronc and bare back bronc ride events --- a lot more than at most rodeos. Here again the horses were quality and won most of the contests between them and the cow boys.
This bull is prancing around after having sent the assigned bull rider into orbit. Talk about quality bulls, they had them. Even though these were the best bull riders in the world the bulls won the first 17 contests on this day. That folks is a score of bulls 17 cow boys 0.
This next event was called wild horse racing. We have never see a "wild horse race" before, actually, we had never heard of one. It is certainly nothing that is done back east. Wild horse racing consists of 10-wild horses (sure enough wild) and ten teams of 3-cow boys each. The cow boy teams draw a wild horse that has a halter on it with a long sturdy rope. Once all 10-teams have the ropes in their hands a whistle blows to start the event.
Here is a link to our travel log covering a wild horse race.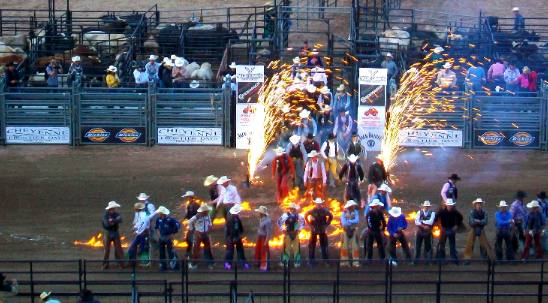 We watched a PBR (Professional Bull Riders) event one night that featured 40 of the top bull riders in the country. On this night 10 of the 40 rode their bull. Those 10 got to ride a second bull. I can't remember but 6 or 8 of them rode the second bull.
This was an exciting night of bull riding.
If any of you remember the film 8-seconds about Lane Frost this is where Lane lost his life --- on that bull ---- I think that was 20-years ago.
Cheyenne is home to the Outlaw Saloon one of the best honky tonks anywhere. It is a huge place with well over an acre under roof and another acre or so outside. At night the Outlaw Saloon was packed out. We were there to enjoy the live music that started around 3PM every afternoon. We stayed until it got too wild for us. Sometimes that was between 10PM and 11PM other times is was after midnight. Since we do not drink we have a different set of standards concerning when things get too "wild" for us. As soon as it does we pack up and head for the motorhome. If you like to dance, they have a huge dance floor, this is a place you will enjoy. The live music was about as good as you get outside of Nashville.
If you are ever around Cheyenne, Wyoming in late July plan to attend some of the events at Cheyenne Frontier Days.
That is all there is.
Until next time remember how good life is.