Limon to Ordway, Colorado in the plains of eastern Colorado
We are traveling south on SR 71 through eastern Colorado. We started the day in Cheyenne, Wyoming and will not stop until we get to Dumas, Texas this evening.
Earlier in the day we turned south on SR 71 in Brush, Colorado where we went through places like "Last Chance," Limon, and Ordway. South of Ordway we picked up US 50 and headed east through places like; La Janta, Las Animas and Lamar. In Lamar we headed south on US 287/387 which took us south into the Panhandle of Oklahoma and on into the Panhandle of Texas where we stopped in Dumas for the night. It was a long day of driving.
When we turned onto SR 71 in Brush we saw a sign warning no GAS for 75-miles. It turned out that the gas that was 75-miles away was in Limon. We passed the gas station in Limon.
Limon, Colorado in the plains of eastern Colorado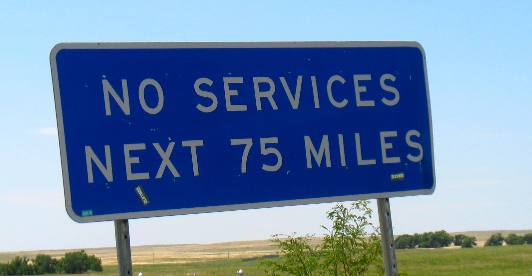 Then immediately south of Limon we saw this sign indicating that we were in for another long stretch without a gas station.
We are just not used to seeing signs warning about of "No Services" Next 75-miles. Folks that is a long way. We are still on SR 71 in Limon, Colorado headed to Ordway, Colorado.
SR 71 in eastern Colorado between Limon and Ordway
The sign was correct. However, in this region they appeared to be getting more rain. Note how there is some green. However, the scenery was a in this picture for 75-miles.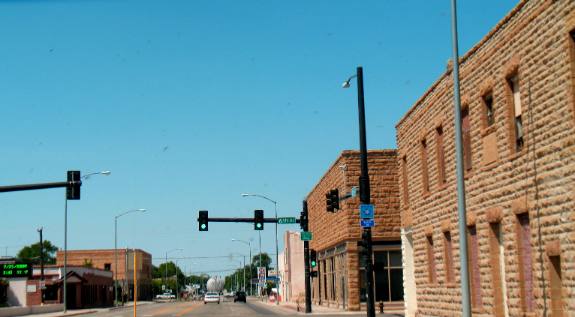 We finally make it to Ordway, Colorado where the gas station was located. We could not help but notice the old sandstone buildings.
US-50 East of Ordway, Colorado
Not far south of Ordway we turned east on US-50 through towns like La Junta and Las Animas. This was a well watered route that followed the Arkansas River. It is that water from the Arkansas River that enables them to produce bumper crops of hay like you see in this picture.
For those of you that are interested in such things the Arkansas River forms from snow melt high in the Colorado Rocky Mountains west of Pueblo. It is the Arkansas River that flows through Royal Gorge and we all know how spectacular that is. It is also the same Arkansas River that flows past Hutchison, Kansas where we visited the salt mine earlier this summer. Then flows through Wichita Falls, Kansas (named for the "falls" on the Arkansas, River). Tulsa, Oklahoma is also blessed to have the Arkansas River flow through town as is Fort Smith and Little Rock, Arkansas before what remains of the Arkansas River actually joins the Mississippi River as it makes its way to the Gulf of Mexico.
Hay stack along US-50 between Limon & Ordway, Colorado

We call this a "hay-loaf" because it resembles a giant loaf of bread. I sure would like to sit down with a group of farmers so they could explain to me the benefits of each type of hay storage system that we see. It seems that each area perfers a different method.