Cheyenne Frontier Days Parade
July 25 through 29, 2009
Cheyenne Frontier Days Parade
It seems like Cheyenne had a parade every other day the entire 10-days of CFD (Cheyenne Frontier Days). Like in Greeley this is a special parade with horses and more horses then some more horses and wagons thrown in for good measure. I am not sure where all these horses come from. One thing is for sure they just keep coming.
Cheyenne Frontier Days Parade
Note the Wyoming State Capitol building in this picture. We are standing in the street looking up Central Avenue at the Capitol building where the parade starts. As you can tell the parade is turning as it passes our vantage point.
The CFD rodeo and parade is the biggest of them all. It attracts people from every state. Many if not most states send their Miss Rodeo to Cheyenne Frontier Days where they participate in the rodeo and parade activities.
This is Miss Rodeo Wyoming all dressed up and showing proud at the Cheyenne Frontier Days Parade.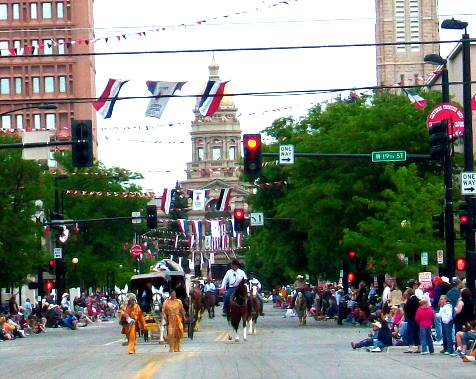 This is a good picture of the Capitol building with a group of "frontier" folks headed our way in their buckskin outfits. I think the buckskin outfits represented the mountain men era in Wyoming history.
Cheyenne Frontier Days Parade wagon drawn by beautiful draft horses
Teams of beautiful horses pulling wagons was a common sight. These are BIG draft horses. I do not know the breed but they look like they might be Clydesdales. Feel free to correct me if you know what they are.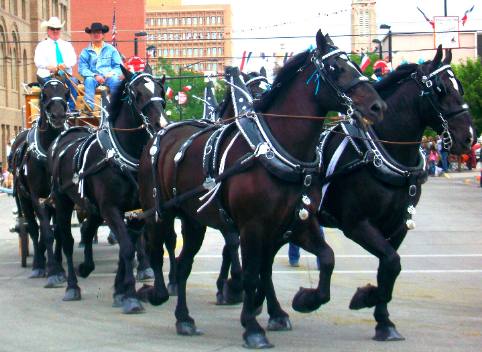 These huge draft horses are percherons The two in the wheel position (nearest the wagon) are two of the largest horses alive.

It seemed to us that there were waves of horse groups like this between each group of wagons.
This was a group of female riders. This group performed at some of the rodeos.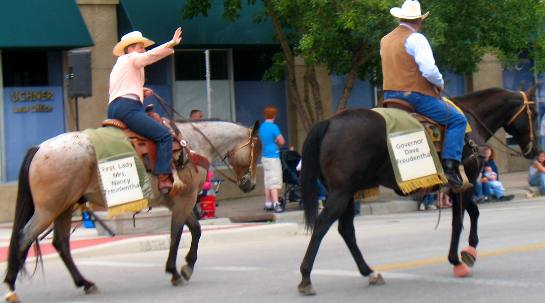 This is the Governor and First Lady. Every official in the Capitol building was in this parade either on horse back or in a wagon. The Governor and First Lady participate in each parade and I think there was a parade every other day. Cheyenne Frontier Days is a big event in Wyoming if you have not realized that.
This picture gives you an idea of the number and variety of wagons in this parade.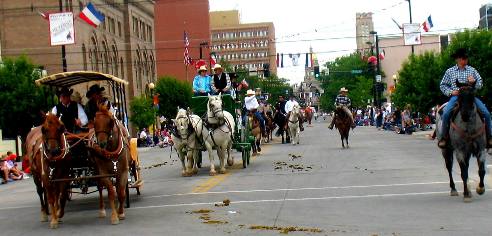 Wagons and more wagons in a never ending parade.
Rodeo Queens from every state seemed to parade by
This time the wagons are broken up by another bevy of beauties. There seems to be a queen of everything and a runner up.
I am going to call this the "black-glove" bunch. Are they the good guys or the bad guys?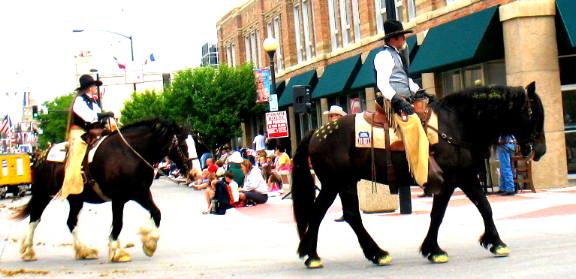 I do not know why but these two were riding draft horses. I saw some really big folks that needed to be riding on draft horses. It sure appears that these draft horses have been broken to saddle. Possibly I just think it is strange. It may actually be a common practice. Anyone know?
I included this picture because of the paint colt that is tied to and walking along side the mother. We saw this colt in the rodeo one day. They had a colt race that was really cute. What they did was put a halter on a group of colts, then while a cowboy held the halter of each colt other cow boys walked the mother horses down the track about 100 yards ---- in full view of the colts. Then they turned the colts loose to run to their mommies. This little paint literally flew to his mother.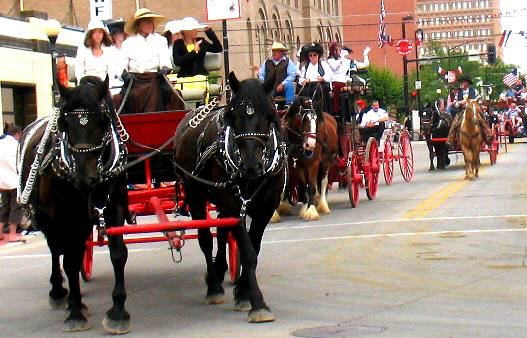 I included this picture to show you that women were driving many of these wagons. You can see women driving two of the rigs in this picture. Trust me there were many more.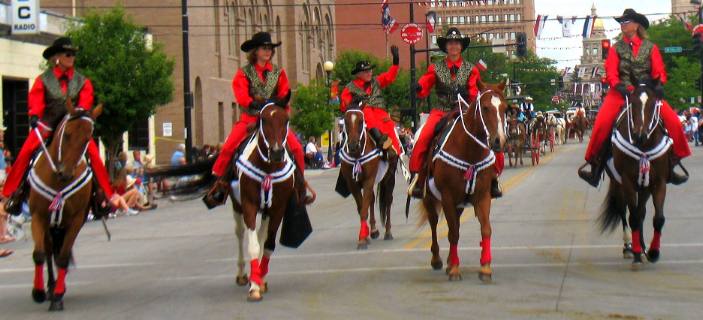 Back east they have the "red hat" society. I am not sure but I think this might be the cow girls answer to that group. I am going to name them the red-jeans/shirt girls.
Note that their horses even have "red" socks or should that be stockings?
Another team of beautiful draft horses pulling this wagon in Cheyenne Frontier Days Parade
Look at the pretty stockings on these draft horses. Someone was busy this morning washing and combing those white socks.
There seems to be no end to the wagons in this parade. Where did they all come from?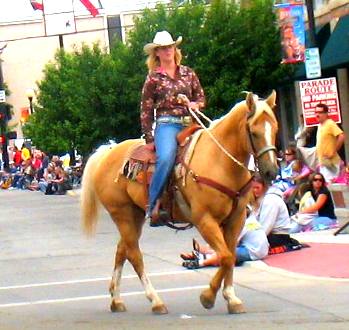 Yea, they have their share of pretty girls on beautiful horses as well.
Another large wagon drawn by two large draft horses in Cheyenne Frontier Days Parade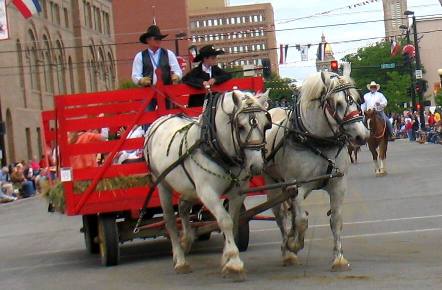 These are big white draft horses. My guess is that they are percherons but that would only be a guess. Someone please tell me what kind they are.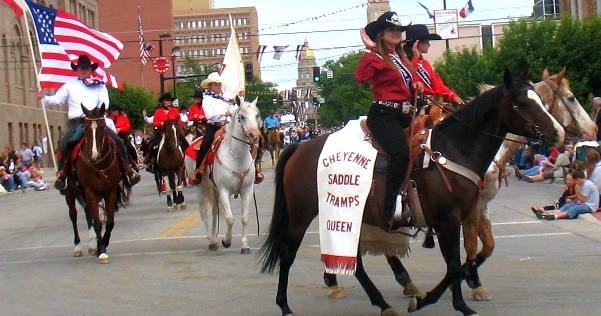 And here is the Cheyenne Saddle Tramps to break up the wagons.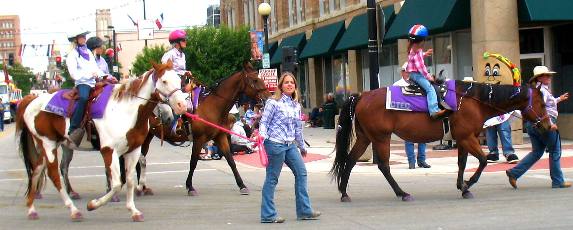 Near the end of the parade we began to see younger people in the parade. I guess they are training these youngsters and possibly the horses. Note that someone walking is in control of each of these horses.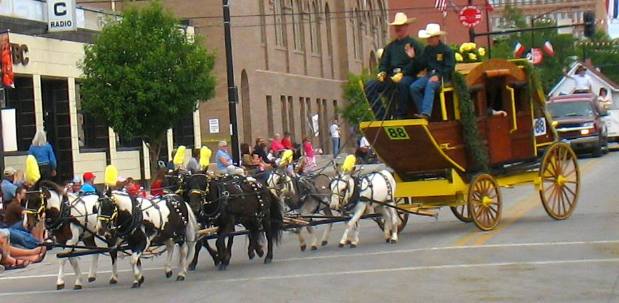 Aren't these miniature horses cute. My that stage looks big for those small horses but they did not seem to be having a problem.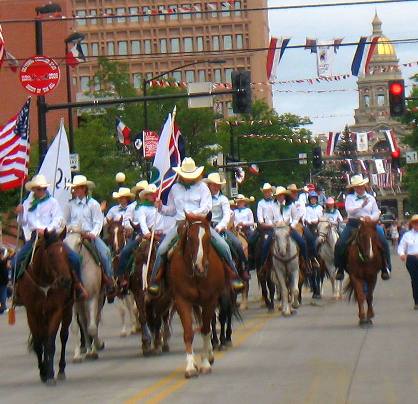 This is a good picture of the Capitol Building with a group of white shirts and their favorite pony.
Large brace of percheron draft horses in Cheyenne Frontier Days Parade
This is that group of percheron draft horses you saw earlier. I think that the horse you see nearest the wagon is the largest horse alive or some such. The one next to this one weighs more but this one is taller. Size is determined by height not weight according to people we talked to.

That horse nearest the wagon in this picture is the heavier of the two percheron but the one beside him is the taller. Anyway, you are looking at some of the largest horses alive or so we are told. While they all look large the largest of them are the two nearest the wagon.
This small percheron is being walked behind the big boys. One day it will be in the harness pulling a similar wagon.
This was a fun parade and so different than parades back east. If you ever get a chance you should make it a point to visit Cheyenne during CFD (Cheyenne Frontier Days) and participate in all the fun. You will be glad you did, I know we are.
That is all there is.
Until next time remember how good life is.