We normally look for 1/2 price PPA Campgrounds COE Campgrounds or National Park Campgrounds. But in Nashville, over the Memorial Day weekend Two Rivers Campground is our choice.
Nashville Crossroads is one of the classic honky tonks on Broadway that feature up and coming country music entertainers. There is absolutely no telling who you are going to see when you visit Nashville Crossroads. One thing you can be certain of: the entertainment will be top notch.
Someone took our picture while we were enjoying the entertainment at Nashville Crossroads.
Don't you like the mugs they serve coffee in at Nashville Crossroads?
Behind us you can see the cow hides that serve as wall-paper on one of the walls at Nashville Crossroads.
Jerry Williams at Nashville Crossroads honky tonk on Broadway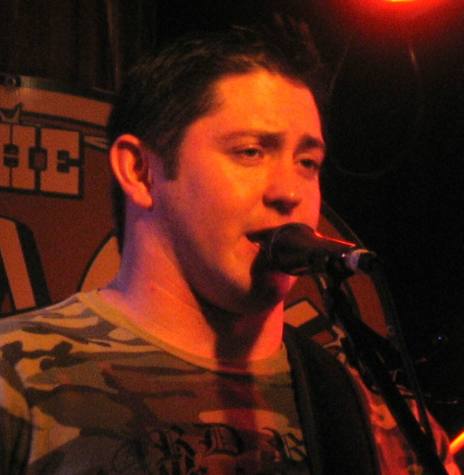 We enjoyed Jerry Williams, a good singer songwriter performing at Nashville Crossroads.
We also enjoyed Jerry Williams at the Stage on Broadway and I think we watched some of his show one afternoon at Legends Corner also. Jerry grew up just north of Austin, Texas.
This is Gary Morris who played with Dwight Yokhum for years but is currently employed as Brooks & Dunn's steel guitar player. He is one of the best steel guitar players in the business and we were enjoying him in Nashville Crossroads, a honky tonk on Broadway Street. He was with a band comprised of fellow musicians that tour with the stars.
Also performing with that group of musicians was Roger Wills who is Alan Jackson's base guitar player.
In addition to being a touring musician he also performs as a studio artist playing his base guitar for the likes of Alan Jackson and Reba McEntire.
He had a wonderful personality.
After the show was over and we were exiting the honky tonk Joyce told him how much she had enjoyed his music and asked him to tell Alan "hi" for her. He smiled and said something like -- "will Saturday night be soon enough for you honey"? Joyce laughed and said that would be fine. VBG
This is G. W. Pierce a young artist with a great set of pipes.
We certainly have enjoyed the exceptional entertainment at Nashville Crossroads this week.
Jennifer Wrinkle at Nashville Crossroads honky tonk on Broadway

Jennifer Wrinkle is a Country artist that we have enjoyed many times while visiting the honky tonks on Broadway. This afternoon she is the featured performer playing solo with her acoustic guitar at Nashville Crossroads.
In other venues we have seen her playing the fiddle with other bands.
Jennifer Wrinkle is such a talent. She regularly tours with Martina Mcbride and other Nashville artists. Reba McEntire used Jennifer for the background vocals on "You're Gonna Be".
When Martina McBride goes on the road Jennifer Wrinkle is in her band where she plays acoustic guitar, fiddle, electric guitar and adds background vocals.
Martina McBride Live In Concert Album features Jennifer Wrinkle on the acoustic guitar, fiddle and background vocals.
Martina says: "She sings like an angel", and I agree with Martina. VBG
And here we are in Nashville Crossroads enjoying this wonderful musical talent.
One day we went for an afternoon cruise on the General Jackson Showboat that boards jusd down the road from where we are staying at Two Rivers Campground. Check these links to read about our adventure on the General Jackson Showboat: Peking Acrobats, Delta Queen, General Jackson, Joyce touring the wheelhouse on the General Jackson.
Until next time remember how good life is.
Click here for more Nashville Attractions
Click here for Nashville Honky Tonks
Click here for Nashville Musicians
Click here for more of our Tennessee Travel Adventures
Mike & Joyce Hendrix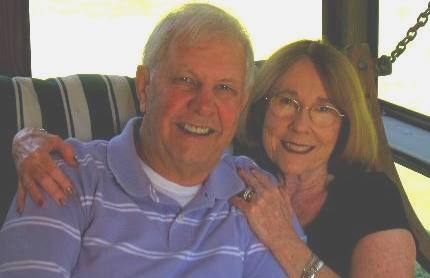 Mike & Joyce Hendrix who we are
We hope you liked this page. If you do you might be interested in some of our other Travel Adventures:
Mike & Joyce Hendrix's home page
Travel Adventures by Year ** Travel Adventures by State ** Plants ** Marine-Boats ** Geology ** Exciting Drives ** Cute Signs ** RV Subjects ** Miscellaneous Subjects
We would love to hear from you......just put "info" in the place of "FAKE" in this address: FAKE@travellogs.us
Until next time remember how good life is.