Nashville Crossroads Honky Tonk on Broadway
May 26, 27 & 28, 2008
We are staying in Two Rivers Campground near Opry Land in northeast Nashville over the Memorial Day weekend. Two Rivers is the private campground we recommend for anyone visiting Nashville. It ain't cheap $31 but it is $21 cheaper than the next best campground. The $31 is for water & 30-amps. Full-hookup and 50-amps are a bit more. But, and it is a big BUT the Yogi Bear next door starts at $51 and goes up while the KOA a block away starts somewhere above that and the sky is the limit. In Nashville you are paying for LOCATION and Two Rivers Campground has LOCATION. Besides that they sponsor good entertainment in the park several times a week. When we were at Two Rivers they had Hot Damn playing one afternoon then Paul Hill another afternoon and Mel McDaniel played on Memorial Day. And these were FREE concerts in the park.
We normally stay in COE or National Park Campgrounds or 1/2 Price PPA Campgrounds but there weren't any with vacancies in the area.
Today we caught up with Nathan Douglas again. We listened to him one afternoon last week but didn't get any pictures we could use. We remedied that today. Nathan was playing in Nashville Crossroads one of Nashville classic honky tonks which is also one of the "smoking" honky tonks on the south side of Broadway. We have been avoiding the honky tonks on the south side of Broadway because we just do not like cigarette smoke. However, this was Memorial day and it was raining hard here in Nashville. The honky tonk business was slow, real slow. Because of that and because we really wanted to listen to Nathan again we ventured over to Nashville Crossroads.
Nathan Douglas signing a CD for Joyce while on stage at Nashville Crossroads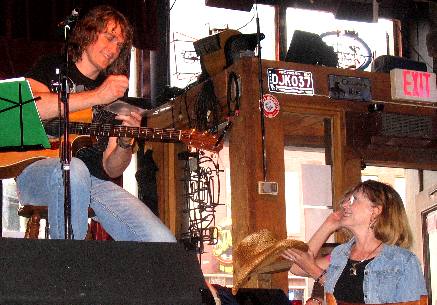 Nathan Douglas performing at Nashville Crossroads honky tonk on Broadway.
Here Nathan is signing a CD for Joyce. One day that signed CD may be a collectors item. The songs on it are really good. You can listen to some of Nathan's original music at:
http://profile.myspace.com/index.cfm?fuseaction=user.viewprofile&friendID=95416034
Several of his songs should be on the radio especially "Driven".
Nashville Crossroads Honky Tonk sign hanging over Broadway Street in Nashville.
The Wheel another Honky Tonk on the Southside of Broadway
We stopped by "The Wheel" Monday night and listened to Melissa Paige again. This is the 2nd time we have enjoyed Melissa but the first time we have visited The Wheel. The Wheel is next door to Country Crossroads on the south side of Broadway and to us that indicates a honky tonk that allows smoking. We have been avoiding the smoking honky tonks but the place was almost empty. Those of us that braved the hard rain enjoyed the great show Melissa delivered.
You can visit with Melissa and listen to her music at:
http://profile.myspace.com/index.cfm?fuseaction=user.viewprofile&friendid=73340487
Click for more Tennessee Travel logs or Travellogs
When visiting Nashville always head to lower Broadway street where The Wheel, The Stage on Broadway & Tootsie's honky tonks are waiting for you with performers like Joanna Smith & Nathan Douglas.
Until next time remember how good life is.
Click here for more of our Tennessee Travel Adventures
Until next time remember how good life is.
Mike & Joyce Hendrix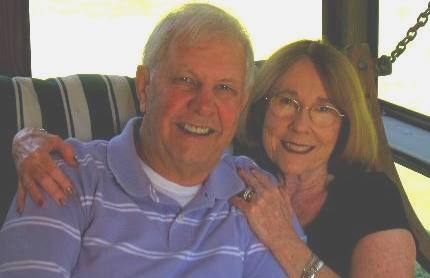 Mike & Joyce Hendrix who we are
We hope you liked this page. If you do you might be interested in some of our other Travel Adventures:
Mike & Joyce Hendrix's home page
Travel Adventures by Year ** Travel Adventures by State ** Plants ** Marine-Boats ** Geology ** Exciting Drives ** Cute Signs ** RV Subjects ** Miscellaneous Subjects
We would love to hear from you......just put "info" in the place of "FAKE" in this address: FAKE@travellogs.us
Until next time remember how good life is.