Natural Bridges National Monument part two
May 20, 2007.
There are two commercial campgrounds in Blanding. We decided to stay in the one with some shade so we picked it but both RV-Parks were OK: $19.80 for FHU, gravel interior roads and sites. It is located on US 191 on the south side of town behind the shell station (hint, it is easy to find since Blanding is very small).
The flat top mountain in the background is a mesa. Joyce took this picture from Natural Bridges National Monument.
This is a good view of the "Cutler Formation" that was laid down on top of the pale colored Cedar Mesa Sandstone visible in the bottom half of this picture. The Cutler Formation consists of Shales and mudstone laid down from 240 million to 280 million years ago. Remember that the Cutler Formation is YOUNGER sedimentary rocks than the Cedar Mesa Sandstone that it rests on.
This is a closer look at the Cedar Mesa Sandstone that the Natural Bridges are composed of. Keep in mind that Cedar Mesa Sandstone is mostly quartz beach sand that has been cemented (bonded) with leached - dissolved calcium carbonate.
Cedar Mesa Sandstone at Natural Bridges
The Kachina Bridge was named for the Hopi (Indians) kachina spirits.
Of course this would be a much better picture if it were taken from down in the canyon.
Keep in mind that these natural bridges are being formed in Cedar Mesa Sandstone.
This is Owachome Bridge, a Hopi Indian word for rock mound. On the upper left side of the bridge is a rock outcrop which suggested the name for the bridge.
Rock mound or Owachome in Hopi Indian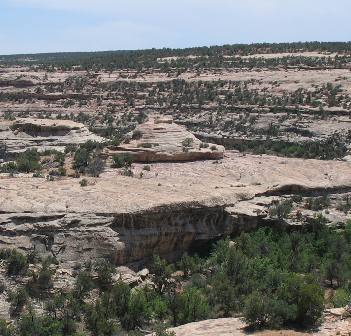 And this is the rock outcrop for which the Owachome Bridge was named. I would have called it "cow patty" bridge.
This type of sandstone erodes into these cow patty shapes in many locations.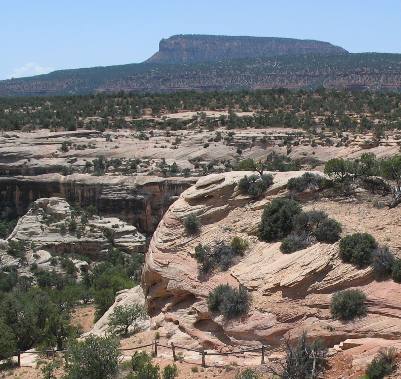 Here is the start of some more of those cow patty shapes being formed. Note that while water is cutting deep into this sandstone in the background is a large mesa containing rock 50-million years younger that this Cedar Mesa Sandstone.
These two prominent buttes in the distance are called the Bears Ears. Several native American groups including the Navajos, Utes, and Pueblos consider this area sacred.
The Bears Ears can be seen from as far east as Mesa Verde National Park in southwestern Colorado and as far south as Monument Valley in Arizona. To say these buttes are and were important landmarks for travelers in the Four Corners region would be an understatement.
If you liked this Travel Adventure you might like one of these:
Goosenecks on the San Juan River southern Utah
Moki Dugway Moki Dugway is a series of sharp switchbacks down a steep gravel road over less than three miles: One of the best drives you will ever do.
Mike & Joyce Hendrix
Mike & Joyce Hendrix who we are
We hope you liked this page. If you do you might be interested in some of our other Travel Adventures:
Mike & Joyce Hendrix's home page
Travel Adventures by Year ** Travel Adventures by State ** Plants ** Marine-Boats ** Geology ** Exciting Drives ** Cute Signs ** RV Subjects ** Miscellaneous Subjects
We would love to hear from you......just put "info" in the place of "FAKE" in this address: FAKE@travellogs.us
Until next time remember how good life is.