Moki Dugway
Moki Dugway
May 19, 2007.
We stayed in Cottonwood Campground in Bluff, Utah. Several private RV-Parks were available in Bluff. We chose Cottonwood. The others were just as nice. One mile west of town is Sand Island Department of the Interior Campground with no utilites. It was OK as well. Cottonwood was $20 for a FHU site.
Earlier today we visited Mexican Hat and the Great Goosenecks of the San Juan. Now we are about to encounter the famous and exciting Moki Dugway.
The "Moki Dugway" what on earth is the "Moki Dugway". I will start by stating that a "dugway" is a means of traversing a steep hillside without sliding down the slope. The Moki Dugway was built by Texas Zinc and Minerals during the uranium boom as a way to accommodate ore trucks. The Moki Dugway is 3.5-miles of graded gravel that climbs the cliff at an 11% grade according to Utah tourist information.
I don't know that I can adequately explain the Moki Dugway other than to say that it is an exciting drive 1,000 feet up the side of a sheer cliff involving 10% or 11% grades (depending on the info source) and switch backs on a gravel road. But it is better to show you than tell you.
Let's do it! Keep in mind that this is PART ONE of SIX Moki Dugway pages. Make sure you view all of them.
part one ** part two ** part three ** part four ** part five ** part six
As we approach the Moki Dugway we get a panoramic view of the cliff we are about to climb.
The closer we get to the cliff we are able to see how we are going to attack the ascent.
These signs add to the mystery and excitement of the Moki Dugway.
Yet another Moki Dugway warning sign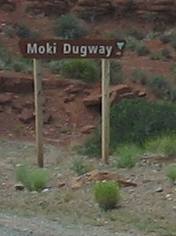 And finally these signs as we get to the point of no return. We have been warned.
Moki Dugway warning sign

We have certainly had ample warning. Now it is time to do it.
I skipped ahead a bit to let you see what the Moki Dugway looks like from about the 3/4 way up. This is included so you will view all SIX of the Moki Dugway pages.
Continue to part two of the Moki Dugway
part one ** part two ** part three ** part four ** part five ** part six
If you liked this Travel Adventure you might like one of these:
Goosenecks on the San Juan River southern Utah
Natural Bridges National Monument in southern Utah
Mike & Joyce Hendrix
Mike & Joyce Hendrix who we are
We hope you liked this page. If you do you might be interested in some of our other Travel Adventures:
Mike & Joyce Hendrix's home page
Travel Adventures by Year ** Travel Adventures by State ** Plants ** Marine-Boats ** Geology ** Exciting Drives ** Cute Signs ** RV Subjects ** Miscellaneous Subjects
We would love to hear from you......just put "info" in the place of "FAKE" in this address: FAKE@travellogs.us
Until next time remember how good life is.