East Oregon Geology


June 19, 2007.
We are staying at Mountain View Travel Park in Baker City. $24.79 FHU, shade and a nice enough RV-Park. It must be a former KOA since they charge extra for everything, $2 extra for wifi, $2 extra for larger sites, you get the picture.
This was a slow day for us and we got a late start. At first we were undecided about what we wanted to do but finally settled on heading out to John Day since we had not been out that way. So John Day it was. By the way John Day is the name of a small east Oregon town.
Igneous intrusions or dikes west of Baker City
This basalt outcropping is in the process of creating a line of hoodoos.
Igneous intrusions or dikes
In this area basalt intrusions or dikes have created a field of hoodoos. These odd looking shapes were formed deep within the earth when molten rock forced its way into cracks and crevices of the overlying rock. The overlying rock being softer has eroded away exposing the much harder basalt.
Joyce took this picture a few miles west of Baker City.
A dry valley west of Baker City
This is a picture of those rock fence post that we are seeing all over this area of Oregon. Note the geology here. Mountains surround us but as you can see this is a pretty dry area.
Valley on SR-7 in the Wallowa-Whitman National Forest
It is located in Sumpter Valley near or in the old ghost town of Whitney on SR-7.
Anticline and geologic fault near intersection of SR-7 and US-26 west of Baker City
Ahhhhh, look at this geology. It is a perfect anticline. The rocks here make a perfect arch like it had been drawn with a protractor. It takes awesome forces to bend rock like this.
The fault line creating this appears to be just right of the center.
Joyce took this picture somewhere near Austin, Oregon.
Strawberry Mountain as seen from US 26 near Prairie City, Oregon
Again, this is Strawberry Mountain south of Prairie City as seen from the John Day Valley.
John Day Valley on US-26 between Prairie City and John Day, Oregon
Irrigation makes these valleys so lush and beautiful.
Summit of Dixie Mountain at Dixie Pass in Oregon
After leaving Prairie City US 26 heads up and over Dixie Pass. Whatever you do in this area is going to involve climbing a pass every 15 to 20 miles.
Dixie pass is east of John Day and Prairie City in case you are wondering.
Lush Oregon Valley full of cattle
No sooner than we pass one of those desolate hoodoo fields than we round the corner and a beautiful valley unfolds before us.
Mike & Joyce Hendrix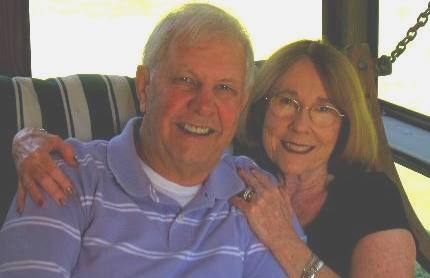 Mike & Joyce Hendrix who we are
We hope you liked this page. If you do you might be interested in some of our other Travel Adventures:
Mike & Joyce Hendrix's home page
Travel Adventures by Year ** Travel Adventures by State ** Plants ** Marine-Boats ** Geology ** Exciting Drives ** Cute Signs ** RV Subjects ** Miscellaneous Subjects
We would love to hear from you......just put "info" in the place of "FAKE" in this address: FAKE@travellogs.us
Until next time remember how good life is.