John Day, Oregon

June 19, 2007.
We are staying at Mountain View Travel Park in Baker City. $24.79 FHU, shade and a nice enough RV-Park. It must be a former KOA since they charge extra for everything, $2 extra for wifi, $2 extra for larger sites, you get the picture.
This was a slow day for us and we got a late start. At first we were undecided about what we wanted to do but finally settled on heading out to John Day since we had not been out that way. So John Day it was. By the way John Day is the name of a small east Oregon town.
One of the things we thought we would visit in John Day was the Kam Wah Chung & Co. Museum.
When we arrived this is the sign we found.
The Kam Wah Chung & Co. Museum (this building) was constructed as a trading post on The Dalles Military Road in 1866-67. It served as the center for the Chinese community in Eastern Oregon until the early 1940's.
This is the original building and it now contains thousands of artifacts and relics that illustrate the many former uses of the site. It was: a general store, run by Lung On; an office for the famous herbal doctor, Ing (Doc) Hay; a Chinese temple; a gathering (and gambling) place for Chinese people throughout the region; as well as home to the proprietors.
There were hundreds of thousands of Chinese people that came to this country seeking relief from famine, overpopulation, and the loss of industry due to cheap goods from the West. By the time of the 1879 census, there were 960 whites and 2468 Chinese inhabitants of the gold mining region of Northeastern Oregon.
This is Kam Wah Chung's home and store, as seen from the side.
In 1887, two young immigrants, Ing Hay and Lung, purchased this building. They lived there from 1948 and 1940 respectively. They were an important part of Eastern Oregon history. The development of the economy and culture in the region is still represented in the Kam Wah Chung & Co. Museum. Originally, the building was intended as a trading post on the main East-West highway of the period. Doc Hay and his partner Lung On sold large amounts of mining supplies and staple foodstuffs to the miners, both white and Chinese. As the community changed, the men sold canned goods, notions, tobacco, cigars, and cigarettes. Many of the goods were imported from China. There is evidence that Chinese money was exchanged between the immigrants and it was probably used to purchase goods from their former homeland. During the prohibition, Lung On sold "bootleg" whiskey. Examples of these types of goods are still in the Museum.
John Day Valley on US-26 between Prairie City and John Day, Oregon
Irrigation makes these valleys so lush and beautiful.
This was taken on US-26 a few miles east of John Day looking out over the John Day Valley at the Strawberry Mountains.
Common teasel
Joyce got some pictures of the common teasel's brown flower heads we have been seeing in eastern Oregon's wet areas generally with cat tails.
Mike & Joyce Hendrix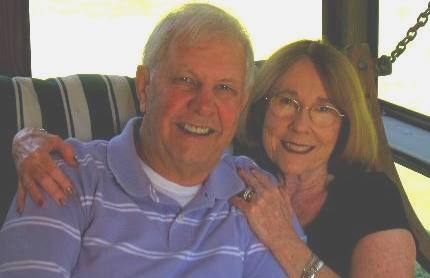 Mike & Joyce Hendrix who we are
We hope you liked this page. If you do you might be interested in some of our other Travel Adventures:
Mike & Joyce Hendrix's home page
Travel Adventures by Year ** Travel Adventures by State ** Plants ** Marine-Boats ** Geology ** Exciting Drives ** Cute Signs ** RV Subjects ** Miscellaneous Subjects
We would love to hear from you......just put "info" in the place of "FAKE" in this address: FAKE@travellogs.us
Until next time remember how good life is.