Anticline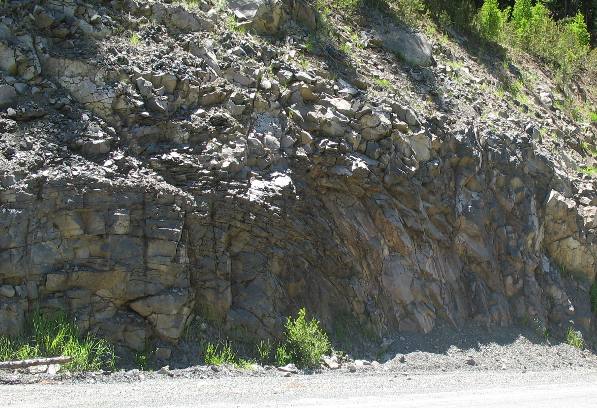 Ah, look at this geology. It is a perfect anticline. The rocks here make a perfect arch like it had been drawn with a protractor. It takes awesome forces to bend rock like this.
We saw this anticline in a road cut near John Day, Oregon in 2007.
We learned from a local that rocks near the river down there contained a lot of fossils so we took time to go looking for them today. We did not find any but we did marvel at the geology presented by the river cut. That grey mass of limestone is bent in what geologist refer to as an anticline. Even the untrained eye can see where this once flat sedimentary rock has been bent.
Geologic intrusion or dike that was causing the solid rock to contort into an anticline
This is an exposure in Hells Canyon, Oregon.
It looks to me like lava flows that covered this area millions of years ago were uplifted and bent by a later intrusion (dike) of molten rock creating the anticline.
Geologic faults and intrusions have extensively contorted this rock
It is places like this that I want my own professional geologist to stand by and explain what created this.
An anticline and syncline are both visible as this rock folded under tremendous heat and pressure.
We saw this unmistakable anticline in 2007 while visiting Utah.
I would say it is a classic anticline.
Click here for another page of Anticlines
Mike & Joyce Hendrix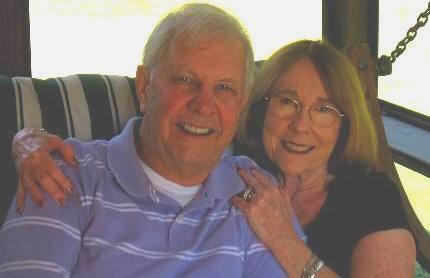 Mike & Joyce Hendrix who we are
We hope you liked this page. If you do you might be interested in some of our other Travel Adventures:
Mike & Joyce Hendrix's home page
Travel Adventures by Year ** Travel Adventures by State ** Plants ** Marine-Boats ** Geology ** Exciting Drives ** Cute Signs ** RV Subjects ** Miscellaneous Subjects
We would love to hear from you......just put "info" in the place of "FAKE" in this address: FAKE@travellogs.us
Until next time remember how good life is.