Sumpter Valley Oregon

June 17, 2007.
We are staying at Mountain View Travel Park in Baker City, Oregon. $24.79 FHU, shade and a nice enough RV-Park. It must be a former KOA (Keep On Adding) since they charge extra for everything, $2 extra for wifi, $2 extra for larger sites, you get the picture Keep On Adding.
Roadcut between Baker City and the Sumpter Valley in Oregon
Our drive from Baker City to Sumpter along SR 7 took us from the Baker Valley to the Sumpter Valley, deep in the Blue Mountains. Spectacular roadcuts like this were common between the valleys.

Three gold dredges operated in the Sumpter Valley, on and off, from 1913 to 1954. Periods of dredging activity were influenced by the fluctuating prices of gold, the Great Depression, the Second World War, and equipment breakdowns. The dredges dug up 2,500 acres of farmland extracting approximately $10,000,000 in gold.
Unique east Oregon fence arrangements
I am intrigued with this method of fencing that seems to be an Oregon specialty.
We watched a pair of osprey on this nest. One must have been sitting on eggs since we did not see any chicks.
Joyce spotted this nesting platform along Mason Reservoir in the Sumpter Valley.
Sumpter Valley Steam train tracks & Station
These are tracks for the Sumpter Valley Steam train that operates on weekends and holidays during the summer. We did not take the train ride but did see it chugging through the valley with a load of tourist.
Beautiful pastures are dotted throughout Sumpter Valley.
In one pasture we spotted these sandhill cranes. To begin with we thought they were some other species of crane since we had never seen sandhill cranes with this brown coloring.
Sandhill cranes and chick in Sumpter Valley
They were indeed sandhill cranes they just weren't the color we are used to seeing.
Look closely at the picture on the left you can see a small chick following this adult.
While we were watching a group of calves started chasing one of the adult cranes. It was funny to see calves chasing a crane. When the crane tired of the game it headed to the barbed wire fence and with one bound jumped over it then turned around to watch what happened.
Mike & Joyce Hendrix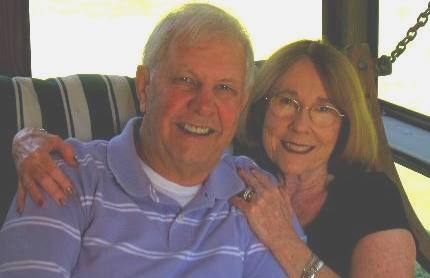 Mike & Joyce Hendrix who we are
We hope you liked this page. If you do you might be interested in some of our other Travel Adventures:
Mike & Joyce Hendrix's home page
Travel Adventures by Year ** Travel Adventures by State ** Plants ** Marine-Boats ** Geology ** Exciting Drives ** Cute Signs ** RV Subjects ** Miscellaneous Subjects
We would love to hear from you......just put "info" in the place of "FAKE" in this address: FAKE@travellogs.us
Until next time remember how good life is.