Baker City, Oregon & Oregon Trail Interpretive Center

June 16, 2007.
We are staying at Mountain View Travel Park in Baker City. $24.79 FHU, shade and a nice enough RV-Park. It must be a former KOA --- Keep On Adding since they charge extra for everything, $2 extra for wifi, $2 extra for larger sites, you get the picture KOA Keep On Adding..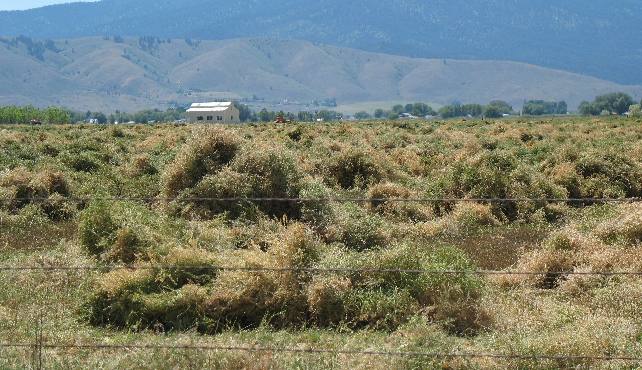 The Baker Valley produces thousands of acres of hay. This alfalfa field has been mowed and raked into rows of hay that is drying. Within a few days a bailing machine will move down the rows creating giant bales of alfalfa.
At the turn of the century, Baker City was known as the "Queen city" of the Pacific Northwest, the cultural center between Salt Lake City and Portland, resplendent with several exquisite hotels and restaurants, ballrooms for dancing, an opera house and neighborhoods of elaborate homes.
Today, Baker City boasts one of the largest commercial national Register Historic Districts in the state of Oregon with over 110 buildings in the district.
Geiser Grand Hotel Baker City, Oregon
This is the Geiser Grand Hotel constructed here in Baker City in 1889. Originally the Warshauer House, the Geiser Grand Hotel was built by local merchants Harry and Jake Warshauer for the then magnificent sum of $65,000. The hotel was a gathering place for business travelers from across the nation - and even Europe - many of whom had interests in area gold mines. Local mine owner Al Geiser purchased the hotel and extensively remodeled it at the turn of the century. The hotel was closed for almost thirty years before being restored and reopened again in 1997.
Geiser Grand Hotel Baker City, Oregon
Gold display in U.S. Bank of Baker City, Oregon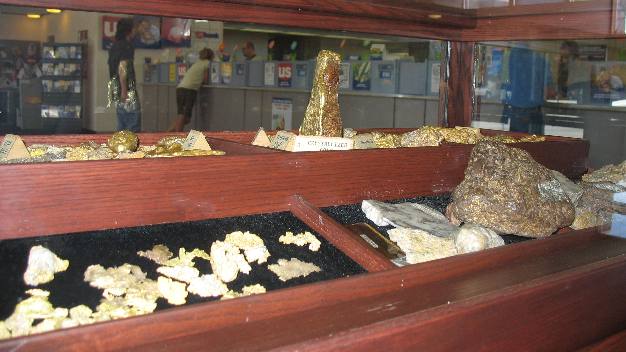 One of the stops on our walking tour of historic homes and businesses in Baker City was the U.S. Bank where they have a gold display. Among trays of gold flakes and gravel-sized nuggets on display is a heart-stopping specimen that was pulled from a muddy stream in 1913.
The miner's name was George Armstrong, and he spotted the hunk of gold as he followed his son out of a placer mine near Susanville in Grant County.
The nugget weighed 80.4 ounces --that's 6 and 3/4 pounds --- and was worth more than $1,400 at the 1913 gold price of $17.50 an ounce. That's more than $25,000 in today's dollars.
The nugget sits front and center in the bank's gold display that features metals mined from the Baker Mining District.
Luther B. Ison home Baker City, Oregon
When Luther B. Ison built this home in 1887 he directed that only the finest materials be used. The bricks were freighted from Portland, the fireplaces came from Holland and Alaskan white cedar was used for woodwork. Ison, who was a district judge at the time, died in 1889, just two years after the home was completed, but his widow lived there for the next 50 years. The house has been renovated for use as a bank.
Bowen Home Baker City, Oregon
This is the Bowen Home built in 1895 by the publisher and editor of Baker City's "Bedrock Democrat" newspaper. The house was a traditional all-white Victorian with a park-like yard that was much larger than it is now. The Bowens were pioneers in Baker County arriving in 1862 with their parents.
St. Francis Cathedral Baker City, Oregon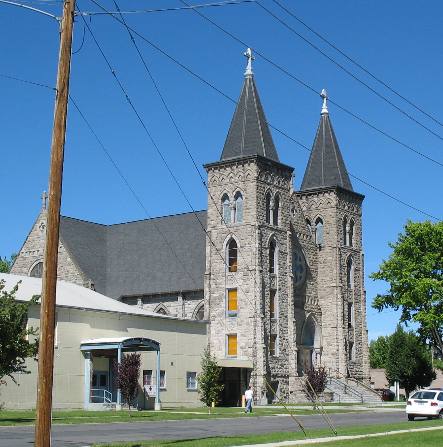 St. Francis Cathedral was constructed in 1908 of volcanic tuff stone quarried about 12-miles east of Baker City. Many other prominent buildings erected in the city during the 1900s were constructed of this same volcanic tuff stone. The Catholic Diocese of Baker, established by the Pope in 1903, included all of Oregon east of the Cascade Mountains.
Mike & Joyce Hendrix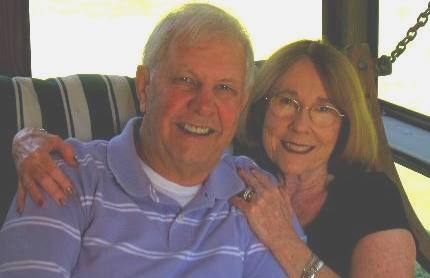 Mike & Joyce Hendrix who we are
We hope you liked this page. If you do you might be interested in some of our other Travel Adventures:
Mike & Joyce Hendrix's home page
Travel Adventures by Year ** Travel Adventures by State ** Plants ** Marine-Boats ** Geology ** Exciting Drives ** Cute Signs ** RV Subjects ** Miscellaneous Subjects
We would love to hear from you......just put "info" in the place of "FAKE" in this address: FAKE@travellogs.us
Until next time remember how good life is.