Baker Valley, Oregon
June 16, 2007.
We are staying at Mountain View Travel Park in Baker City. $24.79 FHU, shade and a nice enough RV-Park. It must be a former KOA (Keep On Adding) since they charge extra for everything, $2 extra for wifi, $2 extra for larger sites, you get the picture--Keep On Adding or KOA clone!.
While this is NOT the Baker Valley it is on the HILL (Flagstiff Hill) where emigrants on the Oregon Trail first saw the Baker Valley and a lone tree in the valley. So take this opportunity to visualize wagon trains on top of this really big hill looking down into a valley. Looking down these old tracks from the Oregon Trail you can get a really good idea of the desert these emigrants had been traveling in.
Emigrants generally traveled through this area sometime between mid-August and late-September. At the time of the migration, this site was NOT known as "Flagstaff Hill', but was referred to as a high ridge or divide in pioneer diaries that read something like this: "...after leaving camp. We crossed the divide and camped at the lone pine tree..." James W. Nesmith, 25 September 1843
To begin with emigrants on the Oregon Trail came west searching for good farmland. Later, gold was one of the greatest lures for people to move west.
In the 1840s (early years of the migration), those seeking land observed the lush fields of the Baker Valley and Powder River Valley as they traveled the Oregon Trail to western Oregon. With no settlements, weary emigrants had to pass up the agricultural potential for the security of supplies and markets in the Willamette Valley.
The discovery of gold at Sutter's Mill in California in 1848 escalated the great migration across the continent, and opened up the need for supplies and food for the rapidly growing population of miners. Oregon's economy flourished; shipping produce, cattle and timber south. As the gold fields of California played out, prospectors looked for fortune in other regions. Strikes in Nevada, Colorado, Montana, Idaho, British Columbia and Oregon generated new trail routes, new settlement and new trade patterns as miners followed the rumors of gold.
Some miners considered the story of the "Lost Blue Bucket Mine". In 1845, a wagon train looking for a short cut through central Oregon became lost and wandered through the hills and desert country. At one campsite, some shiny yellow pebbles were found, and allegedly, most of the rocks were left behind in a blue bucket. The story and a few samples however were saved, and after news of the find at Sutter's Mill it was recognized that the lost pioneers had found gold - but they could not remember the location of their find.
In 1861, prospectors searching the mountains of eastern Oregon for the Lost Blue Bucket location found gold in a gulch about seven miles south west of present day Baker City. The news started a stampede, with an estimated 15,000-30,000 gold seekers coming into the Blue Mountains in the next year and over 1,700 mining claims filed. It became the county seat of newly formed Baker County, and for a short while was the largest town in Oregon - two years later it was headed for oblivion with less than 150 residents.
Emigrants on their way to the Willamette Valley in the early 1860s shared the trail with eager gold miners. Some decided to cut off the trail and stay in Baker County, starting farms and businesses to supply the bustling mining trade. As Auburn became overcrowded , prospectors followed other leads, finding gold at Canyon City, Prairie City, Sumpter, and Granite, south at Mormon Basin and Rye Valley, and east to the Boise Basin.
As early methods of placer mining gave way to lode mining, the need for supplies - especially heavy equipment - led to changes in the economic life of communities supporting the mining business. Freighters developed routes to haul goods from Columbia River ports to the mountains around Baker Valley. A railroad route was developed, and completed in 1884. A stamp mill built on the Powder River in 1864 became the starting point for the town of Baker City, which soon became the county seat, and a hub for suppliers of hardware and heavy equipment. Lumbermen started mills to supply timbers. Ranching and farming expanded to meet the growing market for produce, beef and draft animals. Hotels and banks accommodated the investors, engineers and businessmen as mining changed from the work of lone prospectors into corporate ventures. Churches and schools developed for families; saloons and more carnal entertainment establishments were constructed for the single miners. Civic and fraternal organizations, libraries, and musical bands appeared in even the most rudimentary and temporary mining camps.
Settlement patterns chased gold finds throughout the West, encroaching on traditional Indian lands. Treaties and reservations reduced Indian territory. The lust for gold created a mobile society, able to quickly relocate, establish governments and communities, and then leave when the gold became scarce and new rumors lured restless miners away.
Early Oregon Trail emigrants crested this hill (Flagstaff Hill) east of Baker City, and with the Blue Mountains looming to the west, saw a solitary tree in the valley below. Called I'arbre seul (the lone tree) by French-Canadian fur trappers, this large tree, possibly ponderosa pine or Douglas-fir, towered majestically above the floor of Baker Valley about 3-miles distance from here.
For many years -- perhaps centuries -- the Lone Tree served as a landmark for Indians, trappers, missionaries, and Oregon Trail emigrants, until felled in 1843 by what explorer John Fremont called, "some inconsiderate emigrant ax."
Others remembered that solitary ponderosa pine flourishing on the banks of the Powder River, as it welcomed emigrants to the Baker Valley. It stood entirely alone "in the midst of an immense plain." Medorem Crowford, writing in 1842, believed it to be "respected by every traveler through this almost Treeless Country." But that was not the case.
Story of I'arbre seul (the lone tree) named by French-Canadian fur trappers for the lone tree in the Baker Valley
In 1843, Peter Burnett looked west toward the pine as he passed Flagstaff Hill. One moment he saw the tree; the next it was gone. "That brave old pine ... has fallen at last by the vandals --- hands of man. Some of our inconsiderate people had cut it down for fuel, but it was too green to burn ... Had I been there in time I would have begged those woodsmen to spare that tree."
Baker Valley viewed from Flagstaff Hill
Emigrants camping in this valley often met traders from Willamette who walked through offering food and good news. They told of the bountiful harvests, the fertile soil, and the gentle winters in Oregon. The promised land seemed so close, but several enemies still barred the way; weather, mountains, rivers, and lack of supplies.
Hailstorms and iced-over water buckets reminded the travelers that winters came early in the mountains. Axing their way through thick timber and hauling wagons up seemingly vertical inclines drained their small stores of energy and patience and supplies.
Beyond the Blues, travelers heading for Willamette had to decide between two unappealing routes: the Columbia River or the Barlow Road. Whether they chose the river or the road, they risked losing everything. Fortunately, moments of joy and relief flickered brightly as they neared their goal: friendly Indians still provided fresh food and the land itself more than fulfilled their hopes.
Baker Valley viewed from Flagstaff Hill
The Baker Valley spread out before you changed rapidly in the years after the Oregon Trail. Placer and lode mining, and the spread of farming and stock raising changed the face of Baker Valley forever. A mixed population including Chinese laborers, Basque shepherds, and recent European immigrants scrambled for the land. They washed gold and irrigated their fields. They erected handsome buildings, planted trees, and called the place home. By 1890 Baker City had 4,500 residents.
The valley drew trade, logging and lumbering, and tourists. The arrival of the railroad in 1882 created more prosperity by linking northeastern Oregon to the nation. At the same time, grazing, new plant species, and mining upset the region's ecological balance. Fluctuating world markets brought agricultural depressions, growth in booming Baker Valley gradually slowed, and a more modest stability took hold.
Mike & Joyce Hendrix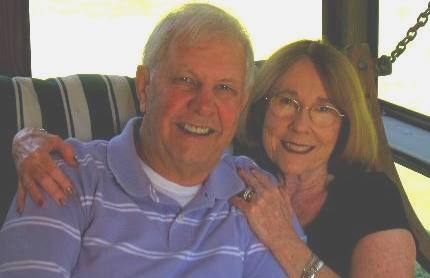 Mike & Joyce Hendrix who we are
We hope you liked this page. If you do you might be interested in some of our other Travel Adventures:
Mike & Joyce Hendrix's home page
Travel Adventures by Year ** Travel Adventures by State ** Plants ** Marine-Boats ** Geology ** Exciting Drives ** Cute Signs ** RV Subjects ** Miscellaneous Subjects
We would love to hear from you......just put "info" in the place of "FAKE" in this address: FAKE@travellogs.us
Until next time remember how good life is.