June 6, 2007.
We are staying at High Adventure River Tours RV-Park/Store & Dutch Oven Cafe located on the southeast corner of exit 147 near Hagerman, Idaho. It is a nice RV-Park with shade and long pull through sites. PPA with tax ran $16.20 for FHU.
For those of you that are not familiar with PPA (Pass Port America) it is an organization you can join for less than $50 per-year. Campgrounds that belong to PPA offer 1/2 price discounts. That kind of savings can quickly add up. While participating PPA parks generally have some restrictions on dates the PPA offer is valid, or possibly days of the week the discount is valid, or perhaps the number of days that the PPA discount will be honored the discount is genuine. Many times PPA campgrounds are new campgrounds that need help in getting established. Other times PPA campgrounds may be on the outskirts of town instead of in the "prime" location thus they need to provide an incentive for campers to stay with them. Whatever the reason PPA campgrounds generally provide a much cheaper option. PPA is the only campground organization that I think is worth the cost. PPA does not have a gimmick. What you see is what you get. Once you join they send you a directory listing all participating campgrounds. The PPA directory is the FIRST directory we check when trying to locate a place to spend the night. You can join PPA by calling 228-452-9972. If you decide to join PPA, it would be nice if you gave them my number "R-0156251" as the PPA member that told you about PPA. In return PPA will give me a years membership free. I will thank you in advance for that kindness. Thank you.
We drove south out of Buhl to see "Balanced Rock".
This canyon was on our way. In case you are interested those are basalt cliffs comprised of columnar jointed basalt.
We have seen columnar jointed basalt in several different areas of the country. Right now I am thinking about the awesome columnar jointed basalt in the cliffs at Ft. Davis, Texas. Another awesome display of columnar jointed basalt was along the Salmon River in Riggins, Idaho.
I also remember an awesome display of columnar jointed basalt along the Boise River near Idaho City, Idaho. Yellowstone National Park also has a good display of columnar jointed basalt in the north end of Yellowstone Park along the Yellowstone River.
Balanced Rock South of Buhl, Idaho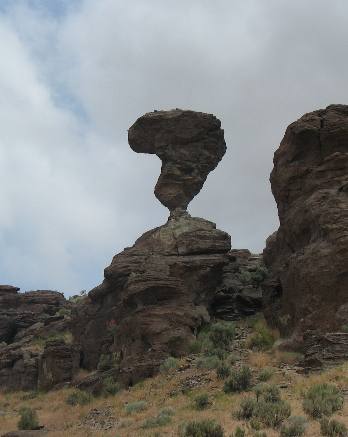 And this is the "Blanced Rock" we drove out to see.
It is 48 feet high and 40 feet wide but the base is only 3 feet by 17.5 inches.
It is a basalt monolith shaped by differential weathering, if you wanted to know. VBG
Balanced rock is an example of a "cap rock" and is also a good example of a hoodoo.
This is another look at that canyon we drove through to get to Balanced Rock. It is a perfect example of columnar jointed basalt formed from an ancient lava flow.
I am proud of Joyce. As we approached this rock formation she exclaimed "columnar jointed basalt" to let me know that she recognized it. That is so funny since I was about to tell her that it was indeed columnar jointed basalt. It was at that moment that we started remembering other places where we had seen columnar jointed basalt.
This is columnar basalt in these Basalt Cliffs, We have seen it before at Ft Davis in Texas, at Devils Tower in Wyoming and the Needles in the Black Hills of South Dakota.
To me this looks like the "pillow basalt" that was created when hot lava met water. You will recall that pillow basalt is the porous basalt that the water in the Snake River Aquifer flows through.
This outcropping of basalt was located south of Buhl, Idaho.
Until next time remember how good life is.
We hope you liked this page. If you do you might be interested in some of our other Travel Adventures:
We would love to hear from you......just put "info" in the place of "FAKE" in this address: FAKE@travellogs.us
Until next time remember how good life is.