Wyoming: Devils Tower, Bear Lodge Mountains Scenic Drive
Montana: Billings, Pompeys Pillar
Places Visited:
Wyoming: Devils Tower, Bear Lodge Mountains Scenic Drive
Montana: Billings, Pompeys Pillar

Thursday September, 2: KOA @ Devils Tower, Wyoming: N44° 35.420' W104° 41.932' $26.95 - 30 amps & water gravel interior roads & pads with some shade.
We are keeping an eye on hurricane Frances a BIG category 4 hurricane expected to make landfall along Florida's east coast. Joyce's dad is in Melbourne as is Joyce's sister and her family. We know the enormity of a category 4 hurricane bearing down on Florida on Labor Day weekend.
After picking up some prescription medications we headed to Devils Tower about 60 miles west of here in Wyoming. The first 35-miles were on I-90 as we exited the state of South Dakota and entered Wyoming. In the small ranching community of Sundance, Wyoming we exited I-90 onto US-14 for another 20-miles before turning north on SR-24 for the final 10 miles. Rolling hills through range land was the order of the day. Once exiting I-90 we started climbing. As we gained altitude we also picked up ponderosa pine. Wildlife is as prolific as any area we have ever seen.
Huge flock of wild turkey north of Devils Tower, Wyoming
Flocks of turkeys seemed to be around every corner. It wasn't unusual to see up to 20 adult turkeys moving through the grass. It appeared that they were feeding on grasshoppers since the entire flock was constantly on the move and constantly chasing whatever it was they were stirring up as they walked.
Deer in an irrigated alfalfa field near Hulett, Wyoming and Devils Tower
Deer were also thick as flies. We were noticing more mule deer mixed in with the white tail. The closer we got to Devils Tower mule deer became predominant.
We checked into the KOA at Devils Tower rather than the National Park Campground so that I could have access to a modem. We weren't there long before we were in the Saturn and heading out to do the Bear Lodge Mountain Scenic Drive. We had read somewhere that the drive through the Bear Lodge Mountains was possibly the most scenic drive in the continental US. Our idea was to check it out and see for ourselves. The best we could determine the drive referred to was the drive from Hulett through Alva and on to Aladdin on SR-24. A Wyoming tourism pamphlet outlined a "Bear Lodge Scenic Byway" that started in Sundance on US-14 to SR-24 by Devils Tower through Hulett and on to Aladdin where you take SR-111 to I-90 and back to Sundance.
Since we had already done the portion of that drive from Sundance to Devils Tower we were going to do the part across Bear Lodge Mountain from Hulett to Aladdin because locals though that was the most scenic part. We drove SR-24 to Aladdin where we stopped at the 110 year old General Store and looked around before returning.
Aladdin, Wyoming population 15, is a favorite stop for Sturgis Bikers
Aladdin, as far as I could ascertain consisted of the General Store. The ubiquitous green sign the state puts up mark the entrance to small towns is located on private property at the General Store. Note that it is attached to the gasoline pump and BOTH the east and west bound signs are on the same pole. You gotta love it.
The drive was scenic as had been promised. It was also full of wildlife chiefly turkeys. I am having trouble fathoming the number of turkeys we are seeing. It is like seeing pigeons in the big city. Deer were also visible all along the route.
Wild turkey near Hulett, Wyoming and Devils Tower
I am not sure that I would include the Bear Lodge Mountain Drive in the top 10 most scenic drives in the country but it is certainly one worth mentioning. We kept saying it looked like vistas straight out of old "Ponderosa" TV shows. It was easy for us to visualize "Hoss & Little Joe" riding across the range.
I have an old high school friend that lives 10-miles north of Hewlett. We have been in contact and she was expecting us to drop by this afternoon. Driving the 10-miles from Hewlett to Andi's place up SR 112 we were overwhelmed by the number of deer and turkey that were visible from the road. It was nearing 5 PM when we arrived at her house. Just before we turned off the main road we stopped to video a group of over 20 deer feeding in a pasture by the road. When we arrived at Andi's house they had a several hundred-acre pasture in their front yard that had a flock of turkey working it over and deer were beginning to emerge from the ponderosa pines and wander into the pasture. I was totally amazed. Ben, Andi's husband, said it was nothing to see up to 50 deer and a like number of turkeys in the pasture every afternoon. He could tell that I was amazed so he put me in his truck in order to really show me some impressive deer. I was already impressed, how many more deer could he possibly show me? Well, he did show me more. We drove around pastures with 20 to 30 deer many with impressive racks until it got too dark to see. Ben didn't dare drive over 35 or 40-mph for fear of hitting one of the critters. I don't think hunters could call shooting those critters "hunting" it would be more like "Thinning the Herd". Deer were everywhere.
When Joyce and I headed home it was after dark and I didn't drive faster than 45-mph all the way back to the motorhome which was 18-miles south of them.
Wild turkey near Hulett, Wyoming and Devils Tower
What a fun time we had. We have never seen so many turkey and deer….. Trophy deer at that. I couldn't help but think of my good buddy back in Pensacola. Even Galon could get a deer here. I am thinking about getting Galon in contact with Andi & Ben. The way I see it Galon could sit in Ben's young orchard and guard it against the hoards of critters that walk around his electric fence trying to find a way into the forbidden fruit. That way both parties would be benefiting.
We liked our visit with Andi and Ben, especially all the wildlife. We will have to return one summer and spend some time just watching the wildlife. I wonder if they would eat the tires off my motorhome. They looked like they were eating everything else.
Devils Tower in Wyoming near the town of Hewlett, Wyoming
Did I mention that our RV is parked at the base of Devils Tower? It is. As we were driving toward Devils Tower earlier today we were able to see it 10 to 15 miles away when we were on the top of a rise --- it was a thrilling sight ---- then we would see a flock of turkeys or a group of deer. It was an exciting drive up and down some good grades in the motorhome with Devils Tower popping out every now and then and all the wildlife in-between.

Friday September, 3: Yellowstone River Campground in Billings, Montana: N45° 45.646' W108° 29.049' $31.78 - 50 amps Full hookups & Cable paved interior roads with gravel pads & good shade.
Well, we have changed plans again. After visiting Devils Tower and my high school friend near Devils Tower we were going to get back to following the Lewis & Clark Trail. That would have taken us back to the Missouri River in South Dakota where we would have followed it up to Bismarck, North Dakota and from there across northern Montana to Great Falls. Anyway, that was our plan until Joyce noticed that many if not most of the places we wanted to visit were not going to be open after Labor Day. Once we realized that we started checking and there was no need for us to backtrack and follow the Missouri River.
It was time to sit down and regroup. Well, we regroup we did. We had planned to visit Yellowstone, Grand Teton, Cody, Jackson Hole and other places in that region so we decided that we needed to move in that direction.
We made that decision before retiring last night.
This morning we got up early and visited Devils Tower before checking out of the RV-Park. As awesome as Devils Tower is we are awestruck by the flocks of turkey we pass in the National Park. There were a few deer but turkeys were everywhere.
After stopping in the Visitors Center and viewing Devils Tower from the base we headed back to the motorhome. On the way back we passed flock after flock of turkey like on the way up. We did stop by to look at the National Park Campground. It was nice. There were no hookups but they did have central water and central dump. The campground was located in a cottonwood grove so most spots had good shade.
It is amazing what changes a few hours can make. On the 25-mile or so drive to get on I-90 we did not see any turkey or deer. That was so different from yesterday afternoon when the roadside meadows and fields were covered with them. I have no clue what the difference was.
Magpie, along roadside in Wyoming
Even though we were not blessed with flocks of turkeys and herds of deer we did see several magpies. The magpie sighting surprised us since we were around 4,100' in altitude and we do not normally expect to see magpie until we reach 8,000 feet of altitude or more. We will take it when we get a chance even if it is unexpected and at 4,000 feet.
As we drove west on I-90 it began to rain. It was just a light drizzle but rain never the less. That silly rain continued off and on all day. The temperature hovered in the 50s all day. As we continued west on I-90 we also jogged north into Montana to avoid the Big Horn Mountains. Once in Montana I-90 followed a fairly large valley that was producing a lot of hay. Wheat fields were also in evidence.
We stopped in Billings, Montana where we will settle in for the Labor Day weekend.

Saturday September, 4: Yellowstone River Campground in Billings, Montana: N45° 45.646' W108° 29.049' $31.78 - 50 amps Full hookups & Cable paved interior roads with gravel pads & good shade.
Yellowstone River and bluff along the river in Billings, Montana
We spent the day in Billings taking in some of their museums and historical places. Our RV-Park is located beside the Yellowstone River on a floodplain filled with mature cottonwoods. On the opposite side of the River is a very high ridge of sandstone. It makes a beautiful sight when the sun is setting and shining directly on those bright yellow cliffs.
We also checked out the KOA located about a block away from us. That KOA is the original KOA and many RV'ers say that it is a "must-stay". It was nice, very nice with paved streets and paved pads. It was also expensive as in more than $45 for their cheap sites, while we are in Yellowstone River Campground next door for virtually half of that. It was a no brainer for us to stay in Yellowstone River.
North of town is a high rim of Sandstone where the Billings airport is located as is their Montana Country Museum. This museum was housed in a log cabin constructed in Billings during the pioneer days in the mid-1800s. Since the museum sits on top of that rim high above Billings the view looking south toward the Yellowstone River and the River Valley between this bluff and the bluff on the south side of the Yellowstone River is simply awsome. Twelve miles west we can see Park City where William Clark and his party returning from the west coast stopped to chop down two huge cottonwood trees to make canoes of 28' in length and 16 to 18 inches deep and 16 to 24 inches wide.
Although we can not see it from this vantage point Pompey's Pillar is about 25-miles east of us. Pompey's pillar is a large prominent rock that Clark named for Sacagawea's son Pomp. Clark carved his name and date on the sandstone rockface where it is still visible today. We plan to visit Pompey's Pillar before leaving Billings it just wasn't on today's schedule.
After driving to some view points on top of the rim ridge north of Billings we dropped down into the downtown area where we visited the Western Heritage Center. They have a collection of items interpreting Yellowstone River Valley Life. The building itself interested me as much as the museum. It is a historic "Romanesque" sandstone structure listed on the National Register of Historic Places.
Back at the motorhome we took time to walk down to the River as the sun got low to take photographs and video the yellow bluffs abutting the south bank of the Yellowstone River. It is a magnificent sight with the setting sun reflecting off those cliffs. Standing by the Yellowstone River makes me yearn to be riding some kind of small boat down the river. I need to talk my son into doing something like this with me in the future.
Sunday September, 5: Yellowstone River Campground in Billings, Montana: N45° 45.646' W108° 29.049' $31.78 - 50 amps Full hookups & Cable paved interior roads with gravel pads & good shade.
We visited a church this morning that a friend from Pensacola wanted us to visit. Our friend had visited with the church last summer with a group from our church in Pensacola that was doing missionary work.
It is so rewarding when someone writes to tell us about a special place to visit. We thank all of you that pass along all these recommendation.
Pompeys Pillar National Monument along the Yellowstone River in Wyoming
After church we headed to Pompeys Pillar to see Clark's signature and date that he carved it into this sandstone rock. Pompeys Pillar is a significant monument in our Nations history and one we wanted to be able to say we have been there and done that. William Clark's signature at Pompeys Pillar is the only physical evidence "on site" of the Lewis & Clark Expedition. They carved their names and such in trees but this evidence is no longer available.
After the expedition reached the Pacific coast and were making the return trip they split the party into two different groups. One group went with Lewis. They took the "Road to the Buffalo" which led them to the Great Falls of the Missouri (Present day Great Falls, Montana). Their objective was exploration of the Marias River too almost present day Glacier National Park.
The Clark party set off to explore the Yellowstone River drainage. Their plan was to rendezvous at the confluence of the Missouri and Yellowstone Rivers. When Clark and his party set out from Travelers' Rest, a bit southwest of present day Missoula, Montana they were on horses. When Clark's party located the Yellowstone River they began following it down stream. They were following the river down stream hoping to find cottonwood trees large enough to make canoes out of.
Two 28' canoes made out of cottonwood trees like Lewis & Clark used on the return trip
They finally located those cottonwood trees about 15-miles west of present day Billings, Montana. The party fell to hacking out two 28-foot long canoes. Within a few days they had these canoes ready to travel down the Yellowstone River. They strapped these canoes together with 4" diameter limbs so that the two canoes would travel together and offer much greater stability. Strapped together with four of these limbs the craft resembled a catamaran or pontoon boat. This craft would enable Clark and his party to literally fly down the rapidly flowing Yellowstone River.
Within about 35 miles of riding these canoes the party spotted this unique flat-topped outcrop of sandstone. Rising nearly 128 feet from its base near the Yellowstone River, it is an obvious vantage point over the surrounding countryside. They stopped the canoe and make camp for the night. Clark climbed to the top and wrote in his journal that he could see-a "most extensive view in every direction"-and carved his name and the date ("W Clark July 25 1806) into the relatively soft sandstone. He named the rock "Pompy's Tower" after the little boy who had captured his affection. Clark named the unique rock after Sacagawea's little boy Jean Baptiste (Pomp) Charbonneau.
Until next time remember how good life is.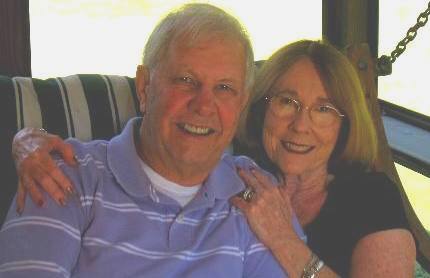 Mike & Joyce Hendrix who we are
We hope you liked this page. If you do you might be interested in some of our other Travel Adventures:
Mike & Joyce Hendrix's home page
Travel Adventures by Year ** Travel Adventures by State ** Plants ** Marine-Boats ** Geology ** Exciting Drives ** Cute Signs ** RV Subjects ** Miscellaneous Subjects
We would love to hear from you......just put "info" in the place of "FAKE" in this address: FAKE@travellogs.us
Until next time remember how good life is.