Places Visited:
Texas: I-10 through west Texas
Thursday, June 16: Lady Bird Johnson City Park Fredericksburg, Texas. $20 -- 50-amp FHU including, cable TV; paved interior roads & sites: N30° 14.355' W98° 54.573' --- 830-997-4202
This morning found us east bound and down across more of West Texas. As usual we waited until the sun got high enough in the sky so that it did not make us miserable driving into it. The down side of doing that is we are diddling during the cool part of the day instead of putting miles behind us.
While still around Balmorhea and the water supplied by the springs there are some sights we will not be seeing again for over a hundred miles.
Desert willows around Balmorhea, Texas
These desert willows are some of the most colorful plants in these desert regions.
Cattle grazing in west Texas
Cattle are grazing on relatively lush forage, it is certainly lush for this arid region.
Freshly mowed grain field around Balmorhea, Texas
This is a freshly mowed grain field probably wheat, grown with water supplied by the springs at Balmorhea.
Pecan orchard being watered by the Spring at Balmorhea, Texas

This pecan orchard is also made possible with water from the same source as the springs at Balmorhea. Desert pecan orchards is what we call them.
You can only imagine the discussion we had when this mound appeared on the horizon. Don't you wonder what the old timers named this rock. As we got closer Joyce got another pic of the same mound from a different angle as we traversed a nice limestone roadcut.
Wind turbines on a plateau in west Texas
Everytime we pass this way more plateaus are being utilized to transform wind energy into electricity. Between Ft. Stockton and Bakersfield wind turbines are cropping up like mushrooms on a decaying log. It looks to me like this area may be becoming the new wind-energy capital of the world. California has a lot of wind turbines but so does this area and they seem to be erecting them on every mesa. Everyone we saw was turned into the wind and producing electricity.
I-10 road cuts through limestone in the western "Hill Country" of Texas
Limestone roadcuts are a familiar sight in West Texas.
I-10 road cuts through limestone in the western "Hill Country" of Texas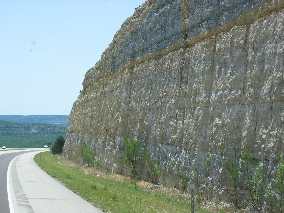 The limestone roadcut in the pic at left shows the different levels of sediment that make up a typical limestone roadcut. While the pic on the right shows an abnormality in the sedimentary layers. I have no idea what caused this abnormality that is clearly visible in the pic to the right. Was it caused at the time the layers of sediment were being deposited? Is it the location of acidic fumes escaping from within the earth that have interacted with the limestone thus changing the composition? Whatever it is obviously not as hard.
While West Texas along the I-10 corridor is composed of the same limestone bedrock as is found in the Hill Country around Fredericksburg, it has weathered much differently and as such creates a constantly changing landscape between El Paso and San Antonio. West Texas around Bakersfield and Ft. Stockton receives around 14" of rainfall annually compared to around 30" near San Antonio. In the Bakersfield/Ft. Stockton area of west Texas the hard limestone cap rocks of the buttes and mesas are characterized by sharp edges. The edges of those buttes and mesas become "softer" or more rounded the further east we travel. Rainfall has a way of weathering limestone that shapes it into rounded hills characteristic of the Texas "Hill Country" northwest of San Antonio. Fredericksburg, where we are headed today is the quintessential "Texas Hill Country" city.
Until next time remember how good life is.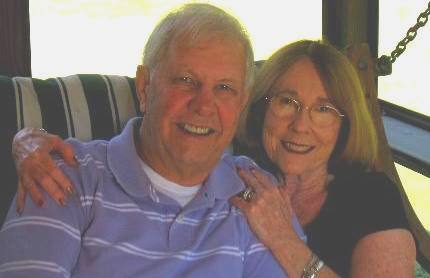 Mike & Joyce Hendrix who we are
We hope you liked this page. If you do you might be interested in some of our other Travel Adventures:
Mike & Joyce Hendrix's home page
Travel Adventures by Year ** Travel Adventures by State ** Plants ** Marine-Boats ** Geology ** Exciting Drives ** Cute Signs ** RV Subjects ** Miscellaneous Subjects
We would love to hear from you......just put "info" in the place of "FAKE" in this address: FAKE@travellogs.us
Until next time remember how good life is.