Ft Stockton, Texas
Ft Stockton, Texas
April 25 and 26, 2007.
We are staying in Balmorhea State Park. Water & 50-amps $14 with cable TV $17 plus $5 each for park entry fee. Located a few miles south of I-10 exit 206 if you are east bound and exit 209 if you are west bound. We like to stay here for the wildlife and birding. Balmorhea Springs boast the worlds largest swimming pool.
On Wednesday April 25 we continued our journey west on I-10. Traveling I-10 west from Junction to Balmorhea State Park is a rather lonely drive. There are great expanses of limestone roadcuts punctuated by thousands of acres of cedar. Really, there is a lot of that but as we travel west it is obvious that the landscape is becoming dryer.
Exit 256 sign for Ft Stockton on I-10 with silouettes on hill
Ft Stockton got its start as a U.S. Army outpost established on the western frontier in 1858 which is a few years before the Civil War. The site for Fort Stockton was chosen because of a source of water in Comanche Springs. Comanche Springs was the major source of water for Indian tribes in the area.
Fort Stockton provided protection for settlers moving into the area and also for travelers and merchants on the San Antonio to El Paso road.
As you might expect the town developed around the military fort. Things were good in Fort Stockten until the Civil War, when the fort was abandoned to Confederate forces.
Welcome to Fort Stockton, Texas
First house in Ft Stockton... very bad disreapir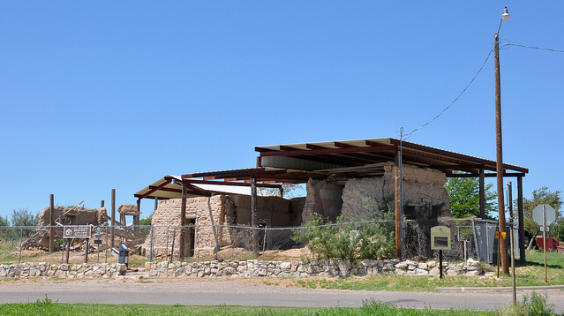 This old house circa., 1855 belonged to J.D. Holiday who was a merchant.
During the Civil War (1861 to 1865) the house was used as a shelter for travelers and stage coach passengers on the San Antonio to El Paso trail.
When the fontier fort was abandoned by Union forces during the Civil War folks had to find other ways to generate income thus this old home started relying on income from travelers.
Do note the adobe construction which was utilized around here during the early days. It has held up remarkably well since it was originally constructed around 1855.
Evidence of old Fort Stockton still remains. You can even tour the grounds situated in the heart of the city. Things have even been recently restored. The fort never had a palisade as one could see across the desert for miles in all directions. No one could sneak up on it without being seen. The fort consists of a large parade grounds with several buildings including bunkhouses, officers' quarters and guard house:
I-10 west of Fort Stockton
West of Fort Stockton is really dry and flat. Joyce took this picture at a rest stop west of Fort Stockton to emphasize that plants are not growing more than 4 to 5 feet tall. One yucca plant is taller than 5-feet.
I-10 rest area west of Fort Stockton
Joyce took this picture of our motorhome at that rest area. You can see for miles and miles but you aren't going to see any trees, only bushes.
Until next time remember how good life is.

Mike & Joyce Hendrix
Mike & Joyce Hendrix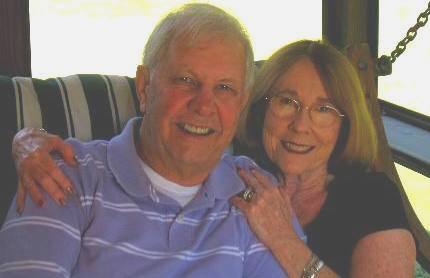 Mike & Joyce Hendrix who we are
We hope you liked this page. If you do you might be interested in some of our other Travel Adventures:
Mike & Joyce Hendrix's home page
Travel Adventures by Year ** Travel Adventures by State ** Plants ** Marine-Boats ** Geology ** Exciting Drives ** Cute Signs ** RV Subjects ** Miscellaneous Subjects
We would love to hear from you......just put "info" in the place of "FAKE" in this address: FAKE@travellogs.us
Until next time remember how good life is.