Saturday, April 16 Voyager RV Resort; Tucson, Arizona--- $32.50 with second night free Full hookup paved interior streets with gravel sites N32° 5.558' W110° 50.274'. At one time or another Voyager RV Resort was named the #1 RV Park in the country.
We started this day in a truck stop parking lot in Benson, Arizona where we had been stuck with a mechanical problem for several days. We actually made the best of a bad situation while stuck in that parking lot for several days since we visited Patagonia, the old gold mining town of Bisbee, and the site of the shoot out at OK Corral in Toumbstone along with a stroll through Ramsey Canyon Preserve owned by the Nature Concervancy.
Last night was the fourth night we have spent in this Benson, Arizona truck stop parking lot. They have been good to us and we have had a good time in the area but enough is enough. We are ready to move on. Sam the mechanic was as good as his word. He arrived at 8AM. We checked the fluids then cranked the motorhome. We shut down the engine and topped off the fluids. No leaks yet! Joyce and I jumped in and ran the motorhome about 5-miles up the road pushing it hard up a steep hill and the temperature stayed normal. We turned around and headed back to the parking lot where Sam was waiting. There were no leaks! Glory hallelujah! We connected the Saturn and bid ado to Sam. We were on our way to Voyager RV-Resort on the eastern outskirts of Tucson only 30-miles away.
Last night while I was working on travelogues Joyce made a list of the positive things resulting from us being in this truck stop. To my surprise she comprised a good list. When she told me she had made the list I ask if I need more than two fingers to count them. The fact of the matter is we had been dealt lemon but we made some fine lemonade out of it during our unscheduled stay in Benson.
Not long after settling in at Voyager Joyce had us in the Saturn with a full day of activities on her list.
Saguaro cactus in Saguaro National Park Tucson, Arizona
Our first stop was Saguaro National Park not far from the RV-Park. Saguaro National Park is actually two pieces of real estate separated by about 20-miles. One is on the Eastern side of Tucson while the other is on the Western side. We went to the Eastern Park today. Although it is only April 16th the temperature got up to 94-degrees here today. We opted out of any "desert-hikes" in favor of the air conditioned Saturn. That is to say we did the eight-mile scenic drive along Cactus Forest Drive that winds through the heart of an extensive saguaro forest and offers a close, leisurely look at a variety of Sonoran Desert plants.
At the visitors center Joyce and I took the time to acquaint ourselves with the different desert plants. We are trying to learn their names so we can identify them. We feel good about identifying several members of the cactus family like saguaro, cholla, hedgehog, barrel and prickly pear. Then there are the agaves, yucca and ocotillo representing families of desert plants. Both of us are now able to recognize palo verde, the state tree of Arizona, the creosote and mesquite tree/bushes.
The scenic drive is enough. It is a beautiful drive with all kinds of blooming cactus and other desert plants.
Cactus wren in Saguaro National Park Tucson, Arizona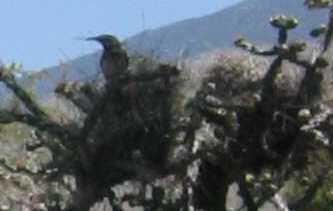 As we entered the front gate we spotted a cactus wren building a nest next to the road so Joyce rolled down the window and took some pics at close range.
From Saguaro National Park Joyce guided us to Trail Dust Town a place advertised as having a good museum and other attractions as well as restaurants. It was an interesting place but rather dead. The museum was closed but we did enjoy a delightful lunch.
Sabino Canyon Recreation Area in Coronado National Forest on north side of Tucson, Arizona
After lunch we headed to Sabino Canyon Recreation Area within the Coronado National Forest on the north side of Tucson. As it turned out Sabino Canyon is one of the premier natural areas in southeastern Arizona. It offers outstanding scenery featuring steep rock cliffs, and foothills covered with unique desert vegetation especially along the riparian corridors. The canyon itself is closed to private vehicles. Sabino Canyon has been a popular destination for locals.
You can hike 25 or more miles back into the canyon and many were hiking today. Or you can opt for taking the tram that carries passengers on the paved road about 4-miles up in the canyon. We took the tram. I thought is was terribly hot even riding in the open tram with a roof for shade there was no way we were going to walk in this terrain with it 94-degrees. The tram was a diesel tractor affair pulling several passenger cars.
Sabino Canyon Recreation Area in Coronado National Forest on north side of Tucson, Arizona
The road and bridges into the canyon were constructed by the CCC. The road and bridges were very narrow and one lane through the entire canyon. That is why no private vehicles are allowed on this road, well that and there is no place to park. The docent driving our tram did an excellent job providing information the entire length of the ride.
Sabino Canyon Recreation Area in Coronado National Forest on north side of Tucson, Arizona
One thing that the docent did not point out was how two natural environments meet here in juxtaposition. Desert plants, such as giant saguaro cactus, dot the desolate canyon walls, while a lush riparian area flourishes along Sabino Creek on the canyon floor. Our tram ride followed Sabino Creek up the canyon along the lush green area with willow, sycamore and cottonwood trees. But that narrow strip of desert oasis belies the harsh realities of the harsh desert environment only a few steps away.
Joyce picked two great places for us to experience. Either place could have "made" the day and we packed both of them in plus a great lunch. This was a good day.
Until next time remember how good life is.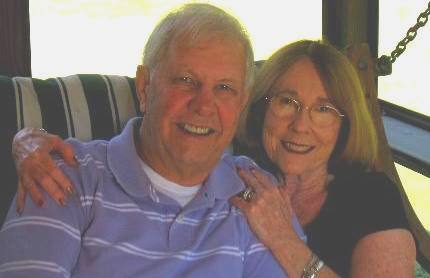 Mike & Joyce Hendrix who we are
We hope you liked this page. If you do you might be interested in some of our other Travel Adventures:
Mike & Joyce Hendrix's home page
Travel Adventures by Year ** Travel Adventures by State ** Plants ** Marine-Boats ** Geology ** Exciting Drives ** Cute Signs ** RV Subjects ** Miscellaneous Subjects
We would love to hear from you......just put "info" in the place of "FAKE" in this address: FAKE@travellogs.us
Until next time remember how good life is.