Tombstone, Arizona & Big Nose Kate's Saloon
Places Visited: Arizona: Tombstone
Friday, April 15 Gas City Travel Center (dry-camping/boondocking) Benson, Arizona--- $Free Paved truck stop parking lot N31° 57.622' W110° 20.609'.
We have been "camped" in a truck stop in Benson, Arizona for several days with mechanical problems on our motorhome. When we found out that the mechanic would not start working on our motorhome until this afternoon we headed to Tombstone. We passed through Tombstone the other day at 5PM but most of the shops were closed. We were going back today hoping to see more action.
We all know Tombstone is a famous old western town but if you are like us you probably do not know much more than that. It all started in August of 1877 when Edward Schieffelin 29 staked a mining claim naming it "Tombstone". Seven months later in March of 1878 Schieffelin discovered the lucrative Lucky Cuss mine. In October of 1878 a weekly stagecoach service to Tucson started with the one-way 17-hour trip including an overnight stop costing $10. By 1880 the Earps have arrived: Deputy U.S. Marshal Virgil 36, Wyatt 31, and James 38. Daily U.S. Mail service also started in early 1880. Sometime in July of 1880 Morgan Earp 29, arrived from Butte, Montana. Wyatt Earp then 32 was appointed Deputy Sheriff of Pima County. Then in late 1880 Doc Holliday 29, arrived in Tombstone.
In June of 1881 Virgil Earp was sworn in as acting City Marshal, a job that became permanent in July.
By this time there are a lot of silver mines in the area and a lot of money flowing. Tombstone was a wild and dangerous place. Tombstone residents were living and dying by the 6-gun in the early 1800's. Then in late October of 1881 the time came for the historic showdown at the OK corral. It was 2:30 pm (after much verbal and physical exchange between opposing factions) when the infamous "Gunfight at OK Corral" transpired. It only lasts 30-seconds: There were 5-cowboys, three of them die. Morgan Earp 30 is wounded as is Virgil Earp 38; Doc Holliday is scratched while Wyatt 33 is unscathed.
We always hear about the fight at the OK corral but the gun fight took place in the street in front of the OK corral.
Ed Schieffelin now 35 sells all and moves to California as a millionaire.
Then in December of 1881 Deputy U.S. Marshal Virgil Earp is shot from ambush and maimed for life. The next day Wyatt Earp is appointed Deputy U.S. Marshal via telegraph. A few days later Wyatt and a federal posse leave Tombstone with a variety of warrants looking for Virgil Earp's shooters.
In March of 1882 Morgan Earp now 31 is killed at a billiard table by a shot thru a rear window. The 2nd shot barely misses Wyatt Earp who is a spectator. Two days later Wyatt Earp who is Deputy U.S. Marshal Wyatt and a "posse" kill suspect in Tucson rail yard.
That pretty much is the "history" of Tombstone. Note that virtually everything happened in a few short years of the early 1880's.
You might be interested to know that the Earps and Doc Holiday left Tombstone for other mining towns. In May of 1882 Wyatt Earp and Doc Holiday were in Trinidad, Colorado when they had a parting of the ways. Doc Holiday teamed up with Bat Masterson and headed for Denver. Wyatt and Warren Earp head for Gunnison, Colorado.
Doc Holliday died in 1887 in Glenwood Springs, Colorado. Warren Earp now 45 is killed in Wilcox, Colorado in 1900. Bat Masterson 67 died in New York City while working as Sports Editor of Morning Telegraph in 1921. James Earp 85 died in Los Angeles in 1926. Wyatt Earp also died in Los Angeles at the age of 80 in 1929.
In 1962 Tombstone was named a National Historical Landmark.
Now you know about Tombstone, Arizona. It is now a tourist town but a good one. Numerous Saloons are operating as restaurants and several reenactments of historical events are presented throughout Tombstone during the day. The streets are rife with gunslingers dressed in period costume as well as bar maids and women of the night.
Country singer Joe Barr performing in Big Nose Kate's Saloon Tombstone, Arizona
We stopped in Big Nose Kate's Saloon for lunch. Joyce picked it because a tall good looking cowboy with a guitar was crooning a George Strait song when we looked in the door. It was a good pick. I enjoyed the place as much as she did. Joe BaRR, The entertainer/musician was as good as he looked. That made us both happy. He was so good we purchased his CD and enjoy it to this day. His CD was full of original material that was and still is better than what we hear on the radio. If anyone knows where we can see Joe Barr please let us know -- info@travellogs.us
We have friends in the Country Music business that may be interested in his songs, so seriously, if you know anything about Joe Barr please contact us.
Mike & Wyatt Earp at Big Nose Kate's Saloon in Tombstone, Arizona
Wyatt Earp was in the Saloon in full regalia. He looked like the real "Wyatt Earp". He was posing for photographs with the patrons. Big Nose Kate's Saloon turned out to be a hoot, we stayed for a long time enjoying the music, admiring the period decorations and of course good timing it with Wyatt.
This was a good day even if we are still in that parking lot. The mechanic is going to stop by in the morning and we will start the motorhome and make sure there are no leaks then I will test drive it and if all is well we will be heading to Tucson. Joyce wants to spend a few days there, so that is what we will do. I am ready to get to California.
Saturday, April 16 Voyager RV Resort; Tucson, Arizona--- $32.50 with second night free Full hookup paved interior streets with gravel sites N32° 5.558' W110° 50.274'. At one time or another Voyager RV Resort was named the #1 RV Park in the country.
Last night was the fourth night we have spent in this truck stop parking lot. They have been good to us and we have had a good time in the area but enough is enough. We are ready to move on. Sam the mechanic was as good as his word. He arrived at 8AM. We checked the fluids then cranked the motorhome. We shut down the engine and topped off the fluids. No leaks yet! Joyce and I jumped in and ran the motorhome about 5-miles up the road pushing it hard up a steep hill and the temperature stayed normal. We turned around and headed back to the parking lot where Sam was waiting. There were no leaks! Glory hallelujah! We connected the Saturn and bid ado to Sam. We were on our way to Voyager RV-Resort on the eastern outskirts of Tucson only 30-miles away.
Last night while I was working on travelogues Joyce made a list of the positive things resulting from us being in this truck stop. To my surprise she comprised a good list. When she told me she had made the list I ask if I need more than two fingers to count them. The fact of the matter is we had been dealt lemon but we made some fine lemonade out of it.
Until next time remember how good life is.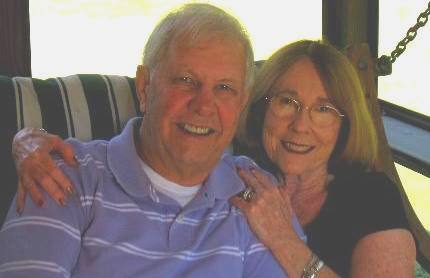 Mike & Joyce Hendrix who we are
We hope you liked this page. If you do you might be interested in some of our other Travel Adventures:
Mike & Joyce Hendrix's home page
Travel Adventures by Year ** Travel Adventures by State ** Plants ** Marine-Boats ** Geology ** Exciting Drives ** Cute Signs ** RV Subjects ** Miscellaneous Subjects
We would love to hear from you......just put "info" in the place of "FAKE" in this address: FAKE@travellogs.us
Until next time remember how good life is.