Louisiana: Lafayette, Beaux Bridge, Saint Martinville, Abbeville, Intracoastal City, Cameron & Holly Beach
Texas: Gilcrest (on the Gulf East of Galveston)
Places Visited:
Louisiana: Lafayette, Beaux Bridge, Saint Martinville, Abbeville, Intracoastal City, Cameron & Holly Beach
Texas: Gilcrest (on the Gulf East of Galveston)
Tuesday morning arrived and we were back on the road heading west. For the first 150-miles we stopped often to make sure the oil leak was FIXED. It was.
We enjoyed the ride along I-10. The grip of winter is giving way to spring as evidenced by the bright crimson leaves on swamp maples. As we entered Louisiana some of the swamp maple leaves had already turned to pale blush or the color of a ripe mango. It was still too early for the cypress & willow trees to sport new growth.
It started to rain as we neared Baton Rouge and continued to do so for the next 60-miles into Lafayette. For the most part traffic slowed down to around 55-mph and paced themselves.
We made it to Lafayette our destination.
To see pictures that go along with this travelogue click here: 2005-Louisiana a review in Pics
Tuesday, March 15; Acadiana Park Camp Grounds operated by the city of Lafayette, Louisiana. $13 per-night for 30/50 amp, water, paved interior roads and pads- central dump site N30° 15.436' W91° 59.417'. This place has been costing $9 per-night. Good things don't last forever but $13 for a 50-amp connection is about as good as it gets anywhere.
Joyce told me that she wanted to dine at Prejean's --- for those not privy to Prejean's it is one of the premier Cajun dining establishments in Louisiana. Needless to say I grinned and complimented her on her exquisite choice. Sometimes I just get lucky and tonight was one of those occasions. I like Prejean's because I like to walk around the place admiring the mounts. They have on display one of the largest snapping turtles I have ever seen, a 540-pound Jew fish (even for a Jew fish that is HUGE). This particular fish has been hanging on this wall for a long time that is why it is still called a Jew fish. Five or ten years ago the "politically correct" police lobbied for a change of the name from Jew fish to Goliath grouper. Current fish books identify these large denizens of the deep as Goliath groupers. Florida bans the harvest of Goliath grouper although sportsmen continue to catch and release them with rod and reel.
Then there is the 14' 800-pound alligator stupendously mounted in such a way that you can't help but admire the creature as you dine. On another wall is a 201-pound alligator gar. I am not a student of gars but I think that is a near record. In any event it is an impressive mount.
A 4-piece Cajun Band was playing "Cajun" music for our enjoyment. Of course the music was performed in French. I think all the truly old Cajun songs are waltzes, at least they sound like waltzes to me. This band had the traditional fiddle & accordion in addition to a tinkie-tink (triangular piece of metal that someone taps on, along with a guitar.
I had smoked duck & andouille gumbo to start with and then switched to a crab and sweet corn bisque. We called it a night by splitting a bread pudding.
It is cold and wet in Cajun Country tonight; I bet those swamp maple trees are wondering if they may have "jumped the gun".
Wednesday, March 16 Acadian Campground (City of Lafayette, Louisiana) $13 30/50-amp paved interior streets and pads central dump N30° 15.436' W91° 59.417'.
We stopped by Café Des Amis in the small antique town of Breaux Bridge on the banks of Bayou Teche for lunch. Café Des Amis has long been a favorite dining place of ours. I especially enjoy their turtle soup, simply divine. The crawfish pasta was to die for. We were looking forward to splitting a piece of their famous bread pudding with white chocolate sauce but they were out. WHAT! OUT------------- that can't be.
We also drove around the Nature Conservancy's Rookery located on the south end of Lake Martin. It was a bit early but Great Egrets were already setting on nests. A few Roseate Spoonbills were spotted in the early stages of courtship. We didn't see any spoonbills actually sitting on nests and speculated that they had just arrived and were courting and picking out nesting sites. We watched as two black crowned night herons tried to dismiss the activity around them.
It was so cold that alligators were no where to be seen where we always see a number of these big reptiles along rookery road in warmer weather.
In another month little blue herons and Louisiana herons will move in and set up housekeeping in what space is available. Roseate spoonbills will also arrive in force adding their splash of color to the drama unfolding in this rookery.
Several other things we noticed while viewing the rookery included sprouting cypress trees and even a few willow trees. This is in contrast to the willows and cypress trees that we observed on our drive from the Florida panhandle to this part of Louisiana. The large clumps of wild iris prominent along the banks of Lake Martin were bright green but none were blooming yet.
If you visit the Lafayette/Breaux Bridge area in the spring time a ride along rookery road would be worth your while especially if you like wildlife in a natural setting. The rookery will be one of the most impressive sights you will ever see. Later in the summer it would probably be a good drive to spot huge alligators.
Thursday, March 17 Acadian Campground (City of Lafayette, Louisiana) $13 30/50-amp paved interior streets and pads central dump N30° 15.436' W91° 59.417'.
This was one of those red-letter days where everything fell in place. While we did not get an early start everything clicked so that we were able cover a lot of ground before the sun finally went down.
We had a note in our SA-2004 that two huge live oak trees were located in a rural town south of here. I think I remember seeing that information in a book listing National Trees (Live Oak trees) of significance or something to that effect. One of these trees has a 27' diameter trunk while the other has a 25' diameter trunk (those were the measurements in the book). The diameters are probably larger now since the book was dated when I saw it and that was 3 to 4 years ago. Suffice it to say those trees are larger now. We took pics and will post them to the web site in case you are interested in what century's old (possibly over 800-years) live oak trees looks like.
Both of these trees were located in the small town of Parks, Louisiana. One tree was located on the east side of Bayou Teche while the other was on the west side of the bayou. Both appeared to be on private property. Anyone familiar with live oak trees can look at the trunks of these trees and tell they are much older than most of the magnificent live oaks we are familiar with.
We drove south out of Parks to Saint Martinville also on the banks of Bayou Teche. Saint Martinville is home to the famous "Evangeline Oak". There is a National Park facility commemorating the Evangeline Oak and the French "Acadian exile from Nova Scotia in 1755" immortalized in Longfellow's poem Evangeline. The "Evangeline" oak is supposed to be the meeting place of Emmeline Labiche and Louis Arceaneaux, the counterparts of Evangeline and Gabriel. While this is a good size live oak tree that we know was a full grown tree in 1755 it is nowhere near the size of the two trees we saw in Parks. A pic of the Evangeline Oak will be on the web site.
From Saint Martinville we pointed the Saturn to Abbeville via back roads. We like to travel back roads down here so we can get a flavor of the sugar cane, rice and crawfish farming taking place. All the sugar has been harvested. No sugar cane is visible only stubble in harvested fields. Rice fields are either dry or flooded for crawfish farming.
In Abbeville we stopped by Dupuy's for lunch. Dupuy's is one of those places everyone returns to for good food but not for your anniversary. It wasn't our anniversary we just wanted some good Cajun food. We enjoyed crawfish etouffee and bread pudding with white chocolate sauce. Dupuy's has been serving food since 1879 when it opened as an oyster house. In those 125-years they have become famous; they say World Famous, for their outstanding seafood.
Abbeville has a city park with several magnificent live oak trees that have to be 300 to 500 years old. Old live oak trees have massive branches that reach out from the trunk. These massive branches will fall and touch the ground unless held up in some way. The city of Abbeville has installed braces on the limbs of these trees. Who knows with all the love and care these trees are getting they just may live long enough to match those two trees we saw in Parks earlier.
We drove by the Mahatma and Water Maid rice packaging plant while in town. It is just three blocks off Main Street. That plant is always busy and today was no exception. The plant was unloading fresh rice from both rail cars and 18-wheel tractor trailers. While a lot of trucks and trains are delivering fresh rice there are also a lot of trucks and trains carrying off packages of Mahatma and Water Maid rice. Trucks are also loading rice husks that they deliver to an electricity generating plant near Lake Charles, Louisiana.
We drove by Stein's Pure Cane Sugar processing plant. It didn't look like anything was happening. I guess they are through for the season.
South of Abbeville we stopped by Intracoastal City just to look at the fleet of beautiful shrimp boats. There were a lot of beautiful shrimp boats and NO activity. I know shrimping is a BAD business to be in for Gulf shrimpers with fuel prices being astronomical and imported farm raised shrimp selling for much less than these boats can harvest wild Gulf shrimp for. It was a much better business when fuel was cheap. It was even better before the advent of farm raised shrimp.
Like I said earlier this was a good day.
Friday, March 18 4-Star Campground in Gilchrist, Texas $21 30-amp dirt interior streets and pads FHU N29° 30.499' W94° 29.922'. This is a sleazy mom & pop campground but it is what was available.
We drove from Lafayette, Louisiana to almost Galveston, Texas today. Instead of driving I-10 we dropped south out of Lafayette to Abbeville then connected with SR-14 and proceeded west. West of Bell City we turned south on SR-27 to Cameron, Louisiana where we loaded the Motorhome and Saturn on a ferry for the ride across the Calcasieu Ship Channel.
Many may not have ever heard of the Calcasieu Ship Channel but it is certainly a big deal in our daily lives. The Calcasieu Ship Channel is the passage large tankers use to deliver crude oil to the refineries located in Sulphur and Lake Charles, Louisiana. Everyone who has ever driven I-10 through this area knows that refineries and oil are the life-blood of the area. That oil is transported through the Calcasieu Ship Channel. Now you know the rest of the story as Paul Harvey would say.
From Cameron we continued west along the coast through the coastal hamlet of Holly Beach, Louisiana then into the Texas coastal towns of Sabine, Port Arthur and High Island another wide spot in the road, before finally stopping for the night in Gilchrist, TX. We are just 24-miles from Galveston. We should pass through Galveston by noon tomorrow if things go our way.
To see pictures that go along with this travelogue click here: 2005-Louisiana a review in Pics

Until next time remember how good life is.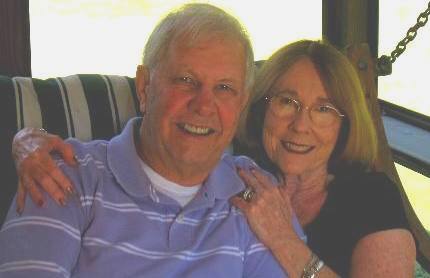 Mike & Joyce Hendrix who we are
We hope you liked this page. If you do you might be interested in some of our other Travel Adventures:
Mike & Joyce Hendrix's home page
Travel Adventures by Year ** Travel Adventures by State ** Plants ** Marine-Boats ** Geology ** Exciting Drives ** Cute Signs ** RV Subjects ** Miscellaneous Subjects
We would love to hear from you......just put "info" in the place of "FAKE" in this address: FAKE@travellogs.us
Until next time remember how good life is.