Lafayette, Louisiana Travel Adventure
We traveled I-10 west from Pensacola to exit-104 in Lafayette where we exit onto Lafayette street and head about 1/2-mile south to Alexander and turn east to Acadiana City Park and Campground $13 for 50-amps and water. Can you say welcome to Lafayette any better than that? To boot the park is situated in a setting of huge oak trees that provide much appreciated shade during the summer months.
After getting set up at Acadiana City Park we jumped in our Saturn and headed to the Nature Conservancy heron rookery on the south end of Lake Martin hoping to enjoy one of the countries largest heron rookeries. Although herons were there and nesting they were not as visible from the viewing road as they have been in the past. It seems they are roosting further back in the swamp. We can see activity several hundred yards back in the swamp but we are used to the nest being within 100-feet of the viewing road. The alligators that are usually abundant under the canopy of nests have moved to where the activity/opportunity is and are not to be seen as well. Oh well, we settled for viewing the plant life which we enjoy as well.
Yellow Iris
Yellow iris can be seen growing wild throughout south Louisiana this time of year.
Cypress trees in marsh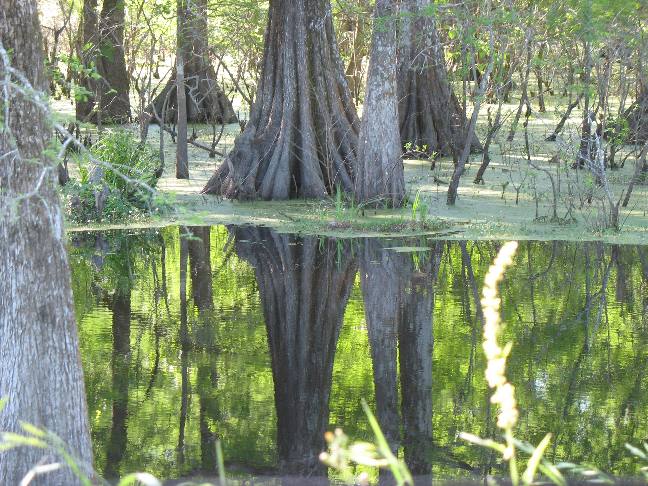 Massive cypress trees reflecting in afternoon light.
Nutria
Nutria the rodent imported from South America that has invaded Louisiana. Nutria pelts became popular when beaver were hunted almost to extinction in North America. Now there is a bounty on nutria and trappers are paid to rid the waterways of these pest.
Evening primrose
Evening primrose in bloom along many of the highway rights of way.
Joyce decided that I was going to take her dancing tonight and Randall's in Lafayette was going to be the place for both dinner and dancing. Needless to say we had a good time. Randalls is our pick of places to dine and dance when in the area for a weekday night. Mulatte's in Beaux Bridge is OK but the food is just so-so to be kind. The food at Randalls is much better as is the band and the dance floor. The food at Prejeans is very good but the dance floor is almost non-existant and the music doesn't start until after 9PM.
Cajun home
Cajun home on the prairie south of Beaux Bridge, Louisiana.
Coulee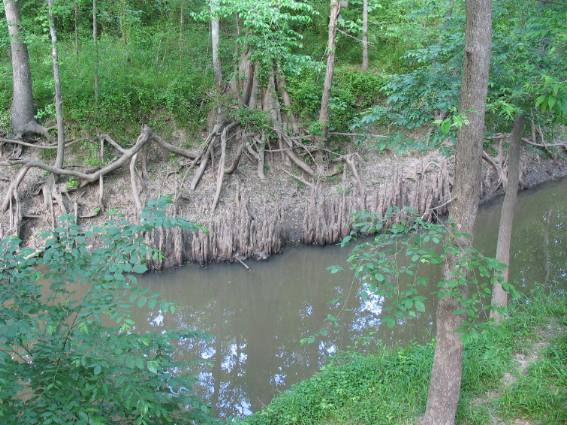 Coulees are small streams, gullies or ravines. In southern Louisiana where there is very little change in elevation these coulees do not have noticeable water-flow. Now contrast that with the water-flow at Grand Coulee Dam. It does have noticeable water-flow --- but you will note that the "Grand Coulee Dam" is NOT in south Louisiana and that sure enough is a "Grand Coulee" agreed.
The odd looking pieces of wood protruding from the waterline on the far bank are cypress knees.
Saturday morning arrived and Joyce was up with the birds. It was Saturday afterall and Saturday's in this neck of the woods meant a live band playing zydeco music would be performing at Cafe Des Amis in Beaux Bridge. They start at 8:30 and play till noon. Cajuns from miles around meet at Cafe Des Amis every Saturday to expend energy on the dance floor. One thing is for sure, no one is going to get any sleep if they are near zydeco music. The Cajuns describe zydeco as "high-energy" Cajun music. High energy is right. Every zydeco song is along the lines of "Proud-Mary" on steroids if you get my drift.
After the band stopped playing we got a table and had lunch at Cafe Des Amis one of our favorite dining places in Cajun Country. I sampled crawfish and sweet-corn bisque and had some turtle soup. Both were to die for. Joyce opted for a chicken dish. How can someone order a simple chicken dish when in Cajun Country? She made up for that by splitting a white chocolate cream sauce bread pudding with me for desert. Absolutely devine --- to die for good. Folks, if you are ever in this area you just have to stop by Cafe Des Amis in downtown Beaux Bridge.
This is an ancient and champion live oak tree in Parks, Louisiana 15-miles southeast of Lafayette. It is the massive girth of this tree that makes it a champion. I think they measure the trunks circumference about 3' from the ground. This tree is hundreds of years old.
Old Draw Bridge Parks, Louisiana
Joyce took this picture of a bridge across Bayou Teche in Parks, Louisiana. Obviously this is an OLD bridge. Note the massive concrete counterweights dangling at the top.
Saturday night we headed to the Atchafalaya Club for a night of dancing. The Atchafalaya Club is located near Henderson, Louisiana. To get there from Henderson head east on the road leading to the levee. The Atchafalaya Club is located on the corner at the levee. Don's Restaurant is located there as well. The Atchafalaya Club is located on the far end of Pat's Restaurant complex so turn in at Don's and drive to the far end of the parking lot. The Atchafalaya Club was made to hold party crowds. The place has a huge dance floor able to hold several hundred couples. An absolutely great band was there playing 60's music. The band was one of those right out of the 60's complete with a brass section (trumpet, sax and trombone). The band didn't take a break the entire 3-hours we were there. We left and went home out of sheer exaustion.
We could stay here for months but our destination beckons and we know the price of dillydallying. We have to move on tomorrow.
Until next time remember how good life is.
Mike & Joyce Hendrix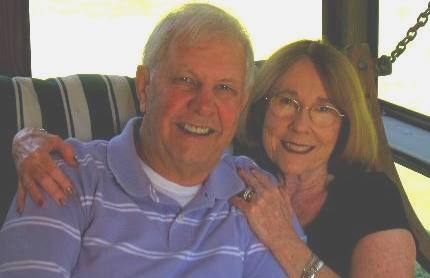 Mike & Joyce Hendrix who we are
We hope you liked this page. If you do you might be interested in some of our other Travel Adventures:
Mike & Joyce Hendrix's home page
Travel Adventures by Year ** Travel Adventures by State ** Plants ** Marine-Boats ** Geology ** Exciting Drives ** Cute Signs ** RV Subjects ** Miscellaneous Subjects
We would love to hear from you......just put "info" in the place of "FAKE" in this address: FAKE@travellogs.us
Until next time remember how good life is.