Louisiana: Lafayette, Beaux Bridge, Delcambre, Abbeville
Places Visited:
Louisiana: Lafayette, Beaux Bridge, Delcambre, Abbeville

Monday, June 20: KOA Lafayette/Scott, Louisiana (exit 93 ) $33 -- 50-amp FHU cable extra paved interior roads & sites: N30° 14.73' W92° 6.598'
East bound and down 10 wheels a spinning (6 on the motorhome and 4 on the Saturn) rolling toward Pensacola. Before we got on I-10 this morning we stopped by a propane dealer ½ mile west of the KOA and filled our tank. In Blythe, California out in the middle of absolutely nowhere we purchased propane at the RV-Park for $2.16. Then in New Mexico we paid $2.24 for propane purchased from a propane dealer. Here in Texas with refineries in sight we paid $2.50 while the KOA was asking $2.60 per gallon. One has to wonder why the huge differences especially when refineries are located nearby. Rational reasons other than corruption probably won't pass the smell test.
We were 80-miles from the Louisiana border and were paying attention to the condition of I-10. The 20-miles between us and downtown Houston were in bad shape. Sections of I-10 between Baytown and the Louisiana border are good while other sections are terrible. One bridge about 30-miles east of Houston is extremely narrow with no shoulder space at all. It looked to be out of the 1940's or earlier. Much of this section of I-10 is under construction as it should be ---- actually replacement would be a preferred option.
In Louisiana the first 44-miles can be classified from terrible to bad to abysmal. Much of the concrete sections along here have been through major repairs but have returned to their previous condition of totally unacceptable. That 44-miles makes us think of what a 4-wheeler ride down a black diamond ski slope would be like. The full range of shocks and springs are tested on large vehicles. Automobiles seem to glide over the moguls without major problems. I cut our speed to 50-mph and still felt dangerously close to going airborne on those moguls.
At Louisiana MM-44 a brand new asphalt interstate lay stretched out to the horizon before us. Talk about excited. The misery is over. From here on I-10 is in good shape all the way to Pensacola.
I have been having a "service engine soon" light flash at me from the dashboard of the motorhome from time to time. Lately it has been more often and more aggravating. This silly light flashes for all manner of things and as long as it is yellow the good "chevy" people have told me to not worry about it. Over the years one thing after another has caused this light to flash. It does it when we change altitude over a 1,000' or more until I turn the engine off and the computer adjusts to whatever altitude the engine starts at. Now that one is a hoot and it cost me about $80 to find out that piece of information that was intentionally not inserted in the owner's manual. Why would GM/Chevrolet not put that information in the owner's manual?
Anyway, we have dealt with the Chevy dealer in Lafayette before and they are good people to do business with. We decided to stop by and let them put their test equipment on the engine and clear up this latest episode of the flashing "service engine soon" warning. A little after noon we pulled into the Chevy place and they had someone on the problem within an hour. He attached his computer test equipment to the plug provided and off we went on a "test" ride where he saw for himself what the problem was. It was in the waste-gate assembly/mechanism he said reading what the tester said. Back at the shop he quickly installed a replacement solenoid and off we went for a test ride. Bingo, the warning light did not come on all we had to do was go back and settle up with the cashier.
Within a few minutes we were back on I-10 headed east. But not for long! A mile down I-10 that light came on again, why didn't it do that in the test drive? Anyway, it came on again and a third time by the time we got to the next exit where we returned to the Chevy dealer. Our mechanic saw us pull up and came out to greet us. It didn't make sense. All I had done was shut down the motorhome and restart it after settling up with the cashier.
The mechanic attached his computerized test equipment to the plug and off we went on another trip down the interstate. Before it was quitting time we took about 8-more of those trips down the interstate trying something different each time. By 5:00 I was asked if I could return around 7:30 the next morning where they could resume troubleshooting.
What could I say? We headed about 5-miles down the road to a KOA (Keep On Adding) where we connected to 50-amps in an effort to keep the temperature in the motorhome tolerable. We have been running the generator since we cranked the diesel this morning so that the house air conditioners could function at full speed. The generator and those air conditioners had kept us comfortable all day but it would take that 50-amp connection to keep the motorhome comfortable during the afternoon and evening.
As we sat in the motorhome at the KOA we contemplated whether we would push on into Pensacola tomorrow or break the 320-miles up. It would depend on what time the RV-was finally fixed.
Tuesday, June 21: Acadiana City Park & Campground in Lafayette, Louisiana. $13 for 50-amp & water with central dump paved interior roads & sites: N30° 49.436' W91° 59.417'
We were at the Chevy dealer by 7:30 this morning and so was our mechanic. It wasn't long before he had connected that fancy tester up and away we went on another test drive. Nothing has changed. That warning light is still telling his tester that the problem is in the waste-gate system. The mechanic by now has replaced everything in the waste-gate system several times plus switched the vacuum connections. We have driven down the interstate with vacuum gauges spliced into both of the vacuum lines in the waste-gate system in short the mechanic has exhausted everything he knows and what the shop foreman knows. They are now on the phone with GM troubleshooters somewhere in La La Land. We take more test drives where the mechanic measures this that and the other on his computer tester plus what the vacuum readings are on the mechanical vacuum gauges. We continue this drill until 4:30PM. I am not real delighted by all this since the shops labor rate is $85 per-hour and I can count 12-hours this mechanic has been diddling with the problem. Before 5PM the mechanic returns to tell me that GM is sending a new part-this new part is under warranty (both labor and material). I think I recall him saying that the part retails for $1,300 and it would take all day to install when they received it hopefully by noon tomorrow. There is also another part costing around $275 that is not covered by warranty.
Wow! That is a lot to contemplate. Most of the cost will be covered by the warranty but we are not heading toward Pensacola. If the mechanic starts installing the part tomorrow afternoon it will not be ready by tomorrow night thus we will have no place to sleep tomorrow night. We decided to camp out in an RV-Park tonight and tomorrow and return the motorhome to the shop first thing the next day so he will have all day to install that part. Then, when we pick up the motorhome around closing time we can drive it to an RV-Park with electricity, preferably 50-amps.
The highlight of our day was eating at T-Coons restaurant in downtown Lafayette for lunch. T-Coons is one of our favorite lunch stops when in Cajun Country. Tuesday's special is "rabbit". T-Coon's rabbit comes in at least three dishes and I usually try one of them when we are here, after all where else am I ever going to eat rabbit? Joyce sure isn't going to cook any unless by chance they start appearing in TV-dinners. None of the restaurants back in Pensacola come close to featuring anything like rabbit on their menu. Anyway, I didn't do rabbit because it had been so long since I have had the opportunity to enjoy real Cajun food. All that is available west of Louisiana is "Mexican-food". I could not resist the crawfish etouffee with Cajun potato salad. I couldn't have been happier if I had just dined in one of those fancy places with the cloth napkins.
Instead of going back to the $33 per-night KOA we went to Acadiana City Park where the rate is $13 per-night and we are in the shade with 50-amps. This is summer time and the Canadian Snow Birds have returned north. The park was empty except for us and one lone tenter.
As long as we are in Lafayette we are going to take advantage of every minute. This is one of our favorite areas to visit. It didn't take us long to head out to "The Blue Dog" one of Lafayette's fancy restaurants. We go there for their bread pudding with pecan praline sauce. This bread pudding is in the top 5 anywhere. Good stuff for sure. I also like their crawfish bisque and think it is probably as good as bisque gets. The Blue Dog usually has live music but there wasn't any tonight.
This is about as good as it gets even with the motorhome problem.
Wednesday, June 22: Acadiana City Park & Campground in Lafayette, Louisiana. $13 for 50-amp & water with central dump paved interior roads & sites: N30° 49.436' W91° 59.417'
This is the day we set aside for the part to arrive which it did sometime after noon. Now all we have to do is have the motorhome at the shop by 7AM in the morning. That is going to be HARD for motorhoming retired folks to accomplish but we are going to give it a try.
Our next stop was Café Des Amis in downtown Beaux Bridge one of our favorite places to eat. I always get turtle soup and today was no different. It was awesome as always. Where else are you able to get turtle soup with a small container of sherry to garnish it? I also had Cajun crawfish cornbread topped with etouffee sauce. Just when I think it can't get any better ----- it was time for the bread pudding with white chocolate sauce. It doesn't get any better than that. Simply divine, to die for. What else can I say? And Café Des Amis in Beaux Bridge is the only place we have found that serves white chocolate sauce with bread pudding.
City Park along Bayou Teche in Beaux Bridge, Louisana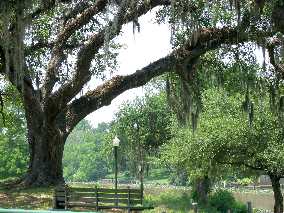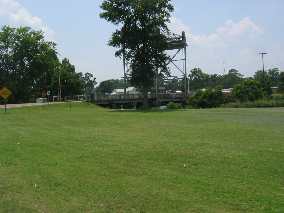 While I straddled a comfortable bench in the shade Joyce made a foray into the Shoppe's looking for something special.
This live oak is in the City Park along Bayou Teche in Beaux Bridge. Can you see the muddy bayou in the bottom right corner of the pic?
To the right is a bridge over Bayou Teche. It is one of those OLD type bridges.
Ancient live oak trees in Louisiana
These two ancient live oak trees have been around much longer than "Europeans" have been in North America.
Sugar cane fields along Bayou Teche south of Beaux Bridge, Louisiana
Then it was time for us to head south along Bayou Teche to check on this season's sugar cane crop. This flat bayou country of Louisiana along both sides of Bayou Teche is devoted to sugar cane. The cane is up about waist high now. It will be two to three times that tall when it is harvested starting in October or November.
Wading birds in a flooded rice patty in Louisiana
This rice patty is being worked over by a wide variety of ibis, egrets and herons.
I just love these signs.
Our drive takes us south and west to Erath, Delcambre and Abbeville where we are able to check on other areas of the local economy that we have not observed in June. Erath & Delcambre represent the eastern edge of rice country where sugar cane is being replaced by rice fields.
Delcambre is also a major seafood port with shrimp being the major emphasis. In Erath we stopped by a seafood place that specialized in FRESH products. The place sold live crabs, especially soft shell crabs, live catfish, flounder and crawfish. This place was unique in that commercial crabbers supplied them with live crabs. These crabs were placed in shallow 4'X5' containers that were at table top height under the shade of a long building. Each container had 30 to 40 crabs. When the hard shell crabs start to shed their hard shells the individual crab is moved to one of the soft shell containers. Soft shell crabs are a delicacy and bring a premium price. This place does a booming business with seafood restaurants as well as seafood connoisseurs.
We also wandered around the crawfish tanks where the crawfish were being purged. Purging is a process that makes "mud-bugs" much better tasting ----- not that an awful lot has to be done to improve upon these succulent crustaceans. Crawfish are also known as mudbugs in this area of the world. As one might expect they have mud in their digestive systems. By placing live crawfish in cool clear circulating fresh water they will automatically purge the mud from themselves producing a really clean tasting "mudbug". Several days in this constantly changing fresh water and this facility has transformed "mudbugs" into premium "purged" crawfish, that command a better price.
As if this was not enough we saw live flounder in those shallow tanks and the ubiquitous catfish in yet others. They told us that some people and restaurants insisted on live catfish. I suppose those restaurants have a reputation for serving "fresh" catfish. If the cook cleans it just before it is served that would be fresh in anyone's view.
Let the good times roll
The sign over this covered dining area next to the shrimp boat docks in Delcambre says "let the good times roll" in Cajun/French. And believe me these Cajuns know how to ----------- let the good times roll.
In Delcambre the shrimp boats were out fishing. Many times when we are in Delcambre the shrimp fleet is tied to the dock. Not today. It is so unusual to see a community in different phases of activity.
Next we stopped by Abbeville. Things are slower now that the Canadian Snow Birds are not swarming through the place. I suppose they do get some summer tourist but their big tourist season is in the winter. Cajun Louisiana is heavily French Catholic thus a close connection between them and the French Canadians that visit here in droves during the winter. Like in Canada many of the signs around here are in French and English.
Rice mill and processing plant in Abbeville, Louisiana
We always like to check on the rice mill and see what is going on over there. Things appeared slow on the outside but we did spot a number of 18-wheelers loaded with rice in line to unload. One truck was in the unloading dock and had rice streaming out the bottom chute into an underground bin where an auger system was transporting this rice to the husking machines. On another side a rail road car was unloading in much the same manner as the truck. However the rail car was delivering white-rice meaning that it had been husked somewhere else. The rice falling out the bottom of the rail car was being transported via either an auger or conveyor belt assembly. Whatever it was I couldn't see because it was underground. Apparantly all this facility was going to do was packaging/bagging this rice for the different market sectors.
Mahatma and Water Maid rice elevators and processing plant in south Louisiana
Silos full of Mahatma and Water Maid.
Lush rice fields in Louisiana south of Lafayette
On our way back to Lafayette we pass by lush green rice fields. At first it is hard for us to tell that it is rice because we are used to seeing rice when it is ready for harvest. This rice just looks like a heavily fertilized lawn that has not been mowed in a month or so. The rice has not yet sent up the heads of grain.
I don't know what we could have added to make this a better day. Joyce had said that I was taking her to Mulate's for dinner and dancing but changed her mind when she settled into her easy chair in the motorhome. Sometimes I get lucky. VBG
Until next time remember how good life is.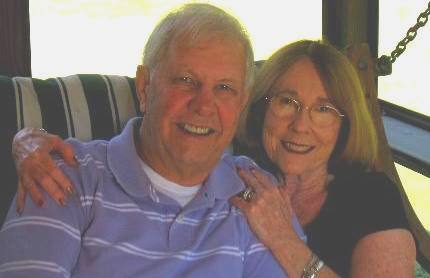 Mike & Joyce Hendrix who we are
We hope you liked this page. If you do you might be interested in some of our other Travel Adventures:
Mike & Joyce Hendrix's home page
Travel Adventures by Year ** Travel Adventures by State ** Plants ** Marine-Boats ** Geology ** Exciting Drives ** Cute Signs ** RV Subjects ** Miscellaneous Subjects
We would love to hear from you......just put "info" in the place of "FAKE" in this address: FAKE@travellogs.us
Until next time remember how good life is.