Cameron Louisiana after Hurricane Rita
Cameron, on the Louisiana Gulf Coast
We left Lafayette, Louisiana in our motorhome driving along the Louisiana Gulf Coast through Forked Island, Grand Chenier, Oak Grove, Cameron & Holly Beach and finally into the Texas at Port Arthur, Texas.
This travel adventure is going to document some of the damage caused by hurricane Rita in and around Cameron, Louisiana.
April 8, 2007.
Hurricane Rita devastated this area less than a month after hurricane Katrina went ashore in Bay St Louis, Mississippi. While hurricane Katrina and New Orleans received the press coverage this area was devastated like the Mississippi coast towns of Waveland, Bay St. Louis, Gulfport & Biloxi.
East of Cameron we began to realize that virtually no structures survived. Along the highway we could see driveways leading to foundations. Occasionally, one of those foundations would have the remnant of a brick chimney. One foundation was slick except for a lone toilet the product of someone trying to find something funny in a landscape of total devistation.
This individual has a FEMA trailer resting on the foundation of his old home. This is a very common sight along here where hurricane Rita has destroyed almost everything.
Hurricane Rita destroyed this subdivision a bit east of Cameron, Louisiana
Everything was destroyed by hurricane Rita in this neighborhood. As you can see there are 3 or 4 old foundations visible along this side of the street.
Only foundations remain after Hurricane Rita destroyed this subdivision in Cameron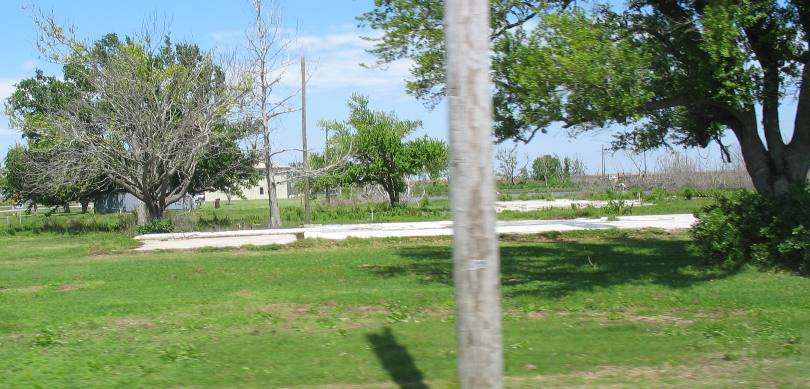 Several more foundations are visible. It is noteworthy that the properties are otherwise clean. The structures you see appeared to be new.
We spotted this hurricane Rita damage in Cameron. It was one of the few structures that were not completely destroyed. Most were nothing but a foundation. This one actually had some roof and structural beams remaining.
Another structure in Cameron that was not completely destroyed by hurricane Rita.
The two buildings you think you are seeing are actually mobile homes where proud houses once stood.
FEMA trailers have become part of the American lexicon as a result of devastating hurricanes that have reshaped the lives of so many people. These are FEMA trailers in a FEMA park. Other FEMA trailers may be placed on property owned by individuals, generally where their home was destroyed. Hurricane Rita FEMA parks like this one may be for individuals who were renting an apartment or possibly had a mobile home in a mobile home park. In other words these people did not own the property their place of residence was on.
Hurricane Rita FEMA Trailer Park east of Cameron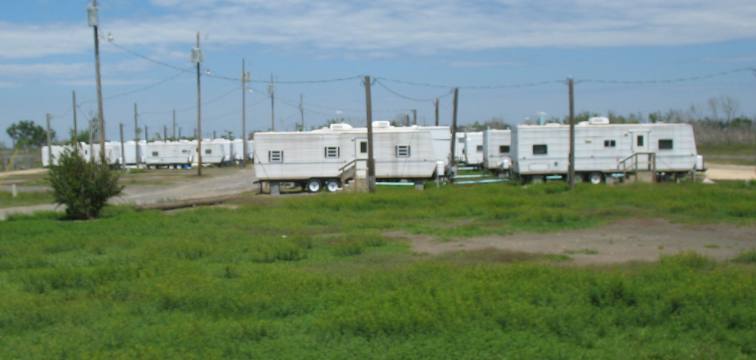 More hurricane Rita FEMA trailers situated in a temporary park. Remember, most if not all of the individuals in these FEMA trailers did not own the property they were living in when hurricane Rita destroyed their residence. If an individual owned property the FEMA trailer would be set up on their property, usually the old homesite.
Gulf Oil boats and drilling barges in Cameron, Louisiana
This picture was taken from the the ferry that transported us across this waterway at Cameron, Louisiana.
That is a supply vessel used to service offshore oil rigs.
Next to it is a floating oil/gas rig. This rig is floated into place then the long poles that you see will be lowered and the "floating-barge" will become the working & living structure. When in place the Barge will become airborne with the crane and all. The pilings that you see extending above the barge probably extend that far underneath the barge. The pilings are holding it in place now even though this rig is now at the dock.
While jackup rigs may be used for any number of things I think their primary mission is to serve as an offshore drilling platform for the petrolium industry. A barge will pull or push the platform into place then operators on the jackup rig will lower the three legs. Drilling operations as well as living quarters are contained on these jackup rigs. Once the well has been drilled the well will be capped and this jackup rig moved to another drilling site. If oil or gas was the result of the well then either a fixed/stationary platform might be constructed or the well head may just be connected along with other wells to a pipeline leading to shore.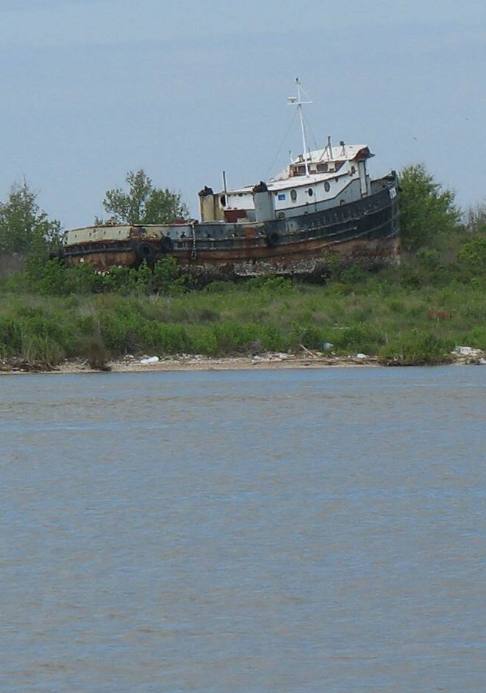 Large vessel hurricane Rita deposited on dry land.
At Cameron the devastation was not just to structures. Large vessels were washed ashore.
Gulf Shrimp boats washed ashore by Hurricane Rita in Cameron, Louisiana
A group of Gulf Shrimp boats washed ashore in hurricane Rita never to return to the operating shrimp fleet. I have to wonder why these vessels were anywhere near here when hurricane Rita came ashore. The only explanation would be that they were left in harms way in order to collect insurance money. Or possibly a bank had repossessed these vessels and the bank did not have anyone that would move the vessels to safety. Otherwise, I just don't understand.
Until next time remember how good life is.
Hurricane Rita destroyed the Louisiana gulf coast town of Cameron.
Mike & Joyce Hendrix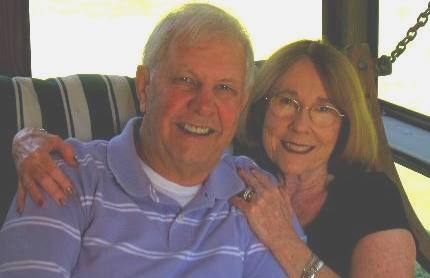 Mike & Joyce Hendrix who we are
We hope you liked this page. If you do you might be interested in some of our other Travel Adventures:
Mike & Joyce Hendrix's home page
Travel Adventures by Year ** Travel Adventures by State ** Plants ** Marine-Boats ** Geology ** Exciting Drives ** Cute Signs ** RV Subjects ** Miscellaneous Subjects
We would love to hear from you......just put "info" in the place of "FAKE" in this address: FAKE@travellogs.us
Until next time remember how good life is.