Baton Rouge, Lafayette, Abbeville, Intracoastal City, Pelican Island, Kaplan, St Martinville, Breaux Bridge & Lake Martin in Louisiana
Places Visited: Mississippi: Bay St Louis
Louisiana: Baton Rouge, Lafayette, Abbeville, Intracoastal City, Pelican Island, Kaplan, St Martinville, Breaux Bridge & Lake Martin.
Before starting this series of travelogues we want to take the time to remind our friends to take us OFF their e-mail "forward" list. We love hearing from you but PLEASE no forwarded stuff and especially NO GRAPHICS. We have to borrow phone connections in campground offices and they are not tolerant of more than a minute or so for us to download e-mail. We like to hear from you concerning places we are going to visit. As always we tell you where we are headed at the end of the travelogue. Thanks, Mike.
Friday, March 29, 2002 Casino Magic RV-Park, Bay St. Louis, Mississippi. (N30º 20.119' W 89º 21.220') Site #12 50amp full hookup $24.61
We left Pensacola around 9:30 this morning. Originally our plan was to leave Monday. However, both of us were down with major sinus infections. We are finally recovering after major doses of antibiotics, decongestants and expectorants. There was an extremely heavy crop of pollen in Pensacola this year.
We stopped for lunch around 4:00. Both of us have memories of the Harbor View Café in Pass Christian, Mississippi on highway 90 at the Harbor (N30º 18.723' W84º 14.823'). Their shrimp Po Boy is served with over 30 lightly battered, fried shrimp all for only $5.95. Completely unbelievable! That many fresh fried shrimp would cost a small fortune in most restaurants. This place is worth going out of your way for.
We were thinking about boondocking but opted for full hookups since it was warm and humid. The parking lot at Casino Magic had about 10 motorhomes and the very nice RV-Park was full. They told us that the RV-Park regularly fills up on weekends. Some RV'ers stay at the Casino Magic RV-Park when they visit New Orleans.
Joyce and I enjoyed "Isis" the Friday night entertainment at Casino Magic. They are a six-member band with excellent vocals. We watched their 7:30 and 10:30 performances then headed back to the motorhome. The 12:00 performance was past our bedtime. VBG (Very Big Grin) The entertainment "Isis" was free but we lost $6.00 in the nickel one-armed bandit machines. I guess you could say we are the last of the big senders.
Saturday, March 30, 2002 Acadian RV-Park operated by the City of Lafayette. Site #12, has 50amps and water for $9.00 in a wonderful shady Park within several miles of downtown Lafayette.
We slept late then took advantage of Casino Magic's buffet breakfast. It was ok but nothing to write home about. Amazingly at 10:00am there is still a crowd of people gambling. The gambling never ends it just slows down.
The leisurely drive from Bay St. Louis west was a combination of US-190 and SR-22 instead of I-12. We chose this route to slow the pace and enable us to view the old southern homes and yards that line this route. The ubiquitous azalea bushes are in full bloom and yards are a blaze of color. Wisteria blankets areas with a splash of lavender. Dogwood trees with their white blossoms are scattered throughout as if their job was to tone down gaudy colors of the other plants.
We head west not knowing where we will stop for the night. We discuss Farr Park in Baton Rouge then change our minds as we near Baton Rouge. It is just too early to stop. Acadian RV-Park in Lafayette is just 45 miles farther and we will arrive there around 4:00 even with a stop at the Boudin Shop at exit 115 on I-10. They have fried crawfish boudin balls to die for, and we weren't disappointed.
Louisiana is enjoying its best crawfish season in years. The drought of recent years had made crawfish scarce. Louisiana crawfish are harvested from commercial ponds as well as from natural areas. Harvesting them from natural areas is unique to Louisiana. It is intricate to Cajun culture. Some of today's craw fishermen are second and third generation. Many farmers grow crawfish in rotation with rice. Pond yields average around 700 pounds per acre with intensively managed ponds often producing in excess of 1,000 pounds per acre. There is nothing like a good crop of crawfish in this part of the world.
By 4:30 we are in Acadian RV-Park, operated by the City of Lafayette, with 50amps working both air conditioners. We know about this wonderful campground because an RV'ing friend told us about it, thanks Berliner. I know some of you will wonder why we are running air conditioners in March, but it is hot and humid. The air conditioning feels good.
Joyce was looking through our Louisiana folder and ran across a Southern Living article from October of 1999. The article was describing Randol's Restaurant in Lafayette. Randol's sounded so enticing we decided to give it a try. Around 5:00 the crowds began to arrive filling this huge rustic restaurant that seats around 500. The band started playing at 7:00 and the dance floor was full before the third note was struck. Laissez Les Bon Temps Roulez is Cajun for "let the good times roll" and that is what these folks are doing. Cajun dancers aren't just the usual couples. Moms dance with their teenagers. Dads dance with babies in their arms. Girls in need of a partner just dance with each other. Cajun music is a bit different it has to have a fiddle and an accordion. Without those two you just do not have a Cajun band. Joyce and I never made it to the dance floor there was not room. Instead we shared a crawfish platter that turned out to be more than the two of us could consume. Fried crawfish, dirty rice, crawfish etouffee, crawfish boulette, and crawfish bisque. Wow! Our waitress said there were individuals that could eat the whole platter by themselves. Unbelievable. Joyce hit a home run with Randol's. We will put it on the list of places to visit again. Try to make it on a Friday or Saturday night for the band and dancing.
This was our first encounter with fried crawfish boulette (boo-let) but it will not be our last (delectable to the 10th power). It is a ball-shaped fritter similar to a hush puppy containing onions peppers and crawfish tails. Sometimes Cajun restaurants will place a small boulette in the bottom of your bowl of bisque. This is what they call "lagniappe" (a little something extra). We have noticed the tasty morsel in the bottom of our bisque before but had no idea what it was. Now we have partaken of a fried one. Either way they are great.
Sunday, March 30, 2002 Acadian RV-Park operated by the City of Lafayette. N30º 15.340' W91º 59.246': Site #12 with 50amps and water for $9.00 in a wonderful shady Park within several miles of downtown Lafayette.
Around daylight a series of thunderstorms moved through pounding us with torrential rain us for several hours.
After noon we headed to St. John Cathedral, Cemetery and 500 year-old live oak. The Dutch Gothic Cathedral built in 1916 is located in the old down town area of Lafayette. This magnificent structure serves as the seat of the Diocese of Lafayette. Equally impressive was the 500 year-old live oak. We have seen historic live oaks before but this one was head and shoulders larger than the others. This tree has a girth of 28' with a limb span of 145'. The cemetery inters many of Lafayette's founders plus several Civil War generals and an Ambassador.
Monday, April 1, 2002 Acadian RV-Park operated by the City of Lafayette. N30º 15.340' W91º 59.246': Site #12 with 50amps and water for $9.00 in a wonderful shady Park within several miles of downtown Lafayette.
Tour guide Joyce planned a trip from Lafayette to Abbeville about 26-miles south. A French priest who named it after his home in France founded Abbeville in 1843. The town is noted for its two town squares that give it a distinctly Old World Charm. Steen's Syrup Mill stands waiting for the fall sugar cane harvest. Just down the street Riviana Rice Mill is processing Water Maid and Mahatma rice. We can only imagine the activity around this place in the fall when rice is being harvested.
Like in Canada the French influence is so imbued in this area many plaques are in both English and French. Around 45 percent of the people around here still speak French as a second language.
We lunched at Dupuy's in down town Abbeville. Our intention was to sample some crab bisque but the lunch special was red beans and rice with sausage and a salad. So much for the bisque, it will have to wait. The red beans and rice were exquisite. Dupuy's is a place we will return to.
Next we headed south of Abbeville to Intracoastal City. This is flat country just a few feet above sea level. Building roads in this land requires digging canals on both side of the road to obtain enough fill material to construct a macadamized surface a few feet above the surrounding countryside. Cattle ranches and rice fields dominate the land. Rice fields double as crawfish ponds once the rice is harvested. Intracoastal City is where offshore workers gather to be ferried via helicopters to offshore oil and gas rigs. Businesses in this area cater to the offshore oil or shrimping industry.
Intracoastal City is also home to a huge fleet of Gulf shrimp boats. We were surprised to see the number of beautiful brightly colored steel shrimp boats. We have seen large steel shrimp boats before but never before have we seen over 50 of these vessels all in one place. They were beautifully painted and in top condition. Vietnamese fishermen who migrated to the area after the fall of Vietnam back in the late 60's and 70's owned the majority of these immaculate vessels. These 150' steel vessels are million dollar plus investments and the new cars and trucks dockside indicate these immigrants to our country have done well. Virtually all these gigantic steel boats had names with a Vietnamese flair. I suspect that the Vietnamese work ethos has severely impacted the "good-old-boy" Cajun shrimper.
Our next stop was Pecan Island. We did not see the Islands namesake pecan trees but did see a lot of cattle. The other notable thing about Pecan Island was the wild iris growing in roadside canals and low areas. These beautiful blue irises were as gorgeous as any we have ever seen. Our memories of Pecan Island will be of the Brahman cattle and wild blue iris.
On the way back we stopped at a local grocery store & gas station. In this part of Louisiana Mom & Pop places have a crock-pot or deep fryer ready to serve up boudin. Boudin substitutes for the ubiquitous hamburger most of us are accustomed to. Cajun Country is known for its fine cuisine, but not all of it is found in fancy restaurants. Some of the best Cajun food is found at service stations and Mom & Pop corner stores. Boudin is one of the main attractions at these small family-owned businesses. This place had crock-pot boudin and Joyce split one with me. It was great. Some visitors to the area may be afraid to try boudin, but once they do, this succulent mixture of rice, pork/crawfish and seasonings captivates their taste buds. Crock-pot boudin is best when taken right from the wrapper and eaten at the check out counter or in the parking lot. Make sure you have something to drink handy. For Cajuns that drink would be cold beer.
Across the road was a hand painted sign "We clean ducks $2.00 each". The area for miles and miles around here is the winter home for literally millions of migrating ducks and geese. These shallow rice patties make good forage for the visiting waterfowl.
Another funny road sign reads "HOT BOUDIN + COLD BEER ='S GOOD COMPANY". You have to love this place.
From there we headed north toward the motorhome in Lafayette via Kaplan. Kaplan is noted as being the hometown of Sammy Kershaw. A large plaque downtown proclaims the place as Sammy's birthplace. For those of you that do not know Sammy is a Country Music artist with multiple platinum albums. He is also married to Laurie Morgan. (Another Country Music artist)
Between Kaplan and Lafayette rice fields cover 90% of the countryside. This is rice country.
One thing that catches our eye is the "Daiquiri drive-thru". A daiquiri drive through is an establishment selling daiquiris. They are usually located on an easily accessible corner. The humorous thing to us about these "daiquiri drive-thru" establishments is that drinking and driving is against the law in Louisiana.
Tuesday, April 2, 2002 Acadian RV-Park operated by the City of Lafayette. N30º 15.340' W91º 59.246': Site #12 with 50amps and water for $9.00 in a wonderful shadyPark within several miles of downtown Lafayette.
Tour director Joyce planned another jam-packed day. Our first stop was the Tourist Information Center in Lafayette. We have decided to stay in Lafayette through Sunday and wanted to find out what festivals and other entertainment is scheduled for the weekend. Several festivals are scheduled in cities nearby. We will just have to decide which ones to participate in.
We headed to Breaux Bridge a few miles east of Lafayette. Breaux Bridge is a historic turn of the century town on the banks of Bayou Teche. Many homes from the turn of the century line the bayou north and south of town. Joyce had read about an interesting place south east of Breaux Bridge that we went looking for. Using the GPS and Street Atlas software plus the directions Joyce had we headed out through sugar cane and rice fields. When we arrive at our destination it appeared that the establishment had suffered a business downturn.
Back in Breaux Bridge we lunch at "Bayou Boudin and Cracklin". Several locals have directed us to this RUSTIC restaurant on the banks of Bayou Teche in Breaux Bridge. Joyce had Cajun round steak, rice and gravy, homemade black eyes, snap beans, salad and bread. It was a plate that would have made a lumberjack proud. The Cajun round steak and gravy had a kick emanating from a healthy dose of red pepper. I had their scrumptious chicken and fresh pork sausage gumbo served with rice, country boiled egg and French bread. Like the locals told us this was a great place to eat. It was my first experience with a hard-boiled egg in my gumbo, odd but good. This place serves something different every day for lunch. If you are adventuresome, and want to truly experience "Cajun Swamp folk" stop by for lunch and get the savory special de jour. You will be glad you did, but be warned; this is not a cloth napkin place.
After lunch we headed to Lake Martin and the Nature Conservancy's Cypress Island Rookery. We found it at N30º 12.204' W91º 54.034 on Rookery Road just off SR-353 about 10-miles south east of Lafayette. This is by far the largest rookery either of us has ever seen. It contains the largest white-ibis rookery in the world. Herons, egrets and roseate spoonbills by the thousands, in addition to ibis were nesting in the trees. Like other rookeries alligators protect these nests. Many alligators in plain view are 10 to 15 feet long. We have never seen live alligators anywhere near this size. One gigantic gator appeared to be larger than the Florida State record gator that we had seen recently in Apalachicola, Florida.
Any chick that falls out of the nest becomes alligator lunch. Any raccoon or mink that ventures into the rookery will also become lunch. In addition to the thousands of brilliantly colored nesting birds were the equally colorful wild iris in colors ranging from deep purple through shades of blue to yellows and solid white. To my utter astonishment we watch several nutria's frolicking in this alligator infested swamp. How have these nutria been able to elude those gators? One can only imagine the excitement a nutria must experience spending the night in a swamp full of gators.
Later I drove Joyce to the small town of Broussard a few miles south of Lafayette. It seems that Broussard has the most historical places in one small community in the state of Louisiana. Joyce wanted me to take her on a driving tour of these historic homes and businesses. The places were in exceptional condition considering they dated from the 1830's. If you are into turn of the century architecture Broussard's driving tour of the historical district would be ideal for you.
Wednesday, April 3, 2002 Acadian RV-Park operated by the City of Lafayette. N30º 15.340' W91º 59.246': Site #73 with 50amps and water for $9.00 in a wonderful shady Park within several miles of downtown Lafayette
Joyce guided us around Lafayette this morning following a 20-mile "azalea trail". Most of the azaleas were past prime but we still enjoyed the old yards and homes on the trail. We toured the Alexander Mouton House Circa 1835 currently the "Lafayette Museum". The original building (still standing) consisted of one large room with kitchen in the back connected by a "dog-trot" (open walk-way), and was constructed circa 1800 by Jean Mouton, one of the first settlers of Southwest Louisiana. From 1825 to 1849 a succession of owners each added to the house. A unique feature of the house was a large cupola in which the women could go to see if boats had arrived at the city docks. The house was furnished with magnificent period pieces. Mr. Mouton originally constructed the one large room with detached kitchen as a "Sunday" house. Since his plantation home was about 10- miles north near Carencro, this little house was used as a town house when he and his family came to town, especially on Sunday for church. These small town houses were a custom among the more affluent planters and were called "Maison Dimanche" (Sunday Houses).
For lunch we headed north to Carencro looking for Enola Prudhomme's Cajun Café. Year after year Prudhomme's gets voted the favorite Cajun restaurant in the state. Enola Prudhomme is the sister of the state's most famous chef (K-Paul). The place has closed. It seems that Enola got sick and closed the restaurant. What a bummer!!!! Well if we can't lunch at Prudhomme's we will dine at Prejean's tonight.
We spent the afternoon at Vermillionville. Vermillionville can best be described as a "living history / interpretative center" consisting of around 20 houses from the turn of the century. The purpose of Vermillionville is to preserve and interpret authentic elements of life and culture of the area peoples between 1765 and 1890. The Village seeks to enlighten visitors and youth about the history and culture of Acadians and to help ethnic groups of this area gain a better understanding and appreciation of their own culture. Many of the houses have someone inside performing period tasks from basket weaving to cooking.
In one a craftsmen was making bousillage (a mixture of mud and Spanish moss). In the mid-1800's houses in this area were of colombage construction (a half-timber wall framing system) and bousillage filling in between the framing. Our docent did not know the R-value of bousillage but explained that at night the bousillage walls absorbed moisture then as the sun heated the walls during the day it would give up the moisture thus cooling the home.
Another woman in period dress was removing seeds from raw cotton by hand then carding the fiber and finally using a manual spinning wheel was making thread. In the 1800's children were expected to remove seeds from cotton by the age of 5. By age 10 girls were carding cotton fiber. The woman of the house spun the fiber into thread. It took 40 hours of labor to make a square yard of material. As the interpreter explained women had more to do than process cotton into cloth. It was something they did in addition to all of the other chores.
Another interpreter was demonstrating early survival skills: boat building, net and trap making, and decoy carving. The early settlers (1800's) lived near water and used the bayous for transportation, for communication, for hunting and fishing. This craftsman demonstrated how to make a rope from Spanish moss. I was amazed. The rope was very strong and small in diameter. I would never have believed it but seeing is believing.
In the schoolhouse we were reminded that school children were prohibited from speaking French in school. An early 20th century Louisiana law forbade the speaking of Southwest Louisiana's principal language even on the school playground!
Another interpreter demonstrated blacksmithing skills. Blacksmiths were an essential part of every community where they fashioned agricultural and construction tools, wagon wheels, hinges, nails and the like.
In the church we learn that Catholicism was the only religion legally allowed to be practiced in Louisiana before the Louisiana Purchase in 1803. The early settlers practiced "la messe blanche" (a prayer service conducted by laymen) since the priests visited so infrequently. Slaves practiced the religion of their masters. Free men of color enjoyed social prestige, were economically independent, engaged in many trades, and worshipped in the same churches used by whites. Slaves sat in small pews on the side isles.
Next to almost every chapel is a simple cemetery. Grave markers were generally made by the local blacksmith of recycled materials. A wreath of flowers, made from paper dipped in wax and dyes, often hung from the top of a cross.
We dined at Prejean's tonight. This is one of Louisiana's more heavily advertised Cajun Restaurants. We did not think the food was any better than the mom and pop places we most often frequent. The atmosphere was more upscale as was the prices. The restaurant featured a number of awesome mounts including: a 540-pound Jew fish, a 14' 800 pound alligator, a 209-pound alligator gar, a gigantic snapping turtle plus a host of other mounts including a trophy size blue marlin. The best thing we ate tonight was corn and crab bisque. Prejean's is worth a lunch date just to view the incredible menagerie of mounted fish, ducks, turtles and mammals.
While viewing the 14' 800 pound alligator Joyce and I began discussing what we have recently seen and heard about "record" gators. The Florida State "record" alligator was 14' long and weighed 750 pounds. We saw this gator hide in Apalachicola. Another Florida gator weighed over 1,000 pounds but was shorter. When Joyce and I visited the wading bird rookery on Lake Martin the other day we saw a number of alligators that were every bit as large (weight & length) as the 14' 800 pound gator mounted in the restaurant. One was MUCH larger. When compared to the mounted one I suspect that the largest one I saw at Lake Martin was at least 18' and 1000 pounds. A docent at Vermillionville yesterday conducting a Cajun cooking demonstration was entertaining us while her jambalaya was cooking. She lived off Rookery Road on Lake Martin and the school bus route was up and down rookery road. She said that alligators as large as 20' long regularly sunned themselves in the middle of rookery road. She related that several times a year a school bus would be late because a large gator would not move from the road and the bus could not get by. I thought she might be blowing a little smoke when she talked about 20' gators. Now that I have seen the 14' gator mounted in Prejean's and compared it to the gators we saw the other day I suspect she was not exaggerating.
Thursday, April 4, 2002 Acadian RV-Park operated by the City of Lafayette. N30º 15.340' W91º 59.246': Site #73 with 50amps and water for $9.00 in a wonderful shady Park within several miles of downtown Lafayette
We met June Borel this morning. June is known in these parts as the "swamp lady" or "swamp queen". She has her own swamp tour business out of Catahoula, Louisiana. She is a true sure fire no joking native Cajun Swamp Lady. June was in the Nature Center located here in the City Park waiting on a group of school children. When we told her that we had been on Rookery Road yesterday she asked if we had seen the BIG gator. Of course we had. She said that locals estimated that it was between 16' and 18'. She said that it was a large gator but there were some even larger. She is a "Story Teller" extraordinaire. One could sit and listen to her tell about her life in the swamp for hours. It was her family that started the crawfish craze in Southern Louisiana back in the 1950's. Her father taught a local grocer how to boil crawfish. The grocer started selling the boiled crawfish in his store. Before long it took all the family could do to supply the grocer with crawfish. Her family was not farming crawfish; they were harvesting wild ones from the Atchafalaya Basin. It was years later before farmers started "farming" crawfish. June still harvest "wild" Atchafalaya Basin crawfish and goes frog gigging at night to supply local restaurants. She told us that at night you could see hundreds more gators because their eyes glow in the light. Gator eyes are one color and bullfrog eyes are another. So much for June, we could sit and listen to her all day. If we ever do another swamp tour we will go with June. For those interested her phone number is 337-394- 8119.
We stopped in Breaux Bridge at the Café Des Amis for lunch. This quaint Café is located in the heart of historic downtown Breaux Bridge one block west of the bridge. We have eaten here before and know what to expect. Café Des Amis is the essence of French Louisiana. There is so much on the menu to try yet we want to go "lite" for lunch. I had a cup of their exquisite turtle soup and we both had a cup of corn & crawfish bisque. Both dishes are out of this world scrumptious. After savoring this we split a delectable bread pudding with white chocolate sauce. It just does not get any better! If you can only do one restaurant while in the Breaux Bridge / Lafayette area make it Café Des Amis. It is the best hands down! For RV'ers transversing I-10 that want to stop and try this place you will need a place to park your RV. There is a City park with space for RV's to park less than a block from the Café. The park is the first road to the north on the west side of the bridge. Did I mention that they serve lunch with a loaf of fresh warm French bread and real butter?
For the next several hours we drove north along the western bank of Bayou Teche crossing a bridge in the small town of Arnaudville and followed the eastern bank of the Teche back to Breaux Bridge. Sugar cane is the predominant crop on both sides of the Teche. Then we headed south along Bayou Teche through St. Martinville to New Iberia. Between St. Martinville and New Iberia broad fields give way to more live oak and pecan trees. Limbs of live oaks meet over the broad highway in moss-draped archways. One old homestead has an ally of centuries old live oaks leading from the highway to the front porch.
Back in Lafayette we chose the Blue Dog Café for dinner. Everyone talks about the good food at the Blue Dog and it is noted for its award winning Cajun cuisine. From the name "Blue Dog" we thought the place would be another mom and pop establishment located in a turn of the century building. WRONG! The Blue Dog Café is a white tablecloth and napkin place. Joyce and I split a "Crab Dinner" consisting of: a cup of corn & crab bisque, two crab cakes, a stuffed crab, seafood jambalaya, shrimp Au gratin, corn maque choux (pronounced mak shoe) green salad and Cajun fries. Everything was wonderful and top of the line. The corn and crab bisque was different but every bit as good as bisque at Café Des Amis. I have no idea how any one individual could consume a platter of food like that by themselves. To top off the evening we split a desert of bread pudding with pecan praline sauce. There is no other way to describe that desert other than "to die for". This is the dining place for the more couth and urban sophisticates among us. If you want to impress your lady best you take her here rather than "Bayou Boudin and Cracklin". The later would frighten the faint of heart.
Mike & Joyce Hendrix
Until next time remember how good life is.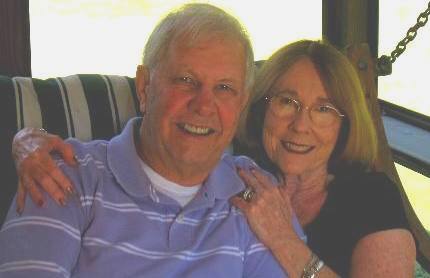 Mike & Joyce Hendrix who we are
We hope you liked this page. If you do you might be interested in some of our other Travel Adventures:
Mike & Joyce Hendrix's home page
Travel Adventures by Year ** Travel Adventures by State ** Plants ** Marine-Boats ** Geology ** Exciting Drives ** Cute Signs ** RV Subjects ** Miscellaneous Subjects
We would love to hear from you......just put "info" in the place of "FAKE" in this address: FAKE@travellogs.us
Until next time remember how good life is.