Holly Beach after Hurricane Rita
We were traveling from Lafayette, Louisiana along the Gulf Coast through Forked Island, Grand Chenier, Oak Grove, Cameron & Holly Beach and finally to the Texas border at Port Arthur, Texas.
Hurricane Rita damage in Holly Beach, Louisiana.
April 8, 2007.
Hurricane Rita devastated this area less than a month after hurricane Katrina went ashore in Bay St Louis, Mississippi. While hurricane Katrina and New Orleans received the press coverage this area was devastated like the Mississippi coast towns of Waveland, Bay St. Louis, Gulfport & Biloxi.
As we neared the coast, devastation was in evidence everywhere. To begin with it was vegetation that was destroyed.
This structure was located a bit east of Holly Beach. Whatever, was on top of these concrete pilings is long gone.
While much of the devastation wrought by hurricane Rita has been removed. However, scattered evidence still abounds as witnessed by this old vehicle in a canal in Holly Beach.
Gulf of Mexico west of Holly Beach, Louisiana
I pulled the motorhome over and took this picture of the Gulf of Mexico from a few miles west of Holly Beach. This is a fairly typical beach scene along the coast of Louisiana. This view is to the south. Now contrast this with the view to the north in the picture below.
Cows have returned to the prairies of south Louisiana after hurrican Rita
Across the canal and looking to the north is cattle country. The canal on the north side of this road reminds me of the canals that follow the Tamiami Trail across the Everglades in south Florida. In Florida the canal was essential since it was dug to provide material for the roadbed. I suspect that this canal also provided material for the roadbed.
Note that cattle are grazing north of the canal. When hurricane Rita roared ashore thousands of cattle drowned in this area. Water from the Gulf of Mexico covered the area as far as you can see in over 10-feet of water. Land animals perished for as many as 10 to 20 miles north of the gulf. As you can see there is no high ground for animals to find shelter on.
Weeks after hurricane Rita fishermen fishing offshore from Pensacola, Florida reported seeing bloated cow carcasses floating in tide lines.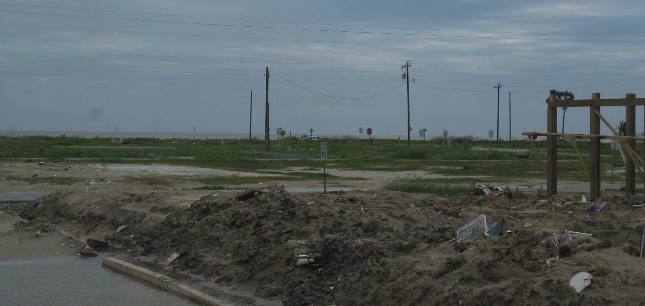 Then we arrived where the community of Holly Beach once was. Oh my gosh, it is gone, completely gone. This picture is looking toward the Gulf. The last time we were here 4-blocks of houses occupied the space between where we are and the Gulf. Wow! Hurricane Rita destroyed all of the structures. This is total devastation
Another shot of Holly Beach, or rather where Holly Beach once was. Four blocks of wall to wall houses used to be between here and the Gulf. Absolutely nothing remains but three palm trees. I am shocked. Nothing remains of Holly Beach, an entire community has disappeared. Hurricane Rita was indeed a bad hurricane.
Ahh! One hardy soul with a storage building and FEMA trailer. Holly Beach is going to return from the total destruction by hurricane Rita.
Until next time remember how good life is.
Hurricane Rita destroyed the Louisiana gulf coast towns of Cameron & Holly Beach.
Mike & Joyce Hendrix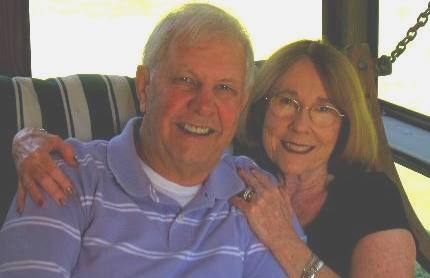 Mike & Joyce Hendrix who we are
We hope you liked this page. If you do you might be interested in some of our other Travel Adventures:
Mike & Joyce Hendrix's home page
Travel Adventures by Year ** Travel Adventures by State ** Plants ** Marine-Boats ** Geology ** Exciting Drives ** Cute Signs ** RV Subjects ** Miscellaneous Subjects
We would love to hear from you......just put "info" in the place of "FAKE" in this address: FAKE@travellogs.us
Until next time remember how good life is.