Louisiana Cajun Country
The Travelogue that goes with these pictures is available here: 2005 Louisiana: Lafayette & Surrounding area
When we passed through Louisiana on March 15, 16, 17 & 18 we obviously did not have time to experience the place like we normally do. We spent three of those days in the Lafayette area so most of the pictures will be from that general area. The remainder were taken as we drove SR-14 west across the bottom of Louisiana.
One of the first stops we made was the Nature Conservancy "Rookery" situated on the south end of Lake Martin. The rookery is located about 8-miles southeast of Lafayette and an easy drive. It just happened to be rainy and overcast when we were there on the 16th of March. As you might suspect it is very early for the wading birds to be gathering at the rookery but there were a number of Great Eagrets that were sitting on nests. By late April this rookery will host thousands of wading birds. It is one of the most awsome spectacles one will ever see. Giant alligators are also visible along the perimeter road when the weather is warmer.
Great Egrets on nests at the Nature Conservancy Rookery on Lake Martin in Louisiana
Champion live oak in Parks, Louisiana on the banks of Bayou Teche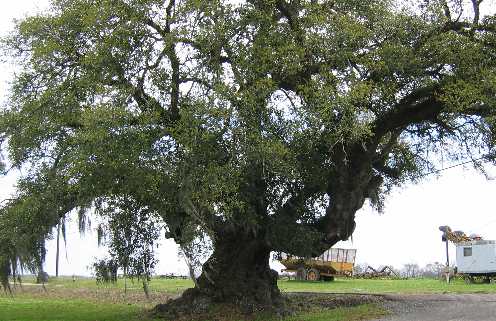 These are champion caliber live oak trees. They are not champions because of their crown but because of their diameter as measured so many inches above ground level. As you can see these trees have bulging trunks. A close inspection of these two trees indicates they are ancient live oaks. Certainly more than 300 or 400 years old. They are located in the small town of Parks, Louisiana on the banks of Bayou Teche. The tree on the left happens to be on the east side of the bayou and the tree below is a block or so west of the bayou. They are easy to spot if you are looking for them.
Champion live oak in Parks, Louisiana on the banks of Bayou Teche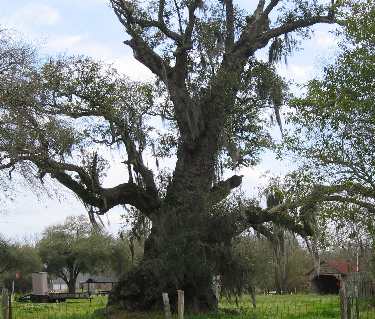 The Evangeline Oak made famous by Longfellow
This is the famous Evangeline Oak made famous by Longfellow:
The Evangeline Oak made famous by Longfellow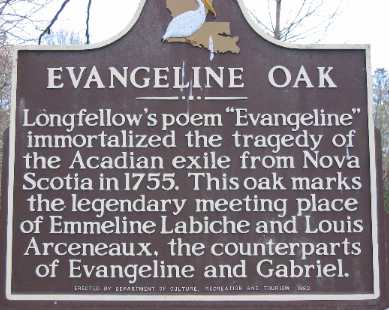 We know that this particular live oak tree, aproximately 15-miles south of the two champion trees pictured above, was a mature stately tree when the Acadian's arrived from Nova Scotia in 1755. Even though it is in excess of 300-years old it is no where near as impressive. I would guess that the trunk diameter of this tree is less than 1/2 that of the champion trees.
Impressive Live Oak tree in Louisiana
This is another huge live oak tree located in someones front yard. This tree has a beautiful canopy. It also has massive limbs extending outward from the trunk. As these old oaks grow those limbs the weight forces them to the ground. It takes a LONG time for this to happen.
Massive live oaks that were planted centuries ago on a sugar plantation
These are some massive live oaks that were planted centuries ago and probably led to a long gone mansion built on a sugar cane plantation.
Large live oak in city square park Abbeville, Louisiana
Joyce is standing next to this large live oak in city square park in Abbeville, Louisiana. Instead of letting the limbs fall to the ground they had tree surgeons install limb braces. There are 5 limb braces in the pic below. Three are fairly easy to see while the other two fade into the dark hedge to the right of the largest brace. They are located near the ends of the limbs thus harder to see in the pic. Note that these are tubular steel braces set in concrete. The limbs rest on a large cupped plate. It is hard to see but each brace has a screw adjustment. Actually it is a screw jace welded on the top of those braces.
Steel limb props on large live oak tree in city square park in Abbeville, Louisiana
I hope you noticed the green stuff on the limbs in these pictures. It is reserection fern. It turns brown in the absence of water but within minutes of a shower it turns bright green. Thus the name reserection fern. Here is a close up of the fern located on that big limb above Joyce's head.
Reserection fern on large live oak limb in city square park in Abbeville, Louisiana
.
Coulee or slow moving stream in southern Louisiana
In Louisiana these are called coulees. In actuality they are slow moving streams. There isn't much elevation change in southern Louisiana so water is not flowing fast in any direction. The strange looking cone shapes you see along the bank are cypress knees. The cypress trees are just out of sight in these pictures.
Coulee or slow moving stream in southern Louisiana
The beautiful Saint Mary Magdalene Catholic Church in Abbeville, Louisiana
The Cajun area of southern Louisiana is predominently Catholic. The French Acadians that settled this area have clung tenaciously to their heritage. Each year thousands of French Canadians visit the area. This is the beautiful Saint Mary Magdalene Church in Abbeville.
.
This is the front and back of a sign in front of that Catholic Church in Abbeville.
If you are having trouble reading the one on the right it might help if you read French.
New green spotted on a Louisiana cypress tree
We had noticed that Cypress trees had not sprouted new growth this year at least none had until Joyce spotted this one. She also liked the yellow flowers that were setting the new growth off.
Spring colors on Louisiana Swamp Maple trees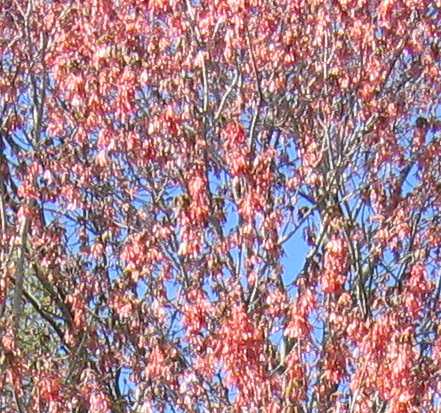 New growth on most swamp maple trees is crimson red. Yet we see some that is more of a blush color. That is blush to the left and crimson to the right. These pics just do not bring out the tremendous difference in the colors.
Murials and signs are things that always facinate us.
This murial was painted on the wall of Black's Restaurant in Abbeville. It portrays an old oyster boat returning up Vermillion Bayou to Abbeville with a load of oysters.
The other was a sign advertising a juke joint in Parks, Louisiana
Crawfish traps visible in this old Louisiana rice field
.
Closeup of Louisiana crawfish trap
Now it is time for Crawfish: These are crawfish ponds. They spend part of the year as rice patties then when the rice is harvested crawfish are planted in the flooded ponds to mature on the rice stubble. I see signs where some crawfish ponds are supplimenting the rice straw with corn meal. The floating things you see in the pond are the crawfish traps
Louisiana crawfish trap
Harvesting crawfish from this small boat
Crawfish or mudbugs whichever you prefer are as indigenous to the diet in this part of Louisiana as rice. There is a comical side of mud bugs. In some sections of the country lawns are plagued with fire ants, while other sections have mole crickets, or moles or gophers.
Each of these critters leave behind signs that they have been there. The crawfish or "mudbug" builds a house out of the mud. . Some yards are riddled with these "mudbug-castles". When these mud houses dry out can you imagine the carnage they wreck on lawn mowers?
Louisiana yard with crawfish or "mudbug" castles
Closeup of Louisiana crawfish or "mudbug" castles
Rice processing plant pictures
Now to rice. Rice arrives at the processing plant (husking, drying and packaging) by 18-wheeler and RR hopper cars
In the pic to the top right you can see the brown rice heaped on top of the truck (the driver has rolled the tarp covering back to expose the rice to inspection). Note the hoppers located on the bottom of the trailer. The driver will pull forward stationing those two hoppers over a fast moving conveyor belt that whisk the unloaded rice to the processor to be dehusked. The pict to the bottom left is the truck on the top right he has just pulled forward and is dumping the rice.
Rice processing plant pictures
.
Sign on one of the rice processing plants
As you can see from this sign the same plant is packaging WaterMaid and Mahatma Rice. If you think one brand is better than the other ------------------ think again. The only difference is the package
Steen's Sugar cain refinery in Abbeville, Louisiana
The small town of Abbeville also sports a small sugar cane refinery producing a specialty syrup.
Shrimp boats at docks in Intracoastal City, Louisiana
Intracoastal City, Louisiana is a small hamlet south of Abbeville. It consists of a huge Gulf Shrimping industry and a plethora of offshore supply operations supporting the oil and gas wells operating off the coast along here. These are some beautiful Gulf Shrimpers that happen to be owned by immigrants to this country from Vietnam. They were doing very well for themselves until fuel prices sprialed out of control and foreign countries started exporting farm raised shrimp to this country. It now appears that these fishermen can not compete with the low prices of those imported shrimp. What a shame, these are simply magnificent boats.
Barge traffic in Intracoastal waterway near Cameron, Louisiana and the free ferry that took us across the Cameron Ship Channel
Two memorable pics from our travel day when we headed for Texas -- March 18th 2005. The first is a picture of barge traffic in the intracoastal waterway taken from a bridge near Cameron, Louisiana. Then there is a picture out of the front of our motorhome as we sit on the ferry taking us across the ship channel in Cameron, Louisiana. That is a large oil industry supply boat that delivers supplies and personnel to the working oil and gas platforms in the Gulf of Mexico.
Ok, that does it for the 2005 pictoral of Cajun Country.
The Travelogue that goes with these pictures is available here: 2005 Louisiana: Lafayette & Surrounding area
Until next time remember how good life is.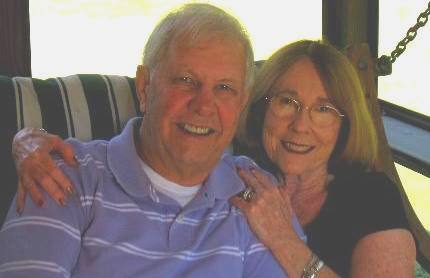 Mike & Joyce Hendrix who we are
We hope you liked this page. If you do you might be interested in some of our other Travel Adventures:
Mike & Joyce Hendrix's home page
Travel Adventures by Year ** Travel Adventures by State ** Plants ** Marine-Boats ** Geology ** Exciting Drives ** Cute Signs ** RV Subjects ** Miscellaneous Subjects
We would love to hear from you......just put "info" in the place of "FAKE" in this address: FAKE@travellogs.us
Until next time remember how good life is.