Georgetown, Marble Falls, Blanco, Pedernales Falls SP, Luckenbach, Wimberly, Canyon Lake, Johnson City, LBJs Texas White House National Park, Fredericksburg
Places Visited:
Texas: Georgetown, Marble Falls, Blanco, Pedernales Falls SP, Luckenbach, Wimberly, Canyon Lake, Johnson City, LBJs Texas White House NP, Fredericksburg, Texas.
Saturday, May 10, 2003 Live Oaks at Berry Creek RV-Park. It is near Georgetown and has 50-amps is the only redeeming feature of this full hook up park. $15.
We have now taken time to locate the two COE parks on Lake Georgetown a short drive west of town. These are definitely the places to stay when visiting Georgetown. There is another NEW commercial RV-Park not far from town that is catering to RV'ers visiting the area. It is full so they must be doing something right. It is the New Life RV-Park 1200 county road 152 phone 512-931-2073. The COE parks are Cedar Breaks Park located on the south side of the lake very near the dam. The other is Jim Hogg Park located on the north side of the lake at the end of Jim Hogg Road. For reservations at either COE park 1-877-444-6777.
Georgetown was having market day on the square in downtown. All types of vendors surrounded the square with a plethora of "stuff". Then there was a parade typical of small town parades, with beauty queens, sheriff, horses, high school marching band, a Wells Fargo stage coach, and politicians. Joyce and Mother also shopped in the quaint Shoppe's surrounding the square. Lunch took us back to the Monument Café where we had one of the daily lunch specials "enchiladas verde". The were good but none of us have a clue what part verde played in the name since nothing was green in the casserole. Sometimes my mind wonders too much but enchiladas verde would indicate green enchiladas to me. Oh well, forget it. I did.
After lunch it was back to the square for more shopping. Don't they ever get tired of looking at stuff? Dang that bench was getting hard. However, it was easier to nap with a full stomach. When Joyce's shopping desires had been satiated we loaded up in the Saturn and headed to the candle factory where Mother wanted to see candles being manufactured. Too bad they were selling candles but not making any.
Finally it was time to head off and see some of the countryside. We drove through the city's San Gabriel Park that runs along the north side of the San Gabriel River. It is a very nice park. Then it was time to check out the COE parks on Lake Georgetown west of town. Now that we know where they are we will stay with the COE the next time we visit the area. On the way into and out of Jim Hogg State Park we passed through an upscale residential area. The only thing different about this neighborhood of nice homes and yards was the "lawn ornaments". While many country estates have concrete deer ornaments in their yards. These folks have live deer. We passed places that would have up to four deer lying in the yard under the shade of a large oak tree like a pack of hunting dogs around a cabin. It was funny. Some yards had elaborate 8 foot fences to keep the critters out while others obviously fed them. From what we could see the deer were like wild birds that city slickers feed and enjoy so much. I was thinking that it would be neat to look out your window and watch the deer in your yard.
Once back at the motorhome I got a call from Bob Giddings who is a "virtual" friend I met on the RV newsgroup rec.outdoors.rv-travel. Bob has lived in Georgetown for a long time and still has a home here that he is trying to sell so he can "hit-the-road" in his RV. Bob stopped by to see us and swap "road-stories". Bob has unsurpassed writing skills and publishes wonderful short stories when he is on the road. The only place I know of to read about his travels is on the newsgroup. I wish the he would send them via e-mail.
Sunday, May 11, 2003 We drove 108-miles Blanco State Park- Blanco, Texas. Full hook up or just water & elect. $14
We left Georgetown this morning and headed west on Texas 29 to Burnet then turned south on US 281 to Marble Falls. The corn and wheat fields growing on the "black-belt" land east of I-35 are history. West of I-35 rainfall is insufficient for "dry land farming" also the soil is thin and not conducive to farming. Rolling hills of cedar, post oak and cactus are prevalent.
This is Mother's Day and we had planned to stop by the Blue Bonnet Café in Marble Falls for lunch. The Blue Bonnet Café is written up in virtually every publication having to do with gastronomical delights. Ride Texas Magazine names it one of the Best in Texas while Travel & Leisure Magazine in its May 1999 issue named it one of Americas top 100 Breakfast Restaurants. We were not the only ones planning on Blue Bonnet Café for Mother's Day lunch. Although we arrived at 11:00 we still had a 15-minute wait. Those that came later were waiting much longer. Their specialty is home-made pie. We did not get to their specialty because we were full to overflowing with lunch. This was a good experience.
Our destination of Blanco was only 45-miles south of Marble Falls. It was an easy trip on US 281 through rolling hills, fenced range land, dotted with cedar, mesquite, post oak trees and punctuated with outcroppings of limestone.
After setting up the motorhome in Blanco State Park we got in the Saturn and drove to Pedernales Falls State Park about 20-miles north east of Blanco. The drive is through typical Texas Hill Country terrain crossing several dry gullies with flood gauges showing that during bad weather the roads flood over these areas. Cactus are in full bloom with large yellow flowers with orange throats. They are so beautiful to view. Cactus are also good to eat when fixed like green beans. We are looking for a Mexican restaurant that serves this so Mother can sample cactus. On the way to Pedernales Falls Mother spotted her first deer we have seen many but this is the first time we did not have to point it out. She is getting much better at spotting these critters. Pedernales Falls is fairly spectacular with water flowing over a wide rock bed stair stepping into pools then falling again into another pool as it makes its way through the park.
From Pedernales Falls we head west to Luckenbach near Fredericksburg. Luckenbach is the place in Texas made famous by the 1976 song by Waylon Jennings and Willie Nelson. The hit song "Luckenbach Texas" was #1 on the Country Charts for six weeks and is still regularly heard today. Today Luckenbach is much as it was when Willie and Waylon sang about it. There is a population of three (3). It was originally established as a trading post between the early German settlers and Comanche Indians who lived in the area. The natives of Luckenbach remained friendly to the Indians and honored their treaties that had been made with the United States. That was over 150 years ago. Carrying on that tradition Luckenbach remains the friendliest place on the planet. Hill Country Musicians Jam every Friday, Saturday & Sunday. The Jams are not organized. Anyone who has an instrument (usually guitar) just arrives and starts playing, everyone who feels like it sings along. The rest sip a beer or coke. The place consists of 10-acres a Dance Hall, Beer Joint and General Store surrounded by huge oak trees and a creek. Bike clubs make Luckenbach a regular stop on their weekend runs. We felt like this was where Mother should spend some "quality" time on Mother's Day. Don't you agree. After all she is such a very big Willie Nelson fan! VBG
The trip back to Blanco from Luckenbach was on country roads as we searched for turkey and deer. We only saw deer, sheep, goats, cattle and llama.
Monday, May 12, 2003 Blanco State Park- Blanco, Texas. Full hook up or just water & elect. $14
Wimberley was our destination. On the way to Wimberley we saw an advertisement for an RV-Park down a country road so we headed off to investigate for future use. The park did not turn out to be much but the drive was scenic and we passed a ranch with a large heard of goats being guarded by a Great Pyrenees dog. Great Pyrenees are bred as guard dogs for sheep and goats. At birth they are separated from their mother and put with the sheep or goats. They have very little contact with people and grow up thinking they are a sheep or goat, just the biggest and baddest sheep or goat in the flock. If a coyote ventures by looking for a goat to dine on the coyote will get the surprise of his life just before he becomes "the victim" of the baddest goat in the flock.
The Wimberley glass company was our first stop in Wimberley. A top notch glass blower / artist has his shop in Wimberley. The shop includes a sales building/display room and a manufacturing or "creation" building complete with seating for 40 to 50 tourist. Artist Tim De Jong starts with a glob of clear hot molten glass that he attaches to a long steel pipe by inserting the pipe into the molten glass then withdrawing it. As the glass cools somewhat he inserts the pipe again much like a candle maker repeatedly dips the candle in wax in order to make layers. After a sufficient quantity of glass has adhered to the end of his steel pipe he rolls the molten glob of glass around on a table shaping it to look somewhat like a small fat sausage hanging off the end of his 6 foot long pipe. Then he rolls his clear molten glob into colored glass particles where the small pieces of colored glass adhere to the semi-molten clear glass on the end of his pipe. In the piece he was making for us he was using blue colored glass pieces. The blue colored glass pieces stick to the outside of the clear glass like pepper sprinkled on a slice of tomato. The glass glob has to be inserted back into the furnace where the green coloring melts and blends with the clear glass. He has to repeat this process three times in order to get the color he is looking for. Once the color is correct it is time to actually blow into the tube in order to make the pitcher. By blowing into the pipe while constantly spinning the pipe the glass expands. Now there is a long hollow green sausage! Next his assistant takes another pipe and gets a glob of molten clear glass on it. Working together they attached the second pipe to the other end of the sausage. Then in a really cool move the artist dips a long thin steel rod into a pot of water and holds the cool wet rod on the molten glass as he rotates the sausage around and around. Next he tapped the end of his pipe and the piece cleanly broke where he had run the cool rod around the hollow glass sausage. Now the glass was attached to the other pipe from the other end but now the end of the pitcher was open. While still spinning the piece he heats it again and starts using tools to make the outside perfectly round and shaped like a pitcher. Then he used a steel rod to form the lip of the pitcher and spread the top opening of the pitcher. While he is doing this the assistant has another tube with clear glass that she is coloring bright yellow. This is going to be the handle. With the color of the handle just right together they stretch the yellow handle glass into a foot long piece of small diameter molten glass. With a deft movement the artist attaches one end of the molten handle to the pitcher then quickly makes a few moves with his steel implements and the other end of the molten handle is attached to the pitcher. The temperature of the glass has to be just right for this procedure. Too hot and the glass flows like water. Too cool and it is like well__ glass. Somewhere between 950 degrees and 1000 degrees glass becomes molten. It has to be molten to connect the handle to the pitcher. If it is too molten the handle will not maintain the "handle shape". Too cool it will not adhere to the pitcher. Both pieces have to be the "right" temperature. At the moment the piece reduces temperature to where it will no longer be molten the pitcher is quickly transferred to an oven set at around 950 degrees. That temperature is just below where glass becomes molten. Pieces are collected in that oven all day then it is set to gradually cool over the next 24-hours. Without gradual cooling the glass pieces would shatter. The process of gradual cooling is referred to as annealing. It is the same process used in making steel and other metals.
Friends in Pensacola can view Joyce's yellow pitcher with a blue handle that will be prominently displayed somewhere in her kitchen when we get home. Please comment on it as it will make me feel better. VBG
We ate lunch at the "Burger Barn". The best part about this place was the homilies liberally sprinkled around the joint: "If some folks had horn's they'd wear them off buttin'in" "If you don't want it to get out don't tell it here" "Burger Barn the best feed bag in town". As for the last little ditty________ well I am not sure it is actually fact. VBG
Before leaving Wimberley we took a scenic drive down "River Road". You have to get a map of Wimberley in order to find "River Road" but it is worth the trouble. The 2-mile drive has to be one of the most scenic drives in the entire country. The drive is along the Blanco River with beautiful cypress trees lining both sides of the river. The cypress give way to massive pecan and live oak trees on the higher ground. Limestone outcroppings seem to present themselves in such spectacular formations. Words just cannot describe how the limestone cliffs and outcroppings intermingle with the trees. Immaculate yards and homes line the river in an unobtrusive way. When visiting Wimberley take time to experience that scenic drive then do lunch at the Mexican Restaurant "Juan Enrique's" on River Road. I think it is the best place in town to dine, at least that is what the glass artist told us and we are fairly sure it will be better than the Burger Barn.
Our next stop was at the dam on Canyon Lake. Just before we got to the dam we noticed what I thought was a "scorched earth" mining operation. Later we learned that that is where the river gouged a new course last summer when they had the massive floods in this area. It seems that when the area got over 50 inches of rain in 6-days it was more water than even the Corps of Engineers Canyon Lake Dam could handle and water flowed over the spillway for the first time ever. In fact so much water flowed over the spillway that it gouged out a new path creating a canyon several hundred feet deep and over 100-yards wide as it made a new path to the existing river bed. That had to have been a spectacular sight to behold.
Our next stop was at one of the RV-Parks Joyce and I had stayed in two years ago when we were in this area. We wanted to show Mother a massive pecan table that the park had in their recreation room. This table is around 20 feel long 4 to 5 feet wide and 4 inches thick cut out of one gigantic pecan tree. A very talented individual had been able to visualize this magnificent table being cut out of a 4 inch thick diameter cut of the trunk. Of course anything this massive has to be mounted on something substantial and it is. The legs or should I say foundation for the table are native limestone rocks mortared into supports on each end and in the middle. The table is a marvel of artistry, ingenuity, imagination in addition to being a tribute to one ancient and magnificent pecan tree.
The RV-Park with this table also has cabins along the river as well operating a tubing operation. The river runs by the RV-Park and both are situated on a bluff overlooking the bridge over the river as the road follows the river to Gruene. We got to see the table but while talking to the owners they showed us pictures of the "flood" last summer. The River rose 40 feet. They had pictures of the river as it flowed over its bank. The pictures were totally unbelievable. Over 4,500 homes were either destroyed or significantly damaged.
Outside a restaurant in Canyon Lake was a neon sign "Smoked Turkey Tails $1.00". I laughed about smoked turkey tails when I read it. The girls thought I was making it up so we doubled back to make sure I had read it correctly. Sure enough it said "Smoked Turkey Tails $1.00". When we stopped laughing we needed to know more! What exactly is "Smoked Turkey Tail"? How many of them should you get for a $1.00? Are they a Texas thing or do other states also serve "Smoked Turkey Tail"? Comments! Answers welcome.
>From the RV-Park we headed to Cranes Mill COE park where Joyce and I had spent one night two years ago. The park on Canyon Lake is loaded with deer and we wanted Mother to experience feeding wild deer. We saw lots of deer then spent time feeding a group of 6. As we left we threw several cups of corn on the ground. Within a few minutes 8 deer were munching on the goodies. A little farther down the road we fed another group of deer. The only disappointment was none of them would eat out of our hands.
Mother spotted more deer today. She is getting good at this.
Somewhere along the way we watched a roadrunner looking for a lizard. This was a first for Mother. They look just like the cartoon roadrunner and act the same way. You have to laugh when watching them dart about, it is a spontaneous thing.
Next we stopped to look over an emu farm. Now Mother is familiar with what an emu looks like. She says the word pops up in her cross word puzzles all the time.
Tuesday, May 13, 2003 Blanco State Park- Blanco, Texas. Full hook up or just water & elect. $14
Our first stop today was LBJ's boyhood home in Johnson City, Texas 14-miles north of our motorhome in Blanco. LBJ's boyhood home is operated by the National Park Service. Additionally, the National Park maintains a nice building with displays and two small movie theatres. One of the theatres features an LBJ film while the other features a Lady Bird Johnson movie. We enjoyed both movies and the docent led tour of the family home. One of the things we learned here is how LBJ wanted to improve life for the average family. When he was elected to Congress from this district of Texas he pushed for and got rural electrification for this area. That was in the 1930s prior to that no one around here had electricity.
We lunched at the Hill Country Cupboard on highway 281 in Johnson City. A big sign proclaims World's Best Chicken Fried Steak (Nearly 3 dozen sold). The part about "nearly 3 dozen sold" was catchy and we had a good laugh. The most impressionable part of our lunch was the menu. You may ask how a menu can make an impression. Their menus were totally unique in that they were a computer generated menu printed on regular 8&1/2 X 11 inch white paper glued to a brown paper grocery bag. One page was glued to one side of the folded grocery bag another page was glued to the other side and yet another piece glued to the folded over bottom. That part was unique. The grease spots, ketchup spots, water marks and other stains took "unique" to a different level if you get my drift. The Cupboard is a place frequented by locals. Cowboys, field hands, truckers and farm families mosey in for lunch. This is a no frills place with plastic checkerboard tablecloths.
Next we drove to LBJ's Texas "White House" otherwise known as his ranch house where the National Park Service conducts tours of the homestead including the home that LBJ was born in. The National Park Service also operates a Living History Museum where docents perform normal chores and care for a variety of farm animals typical of an early 1900s family in the Texas Hill Country. Twice each day they hand milk cows. The milk is put into a hand operated separator where it is spun at sufficient speed to separate cream from the milk. The skim milk that is left from that process is left to curdle. Given a day of standing at room temperature the milk will turn into curds & whey. Some people like to eat the curds, it did not pass my smell test to even attempt swallowing any! The curds & whey are emptied from the pan into a piece of cheese cloth that holds the curds while the watery whey drips out. The docent explained how the drained curds can be combined with a small amount of cream to make cottage cheese. Also the curd can be combined with whole fresh milk and cream then slowly cooked until a substance similar to Mozzarella cheese is produced. In addition to all the things they did with milk another docent was demonstrating a grating contraption they used to make the "slaw" for sour kraut. We had seen this kitchen tool at other historic displays but could not determine what it was used to slice and exactly how it was used. Now we know. The docent was a retired rancher from the area that had butchered hogs and made sausage all his life. He demonstrated how the sausage presses worked. He had one that looked like an oversized caulk gun with a 8" snout as big around as a sausage. They also had "pig bladders" on display that were used in those days for balls. They were about the size of volley balls and tied on both ends to make an oblong ball. They were more the consistency of a balloon than heavy like today's volley balls or basket balls. Mother did touch it even though she made a face like she was touching something gosh awful. The entire experience at the demonstration farm was extremely educational and we enjoyed it.
Next we boarded a tram and took a 1 & ½ hour tour of LBJ's ranch, birth place and family cemetery. At the Texas White House we saw the collection of automobiles, airstrip and helicopter pad. Air Force One could not land on the 6,000 foot runway because the base was not sufficient to hold the weight of Air Force One, instead it landed in Austin or San Antonio and visitors were ferried to the ranch by helicopter or a smaller aircraft. The ranch still operates as a 1960's ranch complete with prize Hereford cattle.
With the LBJ National Parks behind us it was time to visit the Wildseed Farms and Market Center near Fredericksburg. It is the largest wildflower farm in the United States. We were able to see wildflowers planted in rows to be harvested for seed. You can walk around 217 acres planted with bluebonnets, poppies and other species in various stages of growth or bloom. If you are in the Fredericksburg area make sure that you visit the farm. If you are looking for wildflower seed check them out at www.wildseedfarms.com.
We drove Mother around Fredericksburg admiring the beautiful churches one a Lutheran the other a Catholic were stunningly beautiful. While touring the Lady Bird Johnson Municipal Park we spotted a wild turkey roaming around the RV-Park. Where else can you see a wild turkey strolling through a municipal park? While we are on the subject of RV-Parks the Lady Bird Johnson Park is one of the nicest places you could stay when visiting Fredericksburg. With that said there are several nice commercial parks available also.
We had supper at Andy's Diner on Washington less than 1/2-mile south of US 290 (turn south at the Admiral Nemitz Museum. This is one of the original Texas old-time restaurants catering to locals not tourist. You will not find it in any of the local advertisements. Enjoy Andy's Diner when in Fredericksburg.
Until next time remember how good life is.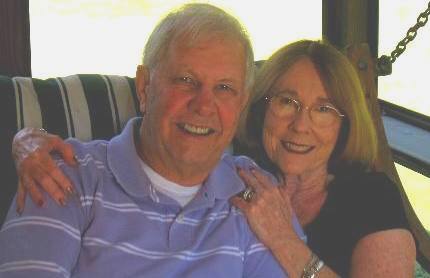 Mike & Joyce Hendrix who we are
We hope you liked this page. If you do you might be interested in some of our other Travel Adventures:
Mike & Joyce Hendrix's home page
Travel Adventures by Year ** Travel Adventures by State ** Plants ** Marine-Boats ** Geology ** Exciting Drives ** Cute Signs ** RV Subjects ** Miscellaneous Subjects
We would love to hear from you......just put "info" in the place of "FAKE" in this address: FAKE@travellogs.us
Until next time remember how good life is.