Port St. Joe, Apalachicola, St George Island, St Andrews State Park &
Places Visited: Florida: Port St. Joe, Apalachicola, St George Island, St Andrews State Park, Panama City Beach
Saturday, February 23, 2002 Presnell's Marina & RV-Park: Port St. Joe, Florida: Site #4
Pat fixed brunch for us at their place (Pat's a cooking woman) then we headed to Apalachicola in Louie's Yukon UAV (Urban Assault Vehicle). It sure rides nice and is big enough to play chicken with an 18-wheeler. I think Pat & Louie must have sold several of their rental properties recently. (VBG Very Big Grin) In Apalachicola Louie stopped to let the ladies out to do some serious shopping (read that damage to the plastic). Our plan is to meet back up with them in 3 to 4 hours. Louie and I take off to some of the local marinas where we survey the activity and types of vessels in each. Behind one of the marinas is a gigantic modern day midden (shell pile). Two shell piles one composed of oyster shells the other of scallop shells cover several acres to a depth of over 10-feet. Dump trucks, from local seafood houses, bring loads of shells here. Front-end loaders move the shells from there to a barge that transports them back to nourish oyster beds in Apalachicola Bay.
Those of you not familiar with oysters may not realize the importance of returning old shells to the water. Oysters are shellfish that live in shallow estuaries. Adults are immobile. Fertilized oyster eggs are called spat. Spat drift with the current until they find something hard where they attach, once attached they are attached for life. Those little spats that do not find a hard surface to attach to before currents sweep them out of the estuary never grow up to be oysters. Therefore, oyster shells are returned to the reef areas where they become the hard surface where spat can attach. Oyster spat are not so particular that they will not attach themselves to scallop shells so the scallop shells are included with the mix of shells being returned to the reef. Oysters do not grow just anywhere. They must have the proper mix of fresh and salt water, too much of either and they die. Oysters are filter feeders so not only does the salt/fresh water mix have to be within certain limits tidal action must also deliver nutrient rich currents. Where these conditions are met is where shells are returned to the water to make "reefs". In this way oyster production is considerably increased.
After the shopping spree had subsided Louie drove us to St. George Island where we watched a great horned owl and a family of bald eagles. Then we returned to Apalachicola where Louie took us to the Bay City Marina and restaurant where we dined. The food was good and we enjoyed it but the alligator skin on the wall was totally awesome. This 14-foot gator is or was the longest in the state at the time he was killed. This gators end came when he decided to take up residence at the marina. Can you imagine a 14-foot alligator sitting under the fish-cleaning table just a few yards from the boat launch? The end came around midnight when several of the state's nuisance gator hunters showed up and harpooned him then dispatched him with a shotgun shell to the brain. Smaller gators would be captured and moved. This gator was so large the trappers did not want to chance a "Steve Erwin" experience. Although this gator was 14' long he only weighed around 750 pounds. A shorter gator killed in another part of the state weighed over 1,000-pounds. So this gator is the longest but not the heaviest. If you want to see this totally awesome gator it is displayed in the tackle store at the Bay City Marina. The mount is like the ones you see of rattle snakes with just the head and hide.
All this fun had to come to an end. We said our good buys and promised to do this all again in the summer.
Tomorrow we will have fun with Det & Judy.
Sunday, February 24, 2002 Presnell's Marina & RV-Park: Port St. Joe, Florida: Site #4
Det & Judy arrived at our motorhome around 10:00 and we headed off on our adventure. We passed by the Raw Bar on SR-30A on our way to Apalachicola. Judy wanted to see alligators while Det wanted to see "the real Florida". I took them to Bay City Marina to see the large gator mount and the wild Florida surrounding the marina. In Apalachicola we rode around looking at old Victorian homes build around the turn of the century. Next we climbed the shell mounds behind the marina looking for unique shells. After eating lunch at the famous Gibson Inn we drove to St. George Island and toured the State Park before heading back to walk on the beach and collect seashells at Indian Pass. What a wonderful day with wonderful friends.
Monday, February 25, 2002 St. Andrews State Park: Panama City Beach, Fl. Site # 106
Det & Judy stopped by to see us on their way to Grayton Beach, SP. Shortly after they departed we were on our way to St. Andrews State Park on Panama City Beach. It was 56-miles from Presnell's in Port St. Joe to St. Andrews State Park on Panama City Beach while Det and Judy traveled about 25- miles farther to reach Grayton Beach SP. Both State Parks are located on the Gulf of Mexico and offer fabulous camping facilities with the world's most beautiful beaches.
At St. Andrews State Park we walked down to Gator Lake. It is interesting to witness the symbiotic relationship that the lake's gators have with nesting herons on the island in the lake. The small island only has a limited number of very small trees. The trees are loaded to capacity with heron and egret nests. Raccoons eat bird eggs but on the island in this lake the nests are safe from raccoons. Since to get to the island raccoons have to swim across Gator Lake. The herons & egrets know that their nests are protected from the predation of raccoons. We could see 6-foot gators slowly cruising around the island. Any raccoon attempting to get a meal of heron eggs will himself become gator bait. If a small heron or egret falls from the nest they become gator chow also.
Joyce and I experienced another afternoon dancing with the snowbirds at Chubby's. Like other times when we have visited Chubby's we met another wonderful couple, Dean & Judi Waller from Nashville, Illinois. They have been spending the winter in Panama City for the past 8-years. Snowbirds are preparing to return to their northern haunts. Most want to vacate the beach area before spring breakers arrive. Michigan college kids are already on the beach with more scheduled in March.
We spent the evening hours with Mike's parents who live in Panama City.
Tuesday, February 26, 2002 St. Andrews State Park: Panama City Beach, Florida. Site # 106
We wake to a nasty weather report. National Weather Service is forecasting a low of 30 tonight with a high on Wednesday of only 46 then a low Wednesday night of 16. What are we doing in this area? We were wearing shorts yesterday.
A warm moist breeze blew off the Gulf all morning then abruptly the front went through and howling winds came out of the northwest. The temperature started a precipitous drop. I filled the TREKS water tank and put my hose up. I do not want to play with a frozen water hose when we pack out of here in the morning.
Joyce and I went back to Chubby's this afternoon and sat with Dean & Judi again. We had a wonderful time with them today as well as yesterday. We made plans to get together again next year. After dancing from 3:00 until after 5:00 we headed to Mike's parents house for dinner and family fun.
Wednesday, February 27, 2002 Home in Pensacola, Florida
When we got up is was COLD very COLD. We drove the 98-miles to our home in Pensacola. For those of you who are interested we are expecting twin baby BOYS in mid-July. They will not be identical twins but both will be fishermen. VBG.
Total miles on TREK = 1,319. Saturn miles = 1,850 for the 47 days we were gone.
That is all until we head out again in a few weeks. Now it is time to jump on that 1040 document for the IRS.
See ya, mike
Until next time remember how good life is.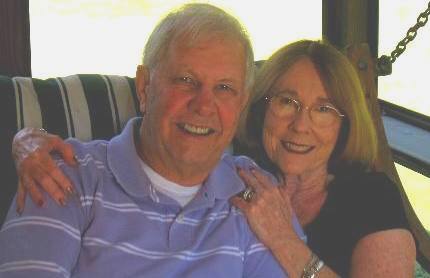 Mike & Joyce Hendrix who we are
We hope you liked this page. If you do you might be interested in some of our other Travel Adventures:
Mike & Joyce Hendrix's home page
Travel Adventures by Year ** Travel Adventures by State ** Plants ** Marine-Boats ** Geology ** Exciting Drives ** Cute Signs ** RV Subjects ** Miscellaneous Subjects
We would love to hear from you......just put "info" in the place of "FAKE" in this address: FAKE@travellogs.us
Until next time remember how good life is.