Apalachicola, Florida
March 6, 2008
Shrimp Boats, Bay City Lodge & Sail Boats
We drove into Apalachicola today along with Det & Judy and Dave & Eilene. It was our time to explore this coastal town that has deep historical roots.
We first drove to Bay City Lodge located a few miles out of Apalachicola. Bay City Lodge is a landmark place for fishermen in the area. We visited the place to see old Florida like it once was. This place has certainly stood still in time.
Hawk on power line in parking lot at Bay City Lodge
This hawk was perched on a power line as we pulled into the parking lot at Bay City Lodge
View across canal at Bay City Lodge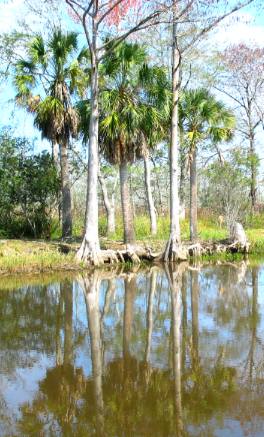 Joyce took this picture of palm and cypress trees from the dock at Bay City Lodge.
The guys headed to the city docks where we found these shrimpers pinching heads off some beautiful shrimp on the back of their shrimp boat.
Like in most operations it is taking at least one supervisor. VBG
Sail boat anchored in canal near downtown Apalachicola
This sailboat was anchored near downtown Apalachicola.
Hurricane deposited shrimp boat in Apalachicola
The old shrimp boat in this picture is certainly not where it is supposed to be. This old shrimp boat has been here since it broke away from its mooring during the high water that accompanied hurricane Dennis back in 2005.
The picture below shows this old shrimp boat from another angle.
Hurricane deposited shrimp boat in Apalachicola from another view
This is that old shrimp boat that is resting on the dock behind those other boats.
Note that three of the boats are tied in slips, as they should be, you can see that old shrimp boat resting on the dock directly behind the other boats. It has been there since hurricane Dennis slammed into Pensacola in 2005. Although Pensacola is 150-miles west of here this boat broke away from its moorings in the extremely high tide that resulted from the hurricane. I am amazed how long that old boat has been allowed to stay there.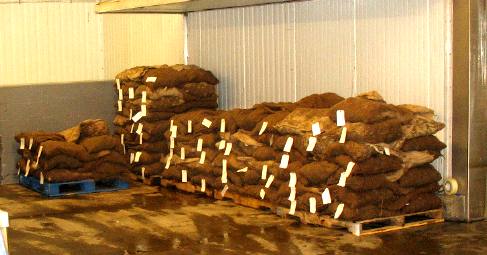 Sacks of oysters were stacked on pallets in this corner of the cooler. Note the tags on each sack of oysters. These tags follow each sack of oysters from the time they are received by the oyster house until after they are consumed. If anything is wrong (as in someone gets sick) from eating these oysters they can be traced back to the individual oysterman that harvested the oysters and exactly where the oysters were harvested.
Sail boat passing by the city docks in Apalachicola
Back on the waterfront while waiting on our women folk to finish checking out all the unique shoppes I took this picture of a sailboat passing the shrimp boat docks.
This was another wonderful day spent with friends in Apalachicola.
Click here for more Florida Travellogs, & Travel Logs.
Click here for more of our Florida Panhandle Travel Journals.
Click here for Forgotten Coast Travel & Tourist ideas on St. George Island.
Until next time remember how good life is.
Mike & Joyce Hendrix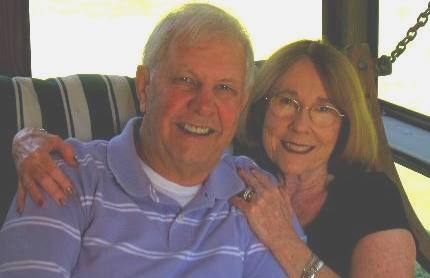 Mike & Joyce Hendrix who we are
We hope you liked this page. If you do you might be interested in some of our other Travel Adventures:
Mike & Joyce Hendrix's home page
Travel Adventures by Year ** Travel Adventures by State ** Plants ** Marine-Boats ** Geology ** Exciting Drives ** Cute Signs ** RV Subjects ** Miscellaneous Subjects
We would love to hear from you......just put "info" in the place of "FAKE" in this address: FAKE@travellogs.us
Until next time remember how good life is.