Oyster Packing House
March 6, 2008.
We are in Apalachicola, Florida today and we are going to tour one of the oyster packing houses in town. Apalachicola is a major supplier of oysters in the country.
We were watching operations at an oyster processing facility. While watching the operation the manager invited us to view the processes that were still being performed inside the building. Unfortunately, most of the activity had been completed for the day. However, he took us in the room where shucked oysters were being packaged into these containers. These were select oysters that were being packaged in containers heading to restaurants.
This happy gentleman was making sure that the oysters did not contain any shell or other debris. Then he would push them into the container you see below his left hand. The oysters were being packaged by weight so he would fill that container until it had 6-pounds in it (I think I remember the man telling us these were 6-pound containers).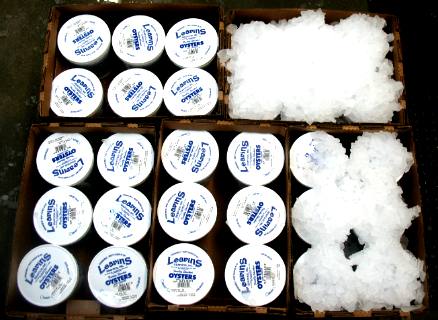 After lids were put on the containers they were put into cardboard boxes containing six of the oyster containers. Then ice was scooped on top.
Shucking stations in Apalachicola oyster packing house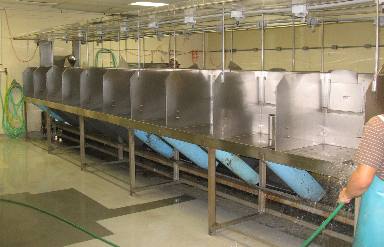 Oyster shuckers had been at these shucking stations shortly before we arrived. Sadly we did not get to view this operation. There were between 40 and 50 shucking stations in this room.
Our next visit was to the drive in cooler (not freezer but cooler). The oysters in these boxes and the large croker sacks in the background are awaiting shipping.
Our guide has taken the lid off this box of oysters that are being shipped whole to restaurants that will serve these oysters on the half-shell.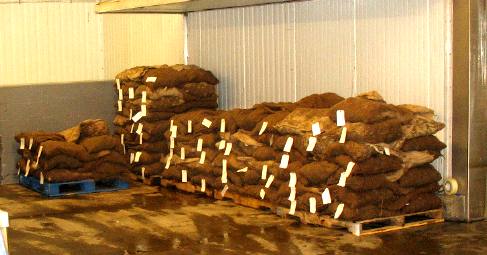 Sacks of oysters were stacked on pallets in this corner of the cooler. Note the tags on each sack of oysters. These tags follow each sack of oysters from the time they are received by the oyster house until after they are consumed. If anything is wrong (as in someone gets sick) from eating these oysters they can be traced back to the individual oysterman that harvested the oysters and exactly where the oysters were harvested.
Next we were shown through the new (flash frozen oysters on the half-shell) processing facility. In this facility really clean oysters have one shell removed then it is placed on a conveyor belt traveling through a liquid nitrogen cooling chamber. Less than a minute later these oysters in a half-shell emerge from the the cooling chamber at -120 degrees. Workers quickly place the frozen half-shell oysters on plastic trays like the ones you see in this picture. Then full plastic trays are stacked one on top of another into these boxes pending shipping to restaurants.
What an interesting operation.
Click here for more Florida Travellogs, & Travel Logs.
Click here for more of our Florida Panhandle Travel Journals.
Click here for Forgotten Coast Travel & Tourist ideas on St. George Island.
Until next time remember how good life is.
Mike & Joyce Hendrix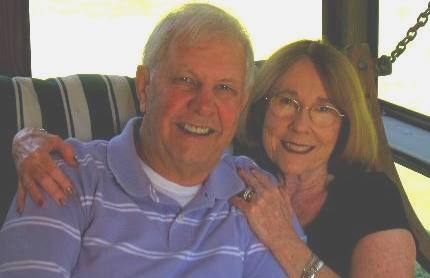 Mike & Joyce Hendrix who we are
We hope you liked this page. If you do you might be interested in some of our other Travel Adventures:
Mike & Joyce Hendrix's home page
Travel Adventures by Year ** Travel Adventures by State ** Plants ** Marine-Boats ** Geology ** Exciting Drives ** Cute Signs ** RV Subjects ** Miscellaneous Subjects
We would love to hear from you......just put "info" in the place of "FAKE" in this address: FAKE@travellogs.us
Until next time remember how good life is.