2011 Signs Part Three
When wintering in Key West one of our favorite dining places is Hogfish Grill on nearby Stock Island. The Hogfish Grill has some pretty interesting decor. This "weather channel" sign is just one of the pieces of "ambience".
Island life is to say the least "laid-back". This sign pretty much confirms that mentality.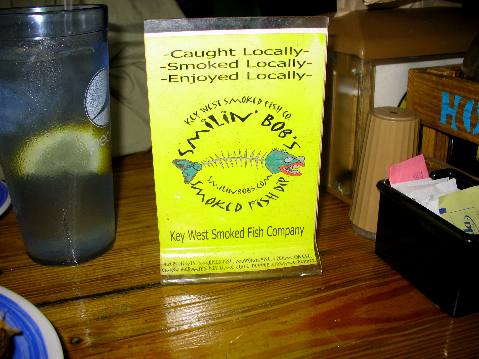 Smilin' Bob's Smoked Fish Dip is a local favorite around the Florida Keys. We became familiar with Smilin' Bob's smoked fish dip while attending the weigh for the SKA King Mackerel Tournament.
Smilin' Bob's crew was there to handle the huge king mackerel being weighed in. It seemed to me that virtually every king mackerel being weighed in was being donated to Smilin' Bob's. We saw the Smilin' Bob crew haul away and ice several thousand pounds of king mackerel. Smilin' Bob would often throw a few cans of Smilin' Bob's smoked fish dip to the crew members on the boats.
If you are visiting Key West or for that matter any of the Florida Keys look for Smilin' Bob's smoked fish dip in the local grocery stores. Virtually all the grocery stores carry his smoked fish dip. It is good stuff, but a bit pricy.
Smilin' Bob's Smoked Fish Dip is for sure GOOD.
Unique Direction and mileage sign located on Sunset Pier in Key West

Joyce and I loved this unique direction sign located on Sunset Pier in Key West where we regularly go to watch the famous Key West Sunset and listen to to Robert & Fritz play their 50's and 60's music.
Joyce is getting her obligatory picture with the Mile 0 sign for US-1 in Key West. We must walk past this sign over a 100-times each winter. There is hardly a time when we pass this sign that there isn't a group of tourist beside the sign getting their picture taken. I guess when we passed this time there was no one else hugging the sign so Joyce grabbed it.
Mike is standing beside the direction marker sign outside the Hogfish Grill on Stock Island near Key West. We love to dine at Hogfish Grill several times each winter.
Mike & Joyce Hendrix
Mike & Joyce Hendrix who we are
We hope you liked this page. If you do you might be interested in some of our other Travel Adventures:
Mike & Joyce Hendrix's home page
Travel Adventures by Year ** Travel Adventures by State ** Plants ** Marine-Boats ** Geology ** Exciting Drives ** Cute Signs ** RV Subjects ** Miscellaneous Subjects
We would love to hear from you......just put "info" in the place of "FAKE" in this address: FAKE@travellogs.us
Until next time remember how good life is.