Our 2009 Interesting Signs Part Two
Shamrock Saloon 1-Mile -- Next Beer 27-Miles!
We saw this one in Wyoming about 30-miles west of the small town of Wheatland. It was literally in the middle of nowhere. We stopped and did a "U" turn in the highway and went back to get this picture. What we failed to do was get a picture of the "Shamrock Saloon". I think we were still laughing too hard. It wasn't a place you would even consider stopping at much less going inside ------- unless of course the next beer was ----- 27-Miles!
"If he looks hot, you're too drunk to drive" Sign in Woman's Restroom
This one was on the wall in a woman's restroom in Cheyenne, Wyoming. In case you can not read the words at the bottom of the picture it says "If he looks hot, you're too drunk to drive". This picture is provided by Joyce.
There was a picture of a equally homely female in the Men's restroom of this honky tonk.
I did not get that picture because I did not feel comfortable going in the men's room with a camera.
Sign outside the only restaurant in Kelly, Wyoming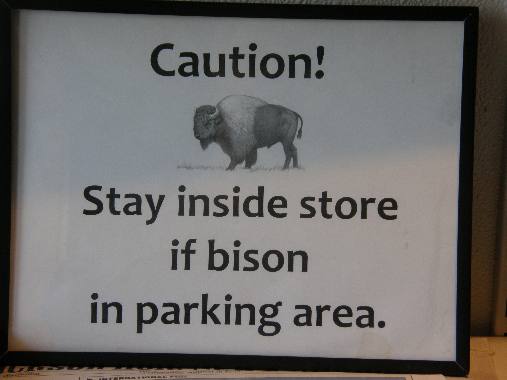 This sign was provide by Pete Apple who took it outside a restaurant in Kelly, Wyoming. It is a "real" sign and a "real" warning. No joke. Kelly is a small community located in Grand Tetons National Park very near Gross Ventre Campground. Buffalo roam through Kelly (and the entire community) as well as Gross Ventre Campground. Moose roam through the campground as well. Thanks Pete.
Pet Relief Station sign posted above fire hydrant
We saw this sign in the pet walking area of the Americana Casino RV-Park in Vicksburg, MS on our way home from working at Amazon.com in December of 2009. That is frost on the ground ----- indicating that we are waaaaaay to far north. VBG
Anyway, I just loved the sign because you and I know that fire hydrant has been used for "relief" more times than either of us care to know about.
Hogshooter Creek near Bartlesville, Oklahoma
We just liked this sign. It is located in Oklahoma about 15-miles east of Bartlesville. Ya just gotta love names like this. VBG
Mike & Joyce Hendrix
Mike & Joyce Hendrix who we are
We hope you liked this page. If you do you might be interested in some of our other Travel Adventures:
Mike & Joyce Hendrix's home page
Travel Adventures by Year ** Travel Adventures by State ** Plants ** Marine-Boats ** Geology ** Exciting Drives ** Cute Signs ** RV Subjects ** Miscellaneous Subjects
We would love to hear from you......just put "info" in the place of "FAKE" in this address: FAKE@travellogs.us
Until next time remember how good life is.