July 16 & 17, 2009
Wheatland, Wyoming is a small farming and ranching community made possible by irrigation.
We are staying in the FREE city campground in Wheatland. It has electricity 30 & 50 amp. Water & dump station at a central location. The campground is located at the south end of 8th street. Once in town you will be on 9th street when you get to the red light turn east and go to 8th street then turn south and proceed to the city campground about 6 blocks. You will spot the park, the campground is on the south side in a row of large cottonwood trees.
A beautiful golden bale of cattle feed.
Wheat field that Wheatland was named for
This is the wheat Wheatland was named for. However, they are growing much more hay here than wheat now.
Close-up of heads of wheat in field near Wheatland, Wyoming
This is a close-up of another field of wheat just outside Wheatland, Wyoming.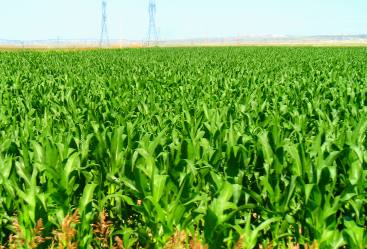 You will recognize this as a beautiful corn field.
This is another form of irrigation on a bean field. I think these are pinto beans but they could be soy beans. When water is released from holes in that white pipe. The water then flows for a fourth mile or so down these rows. Note that there is a gentle slope in the ground leading away from that white irrigation pipe.
Pivot irrigation system on alfalfa in Wheatland, Wyoming
This pivot system is not watering at the moment. That is an alfalfa field if you do not recognize it.
Another pivot irrigation system on a field of sugar beets in Wheatland, Wyoming
This one is watering sugar beets also.
We have enjoyed our stay in Wheatland and will return. It is a nice place to visit.
That is all there is.