Bluff, to Mexican Hat, Utah
Bluff, to Mexican Hat, Utah
May 19, 2007.
We stayed in Cottonwood Campground in Bluff, Utah. Several private RV-Parks were available in Bluff. We chose Cottonwood. The others were just as nice. One mile west of town is Sand Island Department of the Interior Campground with no utilites. It was OK as well. Cottonwood was $20 for a FHU site.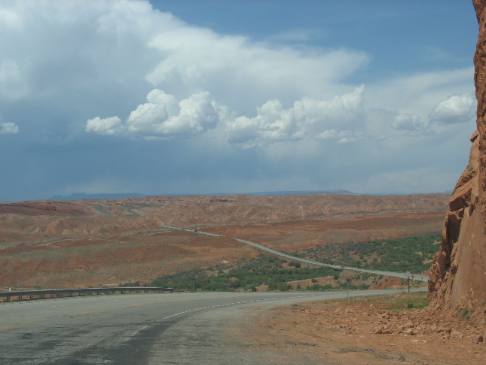 This is a good summary of what the scenery looks like on US-163 west of Bluff.
Southern Utah scenery as seen from US-163 west of Bluff
Typical southern Utah scenery between Bluff and Mexican Hat.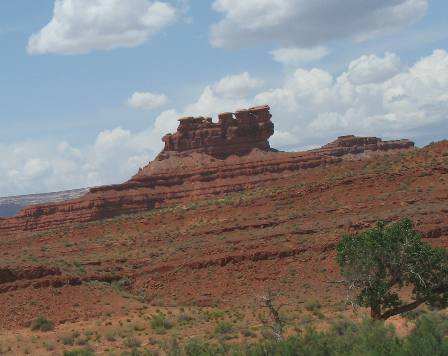 This rock formation is referred to as a hoodoo. Hoodoo's are a common sight in southeast Utah west of Bluff.
Mexican Hat Rock example of a "caprock" protecting the softer layers below it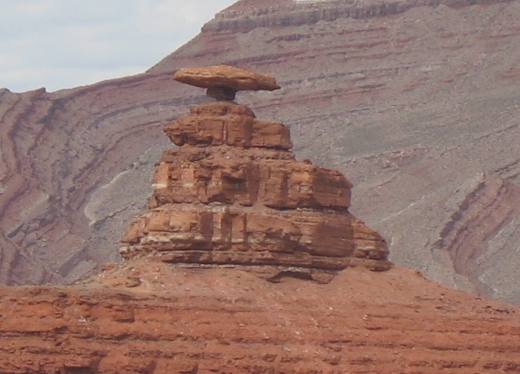 This is a better view of the eponyous Mexican Hat Rock. The "hat" is a fine example of a geological caprock.
Also look beyond the Mexican Hat Rock at the sedimentary rock in the bluff. Notice how the sedimentary layers are almost vertical on the left side of the picture. That is a fault line, probably a block fault where the right side faulted up and the left side faulted down.
Block fault visible in sedimentary rocks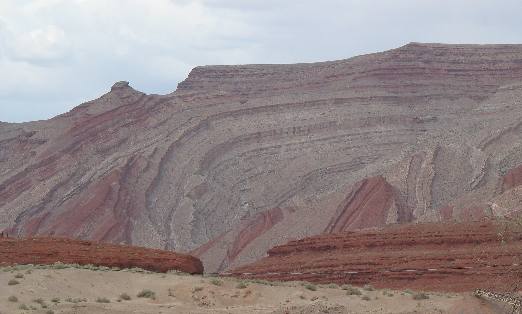 Between Mexican Hat Rock and the town of Mexican Hat are these colorful patterns of erosion visible to the south of US-163. This is called a block fault. Block faults occur when one side moves up and the other moves down.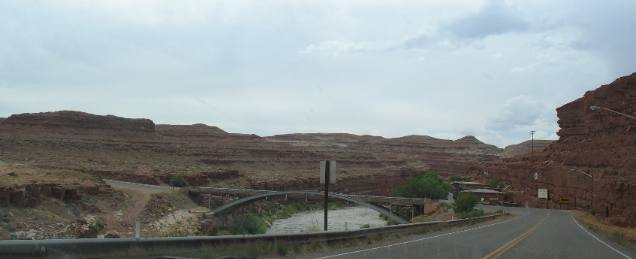 This is the famous San Juan River Bridge in Mexican Hat, Utah. I say famous because it is one of the few bridges crossing the San Juan River. It is also famous because it is situated at the bottom of a long 10% grade. Vehicles coming down that 10% grade better have their speed under control because they have to make a right angle turn or else run smack into that sandstone bluff you see in this picture.
This is the San Juan River as it flows past that bridge in Mexican Hat on its way to the "Goosenecks" not far out of Mexican Hat.
If you liked this Travel Adventure you might like one of these:
Goosenecks on the San Juan River southern Utah
Moki Dugway Moki Dugway is a series of sharp switchbacks down a steep gravel road over less than three miles: One of the best drives you will ever do.
Natural Bridges National Monument in southern Utah
Mike & Joyce Hendrix
Mike & Joyce Hendrix who we are
We hope you liked this page. If you do you might be interested in some of our other Travel Adventures:
Mike & Joyce Hendrix's home page
Travel Adventures by Year ** Travel Adventures by State ** Plants ** Marine-Boats ** Geology ** Exciting Drives ** Cute Signs ** RV Subjects ** Miscellaneous Subjects
We would love to hear from you......just put "info" in the place of "FAKE" in this address: FAKE@travellogs.us
Until next time remember how good life is.