Places Visited:
California: Morro Bay
Thursday, May 26: Cypress Bay RV Park Morro Bay, California: $31 FHU-30amp. Paved interior roads & sites. N35° 72.165' W120° 51.044'
We joined locals for breakfast at Carla's Country Kitchen located just down the street from the motorhome. I am always looking for something different on the menu. Today was no different. The menu had "linguica" eggs, hash browns and toast as one of the items. Linguica is an item I had never heard of much less tried so I ordered it. It turned out to be a rather spicy, tightly packed, sausage. Linguica was also on the lunch menu being served with grilled onions and cheese. Back in the motorhome I looked linguica up in several Spanish as well and English dictionaries and didn't find any mention of it. I am sure that some of you are familiar with linguica. Friends have now informed me that linguica is a spicy Portuguese sausage heavy on the garlic. Several have even reported that they liked it for breakfast. I can tell you that it was to "spicy" for me to enjoy with eggs. Now it would go good on pizza or spaghetti or in a bowl of beans.
Boats in Morro Bay as seen from Bayshore Bluffs City Park


After breakfast we drove around the harbor then meandered around to Bayshore Bluffs City Park in Morro Bay where we spent some time trying to take quality pictures of boats on Morro Bay reflecting on the quiet water. A dull gray fog bank shrouds the boats and bay in a misty beauty that just begs to be photographed. While there we can hear the faint dissonance of birds in the distance. It took us a while but we realized a heron and sea bird rookery was located in a grove of trees a half-mile or so along the shoreline.
Nesting cormorants in rookery on Morro Bay in Morro Bay, California
We couldn't walk there because the path was blocked by an apartment complex, so it was back into the Saturn as we tried to find a way around that complex. That is when we stumbled onto the Morro Bay Inn and Morro Bay State Park. As it turned out the rookery is the largest breeding colony of great blue herons on the California coast between Mexico and San Francisco. The noise was mostly being generated by the nesting cormorants. If not for their disquietning chatter we possibly never would have found this place.
Joyce Hendrix and a giant eucalyptus tree along Morro Bay in Morro Bay, California
In addition to the rookery that was on State Park property we enjoyed the ancient eucalyptus trees. Morro Bay seems to be home to a large number of these enormous eucalyptus trees. The rookery was located in a mature eucalyptus forest. Ironically, when too many of the nesting birds congregate in one tree they can actually kill the tree over time. With that many birds in the tree over a 4 to 6 month period each year they expel a lot of guano. So much guano is expelled that the ground around the tree becomes white. While a little nitrogen is a good thing too much is deadly. Many of the old rookery trees are dead.
After tiring of the rookery and eucalyptus forest we drove to the nearby Morro Bay Natural History Museum where we spent several hours learning about Morro Bay and the estuary.
View of Morro Bay from Morro Bay Natural History Museum
No where in Morro Bay are you far from the water and scenic views of the bay. This one was taken from the Natural History Museum.
Mid afternoon found us at the Morro Bay weekly farmers Market. As we have come to expect --- local farmers show up to sell a variety of products. The Rainier cherries tended to get the major share of my interest along with avacados. I was intrigued by anis. I was intrigued because I don't know anything about it. The vendor only spoke Spanish so I couldn't get any information from him. I asked around on the RV-Newsgroup and found that Anis is the source for licorice. It is used in soups and such or it can be used in salads much like celery------------- if you want to impart that licorice taste. Anise looks a lot like celery except the bottom flares a lot more into what looks similar to an onion bulb.
Friday, May 27: Cypress Bay RV Park Morro Bay, California: $31 FHU-30amp. Paved interior roads & sites. N35° 72.165' W120° 51.044'
We set out to explore the southern reaches of the Big Sur including Hearst Castle at San Simeon. It has been extremely foggy since we have been here. That prevents an early start for sightseeing since we can't see any of the beautiful scenery until the fog lifts.
With the fog in mind we didn't start up the Big Sur from Morro Bay until mid-morning. Even then sightseeing wasn't optimum but we head north on CA-1 anyway, leaving Morro Rock in our rear view mirror.
I was finally able to locate the Roadside Geology book that we had been looking for since arriving in California. Roadside Geology indicates that Morro Rock is the rhyolite plug from a volcano active some 24-million years ago. Rhyolite is the granite like mass of once molten magma that cooled before reaching the surface creating what geologist refer to as a volcanic plug. It is much harder than either volcanic ash or surrounding sedimentary rocks. Thus the other materials have eroded away leaving this 576' high monument as a sentinel marking the entrance to Morro Bay.
We dined at Otter Rock on the waterfront in Morro Bay complete with live music and outlandish prices. I guess the sunset over Morro Bay accented by Morro Rock was what we were paying for. At least the sunset and music was good. VBG
From our motorhome we can plainly hear the blast made by the Morro Bay sea buoy. In the quietness of the night it is a sound that reminds us we are near the ocean.
Until next time remember how good life is.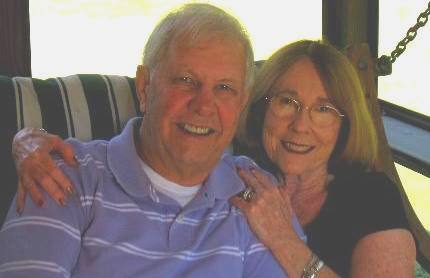 Mike & Joyce Hendrix who we are
We hope you liked this page. If you do you might be interested in some of our other Travel Adventures:
Mike & Joyce Hendrix's home page
Travel Adventures by Year ** Travel Adventures by State ** Plants ** Marine-Boats ** Geology ** Exciting Drives ** Cute Signs ** RV Subjects ** Miscellaneous Subjects
We would love to hear from you......just put "info" in the place of "FAKE" in this address: FAKE@travellogs.us
Until next time remember how good life is.