Talus
Talus
Talus, is a term given to an accumulation of broken rock fragments at the base of cliffs and canyons.
Talus slopes of crumbling basalt line Malad Gorge in southern Idaho near Hagerman.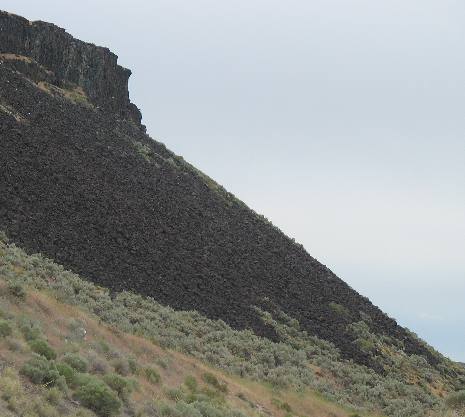 Joyce took this picture taken from the Hagerman Valley in southern Idaho. It showcases a beautiful talus slope that has crumbled from the basalt cliff above.
Talus slope of basalt in the Hagerman Valley, Snake River Canyon wall
Geologists define talus as the pile of rocks that accumulates at the base of a cliff, chute, or slope. The formation of a talus slope results from the talus accumulation.
Talus slope of basalt that came from the basalt Canyon wall in the Hagerman Valley of Idaho. The Snake River has cut this canyon wall over eons of wear.
Talus slope with desert varnish on sandstone cliff face
This is a good example of a talus slope - rock debris at the bottom of a cliff.
Joyce took this picture on a scenic drive out of Moab, Utah along the Colorado River.
This is a classic example of a Main Range Mountain, with brown sedimentary rocks laid in flat layers with almost perpendicular sides.
The talus slopes along the side of this mountain were created in a variety of ways. Some of them were caused by rock falling from the cliffs above, while others were deposited when the rock fell on a moving glacier and transported to this spot, when the glacier melted thousands of years later the rocks ended up here. Geologist can tell when this happens by the composition of the rocks. Many times they can even tell where the rocks were transported from.
Talus or scree slopes on the shore of Moraine Lake
The sedimentary rock found in these mountains is porous. Rain water and melting snow percolate down through the sandstone and limestone and along the separating sheets of shale.
This moisture trickles into cracks, freezes and expands, splitting even the hardest rock. Loosened by repeated freezing and thawing, frostbroken fragments bounce down the cliffs and collect in these cone-shaped piles called talus or scree slopes.
Mike & Joyce Hendrix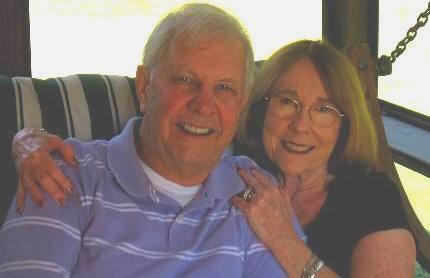 Mike & Joyce Hendrix who we are
We hope you liked this page. If you do you might be interested in some of our other Travel Adventures:
Mike & Joyce Hendrix's home page
Travel Adventures by Year ** Travel Adventures by State ** Plants ** Marine-Boats ** Geology ** Exciting Drives ** Cute Signs ** RV Subjects ** Miscellaneous Subjects
We would love to hear from you......just put "info" in the place of "FAKE" in this address: FAKE@travellogs.us
Until next time remember how good life is.