Malad Gorge State Park & Showy milkweed
June 5, 2007.
We are staying at High Adventure River Tours RV-Park/Store & Dutch Oven Cafe located on the southeast corner of exit 147 near Hagerman, Idaho. It is a nice RV-Park with shade and long pull-through sites. PPA with tax ran $16 for FHU.
For those of you that are not familiar with PPA (Pass Port America) it is an organization you can join for less than $50 per-year. Campgrounds that belong to PPA offer 1/2 price discounts. That kind of savings can quickly add up. While participating PPA parks generally have some restrictions on dates the PPA offer is valid, or possibly days of the week the discount is valid, or perhaps the number of days that the PPA discount will be honored the discount is genuine. Many times PPA campgrounds are new campgrounds that need help in getting established. Other times PPA campgrounds may be on the outskirts of town instead of in the "prime" location thus they need to provide an incentive for campers to stay with them. Whatever the reason PPA campgrounds generally provide a much cheaper option. PPA is the only campground organization that I think is worth the cost. PPA does not have a gimic. What you see is what you get. Once you join they send you a directory listing all participating campgrounds. The PPA directory is the FIRST directory we check when trying to locate a place to spend the night. You can join PPA by calling 228-452-9972. If you decide to join PPA, it would be nice if you gave them my number "R-0156251" as the PPA member that told you about PPA. In return PPA will give me a years membership free. I will thank you in advance for that kindness. Thank you.
Malad Gorge State Park is located less than 1/2 mile south of I-84 at exit 147 near Hagerman, Idaho.
The gorge has been cut through hard basalt over thousands of years by water power.
This is a picture taken looking downstream toward where the Malad River joins the Snake River a few miles west of Hagerman.
A trained eye can see several different forms of basalt in the canyon walls. The top 200 feet is comprised of columnar basalt. Below that, somewhere in the next 50-foot you can spot a small layer of "pillow basalt."
We are taking these pictures from a steel walkway that spans the gorge close to where I-84 crosses the gorge. In fact this picture would have the I-84 bridge in it if I had not cropped it out of the picture. This picture is actually taken looking upriver under the I-84 bridge a few hundred feet west of exit 147.
Thousands of years ago, immense flows of water from alpine glaciers and high levels of precipitation sent waters cascading over a broad area of the Snake River Canyon directly into the Snake River. Weak joints in the basalt walls gave way to these rushing waters at the mouth of Malad Canyon, concentrating the water into a narrow channel. These concentrated flows began to retreat and deepen over many years following a zig zag direction that eventually created not one but three canyons before diminishing to current water levels found today.
This is looking downstream from the walkway over the Malad River Gorge. I included this picture so you can see the talus slopes on both sides of the canyon (talus slopes are comprised of rock rubble that has fallen off the top of cliffs like these). Also note the Basalt (lava rock) on the cliff edge that is developing large cracks that will one day add to the talus slope.
We took this picture looking upstream from a viewpoint 1/2 mile from that walkway we were previously on. You can see the walkway and I-84 in this picture. The walkway from here looks like the bottom of the I-beam supporting I-84 but it is an optical illusion. The small steel walkway across the gorge is actually several hundred feet this side of the interstate.
Below the walkway is the Devils Washbowl a distinct feature carved in this basalt canyon at the base of that waterfall.
How was the Devils Washbowl carved? The waterfall (retreating cataract) that you can see down in the gorge is a much diminished remnant of the great waterfalls that carved the 2 1/2 mile long, 250 food deep canyon now know as Malad Gorge. Can you imagine, looking at the current flow, what the waterfall that created Malad Gorge must have looked like?
The top 200' of basalt is the result of Shield Volcanos. Shield volcanos in this region poured hot molten lava onto the surrounding countryside for miles and miles around. In contrast to explosive volcanos like Mt. St. Helens in Washington shield volcanos ooze hot molten lava from vents in the earth's crust. The type of lava rock found here in southern Idaho is called basalt. Basaltic lava flows are very hot and fluid and flow much like a river until they cool. Over many years the depths of these lava flows increased and gradually the deposits built up in the Malad Gorge area to over 200'-deep.
Pillow basalt is found in the bottom 50-feet of the gorge. Pillow basalt is created when molten lava flows into water. When the hot lava flows into water steam erupts, and changes the usually solid basalt rock into rounded, more porous pillows. Pillow basalts, because of their less compact porous nature, allow spring water from the vast Snake River Aquifer to flow past them into the Malad River and into the Snake River in an area know as 1,000 springs around Hagerman. Those 1,000 springs will be covered in another travelogue about this area.
Columnar basalt cools more slowly. Columnar basalt is a harder more dense rock. When it ages and weathers if forms cracks in the form of columns.
Along the edge of the canyon you can see the water's power in smoothing and shaping the basalt rocks. At one time a waterfall was located here that smoothed and shaped these very hard rocks.
You can clearly see the pillow basalt layer that allows water to flow over it.
Malad Canyon wasn't just about an awesome river gorge. On top of the mesa a variety of flora and fauna is also preserved. This is showy milkweed and it lives up to its name.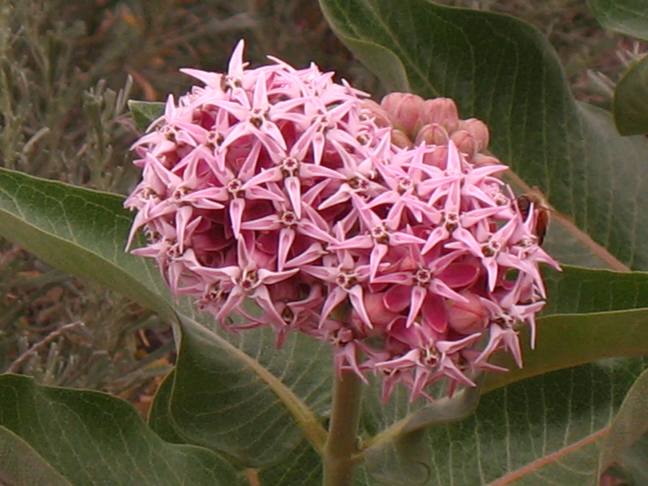 I wonder if this showy milkweed would grow in Florida?
At this view point we are more than a mile downstream from the walkway across Malad Gorge where we were earlier. You can still see truck traffic on I-84 and the I-84 bridge over the gorge if you look closely.
Fallen rock forms the talus slopes that you can see lining both sides of this gorge seen from a walkway bridge across the Malad River in Malad Gorge State Park in southern Idaho.
I wonder if trout are in that pool, in Malad Gorge State Park, below us? It is something I will never know but I did look for them through binoculars.
The broken crumbled basalt is forming a talus slope.
At this point the Malad River has been dammed and a significant portion of its flow is being diverted into that canal to the right where is being directed to a power generator about 1/2 mile downstream.
This view is from Malad Gorge State Park in southern Idaho.
Talus slopes line the bottom of Malad Gorge in this picture.
Few places in Idaho or the United States show evidence of spring water more clearly than in Malad Gorge and the 1,000 springs area in the Hagerman Valley. These springs flow from the vast Snake River Aquifer through that porous pillow basalts. On the opposite side of the canyon, is a spring flowing 600 cfs (cubic feet per-second): You can see where the spring has been "captured" and is being piped into the main water supply headed to an Idaho Power Company electricity generator less than a 1/2 mile downstream from here.
From this view we can see the water being diverted for power generation flowing 100' feet or so above water in the natural riverbed. Where you see that canal end water is flowing into a large tube where the energy in that 100' drop is creating electricity. I note with interest that the water from that drop appears to be captured and continues to flow in another canal where it will be used again to create more electricity as it falls another 100' or so before it empties into the Snake River.
By the way, if you look carefully into the mouth of this gorge you will see light tan rocks that form the south canyon wall of the Snake River canyon. Thus the Snake River is flowing between the end of this gorge and that tan formation you see.